Quiznos' Latest Sandwich Brings The Smoke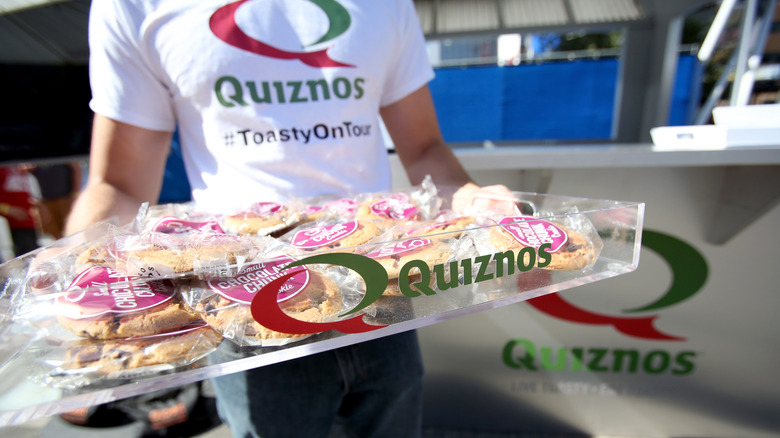 Jonathan Leibson/Getty Images
Quiznos is known for its toasty subs and traditional offerings. While the sandwich chain makes classic sandwiches, its menu is always evolving to satiate customers' appetites with some of our favorite food trends. Just a few months ago, the eatery Quiznos came out with a take on an iconic sandwich that is synonymous with Philadelphia. In fact, the quick service restaurant added four different versions of the Philly cheesesteak sandwich to its menu — at least for a limited time (via Fast Food Post). Now, according to AP News, the brand is taking on another quintessential food that we especially love to enjoy in these warmer months at backyard gatherings. This new sandwich combines yummy barbecue with smoky goodness to create a burnt ends sandwich.
If you are not familiar with burnt ends, the Smoked BBQ Source explains burnt ends are cubes of meat made using the fatty point end of brisket for extra flavor. The process of smoking these burnt ends is time consuming — think three to four hours, and sometimes longer — but the end result is so tasty that meat lovers will feel like they are in carnivore heaven. So how does Quiznos replicate that mouthwatering experience with their new sandwich?
The limited time menu item at Quiznos
Per Chew Boom, Quiznos new Hickory Smoked Burnt Ends sandwich opts for prime rib cuts that are smoked with hickory wood chips and tended to until they have that crispy burnt bark that goes hand in hand with burnt ends. In addition to the tender and juicy hickory smoked burnt ends, the sandwich has "pickles, red onions, melted cheddar cheese, and Blue Ribbon BBQ sauce on a choice of bread, including Italian White, Whole Wheat, Jalapeño Cheddar, and Rosemary Parmesan."
What prompted the sandwich chain to create this new barbecue menu item? Per AP News, Vice President of Culinary Innovation Mike Gieseman said in a press release, "We really wanted to create something reminiscent of long summer days spent outside enjoying time with friends and family, and we believe this new sandwich conveys that feeling." If you are a fan of burnt ends or your palate is just adventurous and you like to try new things, the Hickory Smoked Burnt Ends sandwich is available for a limited time at participating Quiznos restaurants. AP News notes that the price starts at $8.50 but can vary based on location.