Sauteed Swiss Chard Recipe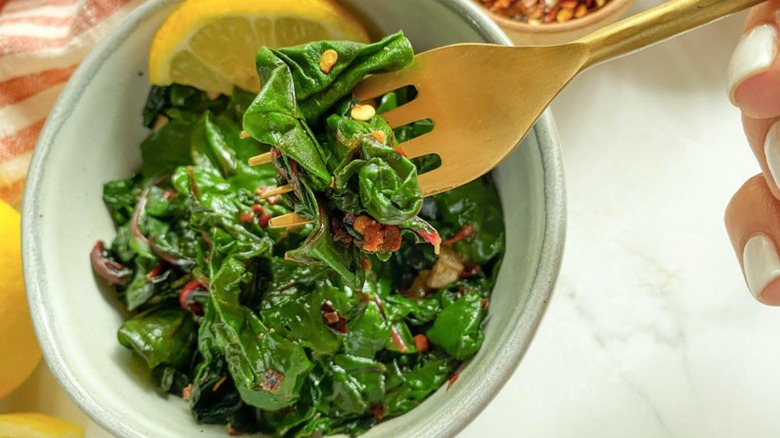 Miriam Hahn/Mashed
Are you in need of some nutrients in your diet? Look no further than this healthy vegetable side dish. Recipe developer Miriam Hahn brings us this quick recipe for sauteed Swiss chard, a vegetable that Hahn loves because it "is loaded with Vitamin A and makes your skin glow!"
"My favorite place to buy Swiss chard is the farmer's market because it usually has been just picked and is super fresh," Hahn says. If you aren't able to make it to the farmer's market, however, fear not — you should be able to find Swiss chard in the produce section of your favorite grocery store.
And, if you're wondering what pairs well with the green, Hahn says "you can serve this Swiss chard with just about anything. Makes a great side dish for lunch or dinner. Sometimes I have it alongside a tofu scramble." We love it paired with grilled salmon and fingerling potatoes for a complete meal. If you want to take this side to the next level, do as Hahn does and "add fresh tomatoes and Italian parsley" in order to bulk up this dish.
Gather your ingredients for sauteed Swiss chard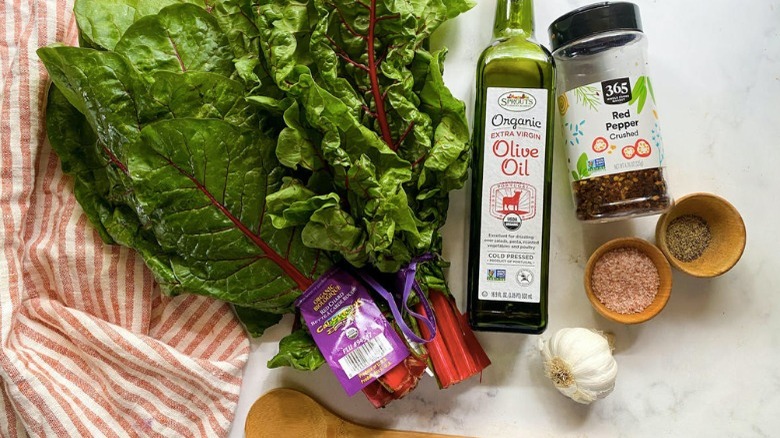 Miriam Hahn/Mashed
To make this sauteed Swiss chard recipe, you will of course need Swiss chard, along with garlic, olive oil, coarse salt, pepper, red pepper flakes, and optional lemon for serving.
Strip the Swiss chard leaves from the stems and chop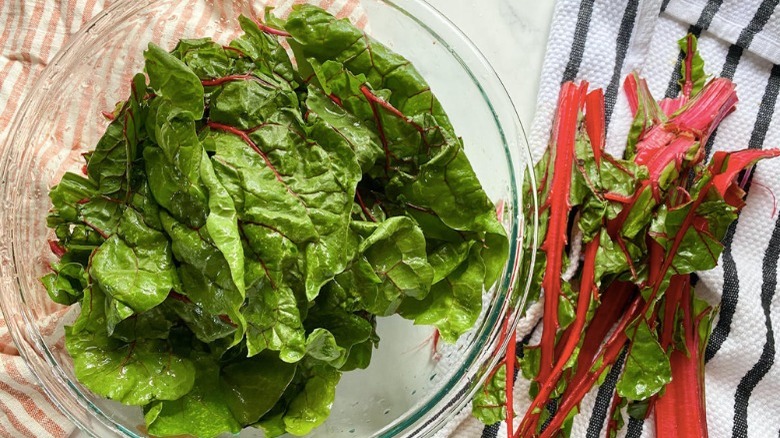 Miriam Hahn/Mashed
Remove the leaves from the Swiss chard by stripping them away from the stems. Then roughly chop the leaves. While most may want to discard the stems, Hahn adds that "as an alternative to discarding the stems you can dice them up and add them to the pan when you cook the garlic as they are loaded with nutrients as well as the leaves!"
Sauté the garlic and add the chopped Swiss chard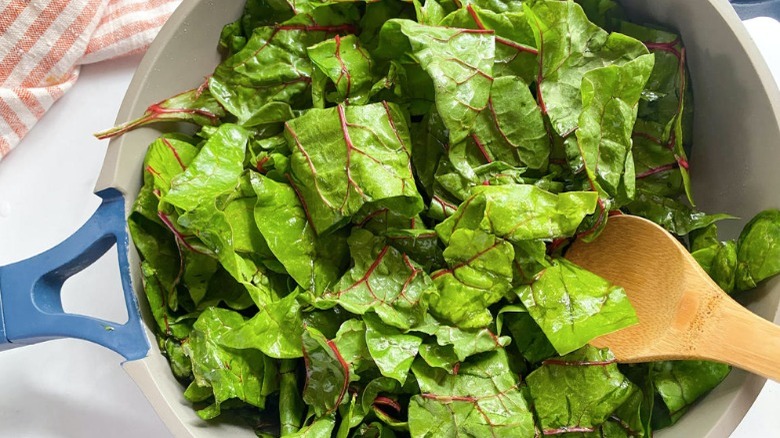 Miriam Hahn/Mashed
In a large frying pan over medium heat, add the oil. Once the oil is shimmering, add in the minced garlic and saute for 3 to 5 minutes. Then, add in the chopped Swiss chard. Hahn notes, "The other thing to keep in mind is how much it shrinks during cooking. (Much like spinach.) You can start out with a huge bunch and it whittles down to very little so you always need to start out with more than you think if you are serving more than one person."
Add salt, pepper, and red chili flakes to the sauteed Swiss chard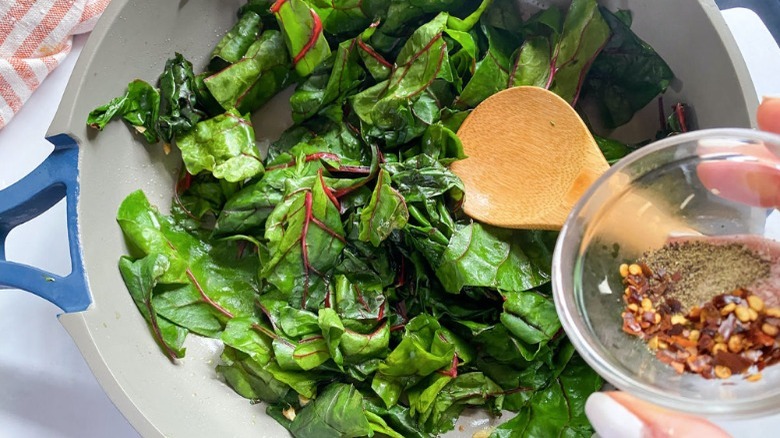 Miriam Hahn/Mashed
Next, season the Swiss chard with salt, pepper, and red chili flakes. Reduce the heat to low and cover the pan with a lid. Cook for 5 minutes like this until the Swiss chard has wilted down. Add more red pepper flakes and optional lemon juice for serving. "Swiss chard is best eaten right after you make it but if you have leftovers you can just store in a sealed container in the fridge and reheat in the microwave or the stove," Hahn says.
Sauteed Swiss Chard Recipe
This sauteed Swiss chard makes for the perfect green side dish.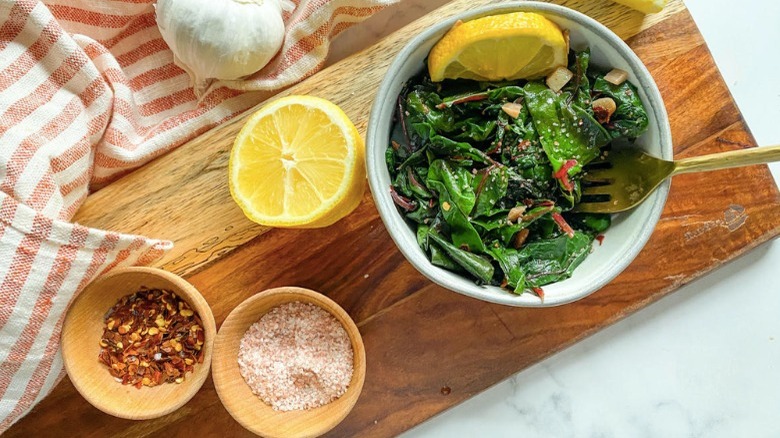 Ingredients
2 bunches Swiss Chard (red or green)
1 tablespoon olive oil
2 cloves garlic, minced
½ teaspoon coarse salt
¼ teaspoon pepper, plus more for serving
½ teaspoon red pepper flakes
Optional Ingredients
lemon wedges, for serving
Directions
Strip the Swiss chard leaves from the stems and chop into large slices.
Put the oil into a large frying pan and heat to medium. Add the garlic and sauté for 3 to 5 minutes, stirring frequently being careful not to burn it.
Add the Swiss chard and stir.
Add the salt, pepper, and red pepper flakes. Reduce to low, cover and cook for 5 minutes until the Swiss chard has wilted.
Add optional lemon wedges and more red pepper flakes for garnish, then serve.
Nutrition
| | |
| --- | --- |
| Calories per Serving | 152 |
| Total Fat | 7.7 g |
| Saturated Fat | 1.1 g |
| Trans Fat | 0.0 g |
| Cholesterol | 0.0 mg |
| | |
| --- | --- |
| Total Carbohydrates | 18.3 g |
| Dietary Fiber | 7.5 g |
| Total Sugars | 5.1 g |
| Sodium | 1,077.4 mg |
| Protein | 8.4 g |