Rodney Scott's New Products Will Majorly Upgrade Your Summer Cookouts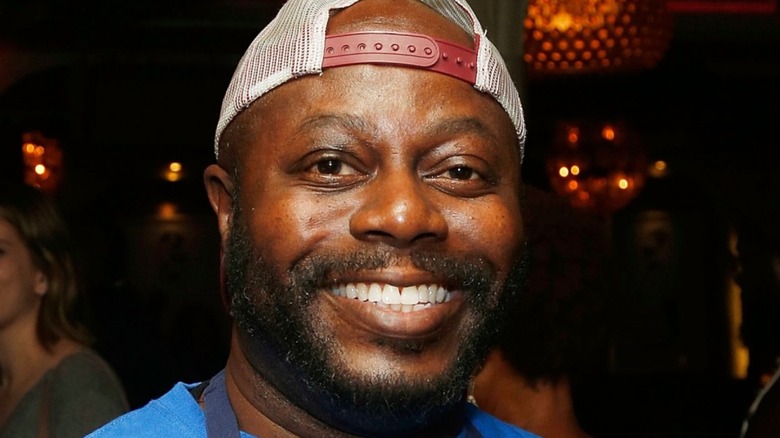 Lars Niki/Getty Images
South Carolina Pitmaster Rodney Scott has been perfecting the art of whole hog barbecue since he was 11 years old, working at his family's restaurant in Hemingway, South Carolina (via The Spice House). Scott eventually took over the business in 2011 and partnered with Nick Pihakis of Jim N' Nick's Bar-B-Q shortly after to open his namesake restaurant in Charleston, South Carolina in 2017 (per the Washington Post). Since then, it seems that the pitmaster has become more well-known with each passing year.
In 2018, he was named Best Chef: Southeast by the James Beard Foundation. The barbecue master had an entire episode dedicated to his culinary journey in the "Chef's Table: BBQ" series on Netflix in 2020. This year, he's a judge on "BBQ Brawl" alongside Brooke Williamson and Carson Kressley.
Scott has clearly solidified himself as an icon in the world of barbecue, and while he shares a lot of tips on the shows he's on and in interviews, according to Garden & Gun, he still has a few secret ingredients he keeps to himself. Although he may never reveal all of the secrets of his sauce, he has created a line of spice rubs with The Spice House so you can season like a true pitmaster.
Rodney Scott has partnered with The Spice House to create 4 signature spice rubs
Although Rodney Scott is known for Carolina whole hog barbecue, the menus at his restaurants expand far beyond that. The chicken wings, ribs, and smoked turkey breast should not be slept on by any means. If you wanted to attempt to recreate these items at home, Scott has partnered with The Spice House to create four spice blends that pair well with each of the aforementioned dishes and more.
To step up your chicken wing game, the pitmaster recommends the Carolina Fire Chile rub because its blend of umami flavors and Carolina Reaper peppers add a slow, savory heat (per a statement shared with Mashed). When grilling more delicate items like fish or vegetables, the Garlic Butter Pepper Herb Rub or Green Chile Lime Citrus Rub add just the right amount of flavor, while keeping it light for summer. For a more classic BBQ flavor, the Smoky Sweet Chile Hickory rub adds a subtle smoke and kiss of paprika flavor to beef or pork.
These spice rubs are now available in-store or online and are sold individually or in a four-pack gift set for the barbecue enthusiast in your life.