Padma Lakshmi Is Outraged By Brittney Griner's Sentence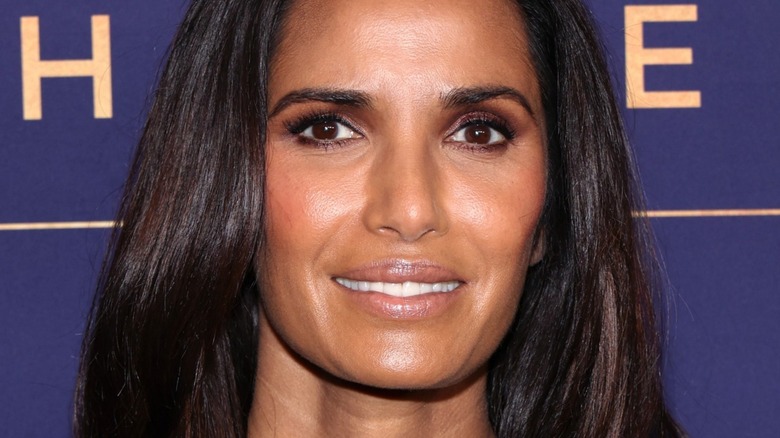 David Livingston/Getty
Padma Lakshmi may be known for her food expertise on "Top Chef," but she is also a social justice activist and is not afraid to speak up on social media. Not only does she express her opinions on political situations on social media, but she fights for causes she cares about as an American Civil Liberties Union Artist Ambassador for women's rights and immigrants' rights (per Lakshmi's official website). She is also a Goodwill Ambassador to the United Nations Development Programme and co-founded the Endometriosis Foundation of America in 2009. Lakshmi's passions clearly expand far beyond food, and she is not afraid to speak up when she feels there is injustice, which is definitely the case with Brittney Griner.
When the WNBA player was traveling to Russia to play basketball for UMMC Ekaterinburg in February, she was taken into custody for having vape cartridges with "hashish oil" in her luggage (via CBS). Despite Griner being in possession of the marijuana concentrate for medical reasons, in Russia, there are no such exceptions (via AP News). The U.S. government declared her "wrongfully detained" in May, and her detention sentence continued to be extended until the court ruling earlier today (via CBS Sports). The results of the trial have outraged many people, including Padma Lakshmi.
Brittney Griner was sentenced to 9 years in a Russian penal colony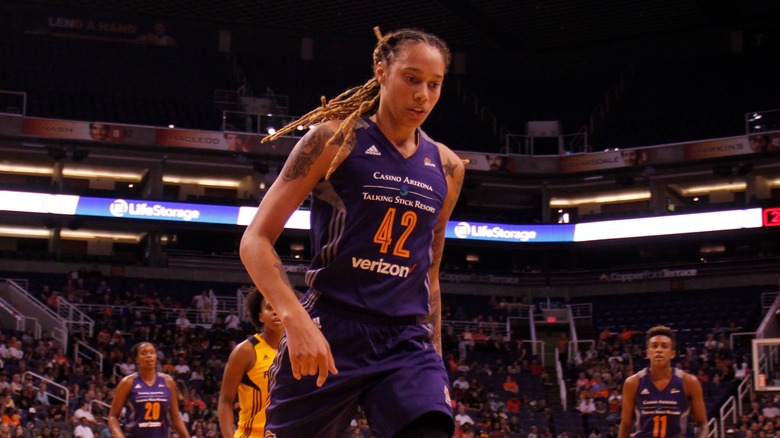 Keeton Gale/Shutterstock
Although Brittany Griner had no intent to break the law when she transported vape cartridges to Russia, she pled guilty to the charges because the odds of her getting acquitted were extremely slim (via CBS News). According to CBS Sports, Griner was on trial for "large-scale transportation of drugs," with a maximum sentence of 10 years in prison. It was announced earlier today that Griner was sentenced to just below the maximum prison time: nine years (via The New York Times). "NINE years? W.T.F.," Padma Lakshmi tweeted. President Biden released a statement about the sentencing, calling it "one more reminder of what the world already knew: Russia is wrongfully detaining Brittney."
According to Bloomberg, one of the bargaining tools the U.S. can use to get Russia to release Griner is to free Russian arms dealer Viktor Bout in exchange for her and former U.S. Marine Paul Whelan's freedom. The drawn-out nature of Griner's detainment and the extreme verdict in the trial further raise suspicions that she is being used for Russia's political gain, but hopefully, the support from the U.S. government will be enough to lessen her sentence and bring her home (via France 24).