Ham And Cheese Sliders Recipe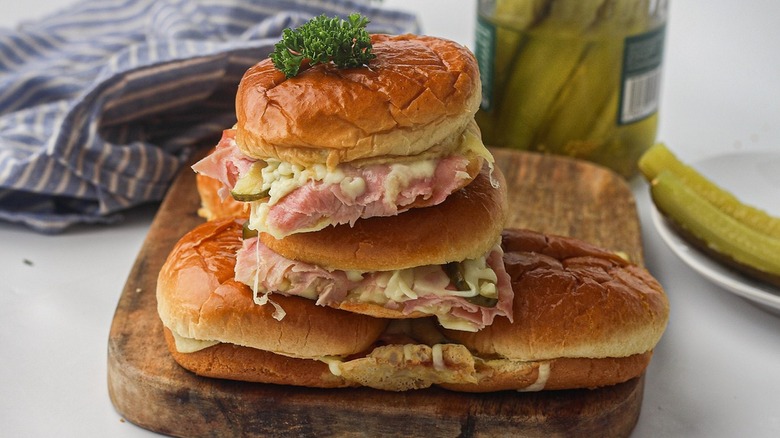 Susan Olayinka/Mashed
Is there a combo better suited for one another than ham and cheese? Yes, even considering peanut butter and jelly, burgers and fries, and ketchup and mustard, we'd argue that ham and cheese is a classic, quintessential, and delicious flavor combo. You've got the salty, savory nature of the ham, paired alongside the cheesy goodness of, well cheese, so it's pretty hard to go wrong with the pairing. Recipe developer Susan Olayinka definitely enjoys the flavor combo, as proven with her ham and cheese sliders recipe, but she also loves that you can customize them. "I love how easy it is to make these sliders and how versatile they are," she explains. "You can use any type of cheese or ham that you like and they will still taste great."
As it turns out, you don't have to go to your local sandwich joint every time you want a good slider, and you absolutely can make the perfect one at home. There's really no limit to the way you can customize these ham and cheese ones, and Olayinka says that some good topping options include "grilled onions, mushrooms, or peppers." If that sounds good to you, then you'll definitely want to stick around for these easy-to-make, crowd-pleasing sliders.
Grab the right ingredients to make ham and cheese sliders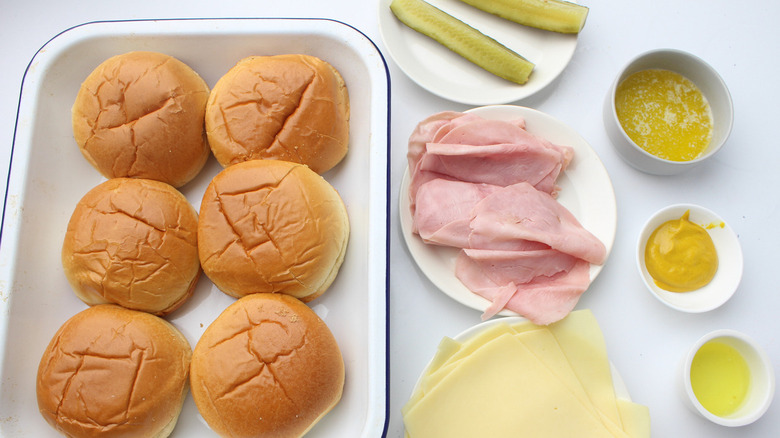 Susan Olayinka/Mashed
To make these savory sliders, you'll need a pack of 6 slider buns (halved horizontally), Swiss cheese, honey roasted ham, melted butter, mustard, a pickle, and pickle brine (more commonly known as pickle juice). "The pickles and the pickle brine give these sliders a nice tangy flavor that goes well with the cheese and ham," Olayinka explains of her special ingredient. 
Assemble the sliders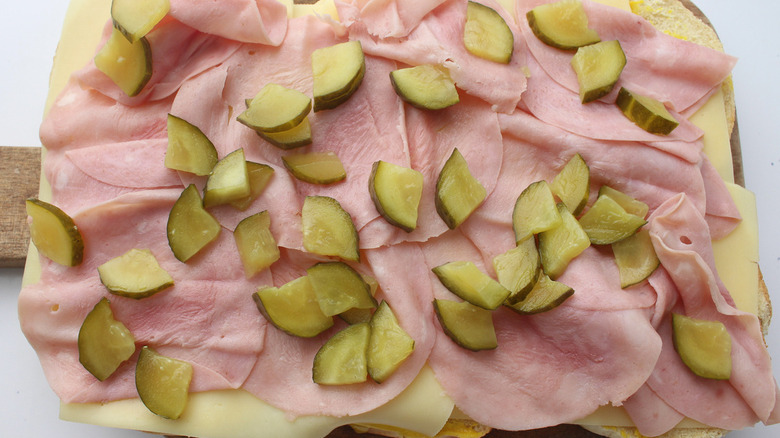 Susan Olayinka/Mashed
Get your oven preheating to 350 F and line a baking sheet with parchment paper. Then, dice the pickles into small pieces, but don't put the jar away just yet — mix 1 tablespoon of the brine with the mustard. Next, slather some of that mustard and pickle brine mixture right onto the bottom half of the slider buns. Layer on the Swiss cheese, followed by the ham slices, and finish up with the pickle chunks. Finally, place the top half of the buns on the sliders, then brush the tops of the buns with melted butter. 
Bake the sliders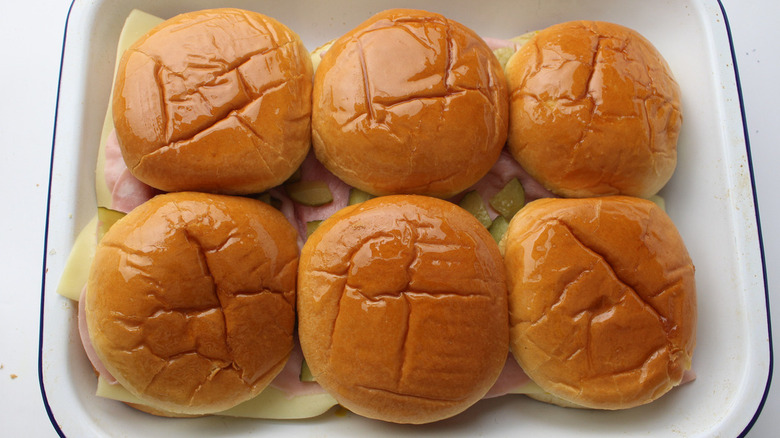 Susan Olayinka/Mashed
With those buns adequately buttered, go ahead and place the sliders onto the prepared baking dish, then slide them right into the preheated oven. Bake the sliders for 10-12 minutes, until the cheese is nice and melty and the buns are toasted. 
Enjoy your savory sliders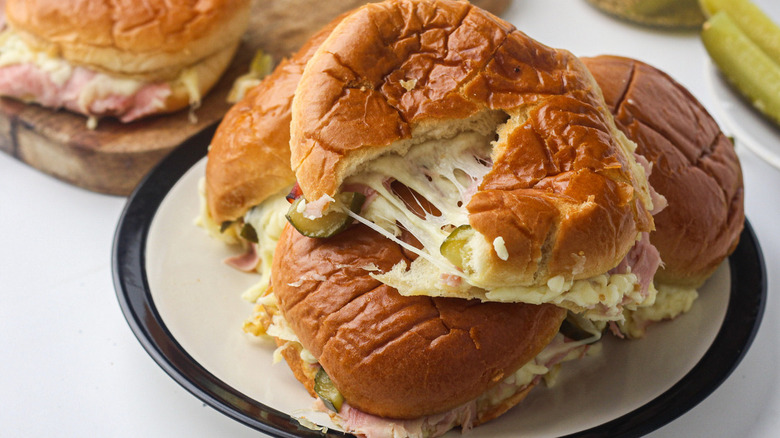 Susan Olayinka/Mashed
Once the sliders are baked, you're ready to dive right in to the savory, cheesy goodness. "These sliders would be great served with a salad or some roasted vegetables," Olayinka says for pairing options. "They would also be perfect for a party or potluck." If you were to bring them to such a party or potluck, your guests would be pretty thrilled — but they don't have to know how easy it was to throw together such a delicious dish.
Ham And Cheese Sliders Recipe
Skip the basic ham and cheese sandwich and instead, whip up sliders for a crowd. These easy ham and cheese sliders can be ready in just 15 minutes.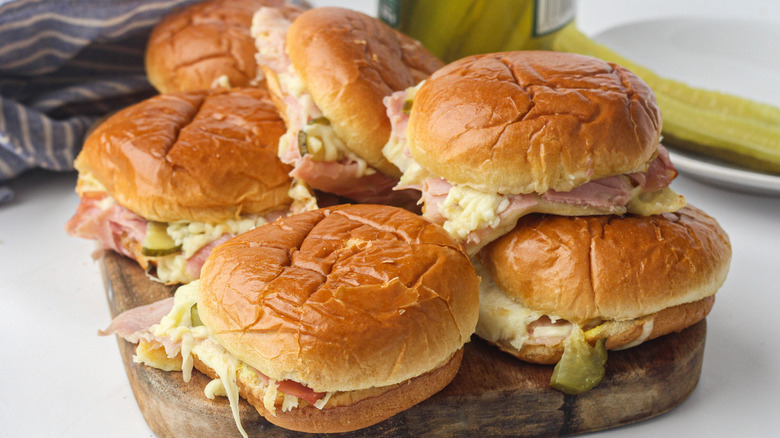 Ingredients
1 pickle
1 tablespoon pickle brine
¼ cup mustard
6 slider buns, halved horizontally
½ pound thinly sliced Swiss cheese
½ pound thinly sliced honey roasted ham
2 tablespoons melted butter
Directions
Preheat the oven to 350 F. Line a baking sheet with parchment paper.
Dice the pickle into small pieces.
In a bowl, mix together the pickle brine and mustard.
Spread some of the mustard mixture across the bottom half of the buns. Top the mustard with the cheese, ham slices, and diced pickles.
Place the top halves of the buns over the fillings and brush them with melted butter.
Put the sliders on the prepared baking sheet and bake for 10-12 minutes, until the cheese is melted and bubbly and the buns are toasty. Serve immediately.