Food Network Star Gina Neely's Grandbaby Is The Cutest 'Little Hershey Kiss'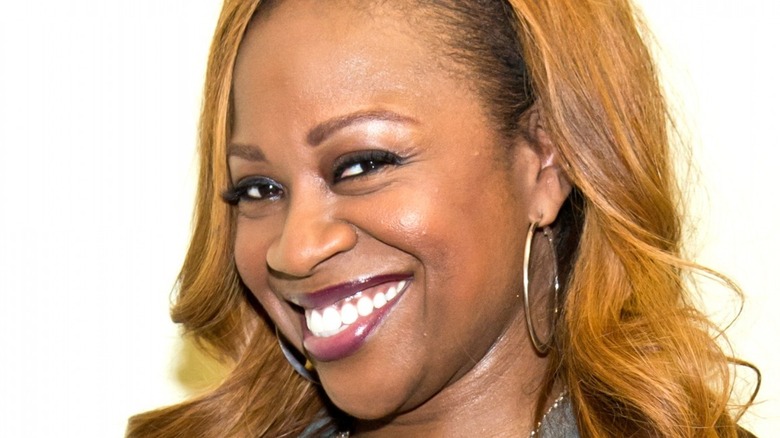 Gilbert Carrasquillo/Getty
Gina Neely is a family woman at her core. Neely shot to fame while filming her and her now ex-husband's show, "Down Home with the Neelys." Neely's bubbly and upbeat personality, combined with her delicious recipes catapulted the show to success on the Food Network.
Neely's family always played a vital role, and telling her family's stories on screen brought the star so much joy that she continued filming the show despite difficulty off-camera, People reports. Neely sometimes involved her two daughters in the family cooking show, even though they did not like it. Neely recounts that her daughters despised the show and preferred to keep their personal lives private. Neely worked to ensure her daughter's lives were not changed too drastically by her filming. Even though her daughters did not enjoy growing up in the spotlight, Neely couldn't help but share the exciting news of her older daughter's pregnancy.
Gina Neely's grandson is 'the gift that will keep on giving'
Gina Neely is officially a Gigi — her modern take on the grandmother moniker. Noah Tayloe Taylor arrived on August 2, 2022, to the sheer delight of his grandmother. Neely posted an Instagram selfie holding a blue balloon with the caption, "Noah is HERE!!!!! My heart is about to explode!"
Neely was thrilled when she found out she would be having her first grand baby back in February and was not shy about expressing her desire to become a grandmother. In an interview with People, she spoke about endless praying to be a grandmother and even telling her daughters to "step it up" in regards to giving her a grandchild. The Food Network star's 33-year-old daughter Spenser Lewis-Neely finally made her dream a reality.
Back in February, Neely admitted to People that she and her family were hoping for a baby girl, but would be more than happy with a boy. Neely is used to being a "girl" mom since she has two girls and three sisters. After Noah was born, she posted that he was "the gift that will keep on giving." Once his mom and dad allowed, the cookbook author gushed over Noah in a photo, writing, "My little [Hershey] Kiss is Perfect! 🤎"