The Unexpected Sam's Club Popcorn Cereal Lovers Will Want To Try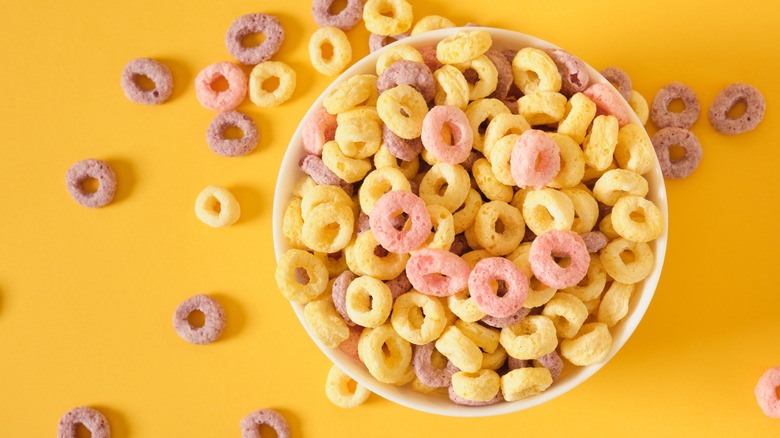 TShaKopy/Shutterstock
Cereal lovers have been thrilled by an assortment of unexpected but very welcomed cereal-inspired products. Just recently, General Mills worked with Target to roll out candles scented like Cocoa Puffs and Cinnamon Toast Crunch cereal, and last year KitKat teamed up with Fruity Pebbles to gift candy fans a limited-edition cereal-filled chocolate bar (per Walmart). Now, thanks to Sam's Club, cereal fanatics have a chance to bring home a popcorn treat influenced by a widely adored cereal brand.
It's true — cereal and popcorn are not exactly as common a combination as peanut butter and jelly. But Sam's Club's newest sweet and savory popcorn flavor is only the most recent in the grocery store's treat-inspired popcorn lineup. The grocery retailer had chocolate fans obsessed with its Reese's Drizzled Popcorn and now cereal lovers may find themselves drooling over the latest Sam's Club popcorn creation. But cereal fans who want to grab a bag of this treat for movie night will have to join the club because they won't find the breakfast-inspired popcorn anywhere else (per The Impulsive Buy).
Here's what cereal lovers need to know about Sam's Club's fruity popcorn
According to the Sam's Club website, the store's exclusive popcorn snack is frosted with bits of delectable Trix cereal. However, even though the treat is more popcorn than cereal, the Club recommends washing it down with a tall glass of milk to truly experience all the nostalgia of devouring your favorite childhood breakfast. Sam's Club is currently selling each 20-ounce bag of Trix Fruity Popcorn at around $7 for a limited time. 
Instagrammer ohheysamsclub posted about the snack and Sam's Club's shoppers in the comments section were quick to express their excitement for the Trix-filled treat in the comments. One user wrote, "Sounds bomb." Another posted, "Yum! Need to try this!"
If cereal fans find that they can't get enough of the Trix flavored popcorn, they may also want to head to Walmart (the parent company of Sam's Club) to stock up on two other made-for-cereal-lovers popcorn snacks – Cocoa Puffs and Cinnamon Toast Crunch Popcorn are currently available at many of the retailer's locations. With enough determination and a Sam's club membership, adamant cereal fans may even be able to stock their cabinets with all three cereal popcorn snacks. Wondering what to wear while you shop? You can always opt for some cereal-inspired Crocs (per USA Today).