The Aldi Meatball Fiasco That Has Reddit Worried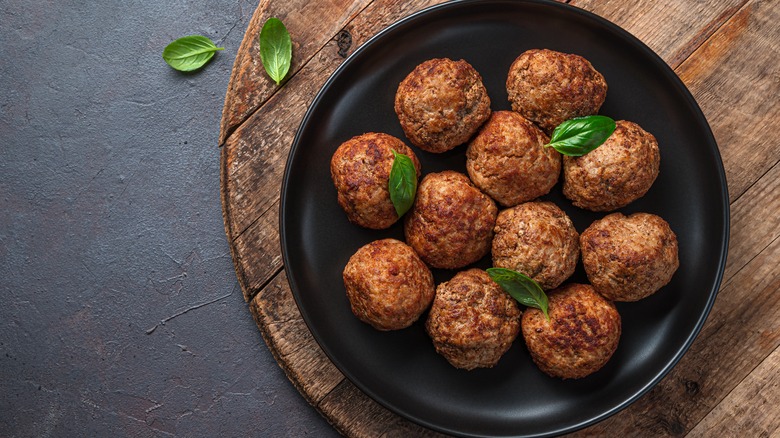 FotosDo/Shutterstock
Aldi may have started off as a German grocery store chain, but these days, consumers can find Aldi grocery stores in 36 U.S. states. The brand has a pretty passionate fan base — there are more than 87,500 members of the Aldi subreddit and more than 2.8 million people like Aldi USA on Facebook. It could even soon be the third largest supermarket retailer in the United States if the company meets its goal of operating 2,500 stores in the country by the end of 2022 (via CNN). 
One of the reasons why Aldi is so popular is that it's relatively affordable. But not every section of the store receives rave reviews. In the past, Reddit shoppers have said that it's not worth buying meat at the chain for a couple of reasons. Some say you should never buy meat at Aldi because the pricing just doesn't check out, while others have complained about the quality. Now, yet another Redditor has taken to the web to ask a question about the changing nature of the chain's frozen meatballs.
Why are Aldi's meatballs changing color?
One Aldi customer recently took to Reddit to ask a question about the chain's Bremer frozen meatballs. They shared a picture of six meatballs, three that were a dark brown color, and three that were a light beige color. "The darker ones are an older bag, light color is the new ones. Is this normal?" they asked. "Noticed color change in my bag too," replied one commenter, though they said the meatballs tasted the same regardless of the color.
They are apparently not the only Aldi customer to notice that the chain's products can seem to change over time, even if they're in the same packaging as always. One customer on the thread theorized that it's because the store sources its products from different manufacturers, so sometimes the product inside a particular package might be sourced by a new supplier, resulting in a noticeable change (something Aldi Reviewer has looked into). Some customers reported buying fish fillets with breading that changed one week from the next, and others claimed the same situation had happened with Aldi's version of Saltine crackers. There's no way to know what really happened to this customer's meatballs, but all of the theories shared are definitely food for thought.