Martha Stewart Speaks Out About The Idea Of Her Dating Pete Davidson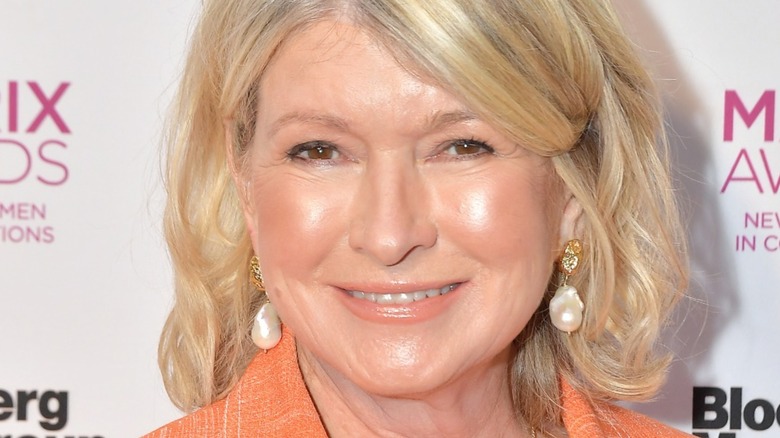 Michael Loccisano/Getty
Fans may have been surprised to see a photo on Instagram of Martha Stewart with Hollywood odd couple Pete Davidson and Kim Kardashian, but Stewart and Davidson go way back. They apparently had a good time together at the 2015 "Comedy Central Roast of Justin Bieber" (via IMDb). The queen of entertaining enjoyed the comedian's company so much that she wrote him a letter following the show (via SILive). Then, after taking a photo with the power couple earlier this year at the White House Correspondents dinner, she posted a throwback video of Davidson from backstage at the Bieber roast.
"I'm Pete and I'm very excited to do this roast with Martha because she's adorable and doesn't know that she's going to get abused," Davidson said in the video. The pair playfully roasted each other throughout the night, with the SNL star poking fun at Stewart's age, saying that "her first period was the Renaissance" (via SILive). Now that Kim Kardashian and Pete Davidson have split, the internet is using Stewart and Davidson's history, plus the photo of them holding hands, as fuel to spread rumors that they will be the next Hollywood power couple.
Stewart looks at Davidson like a son
Pete Davidson has dated some of the most beautiful and successful women in Hollywood. He was famously engaged to Ariana Grande in 2019 and dated actress Kate Beckinsale shortly afterward (via Page Six). Even with his dating past, the world was shocked when he started dating Kim Kardashian. It made the already unpredictable world of 2022 even more surprising. It was proof that anything can happen, so after he and Kim Kardashian split, the internet was searching for his next successful girlfriend and landed on America's "first self-made female billionaire," Martha Stewart (via Fortune).
The internet made this leap because the pair was holding hands in a photo from the White House Correspondents' Dinner. Stewart has nothing but nice things to say about Davidson. "He's an adorable guy. He's funny and nice and pleasant," she told Today. "And Kim looks gorgeous, as usual. Very jealous of her, of course." Although she clearly has a lot of love for Davidson, the 81-year-old laughed when she found out about the rumors of their alleged budding romance. "'Pete Davidson is like the son I never had,' she told Daily Mail. There is a roughly 53-year age gap between Davidson and Stewart, so he could even be her grandson. According to Page Six, Kardashian and Davidson's 13-year age gap was part of the reason they broke up, so that doesn't fare well for the much larger gap between the comedian and lifestyle guru.