How Snoop Dogg Is Giving Back With His Sweet New Cereal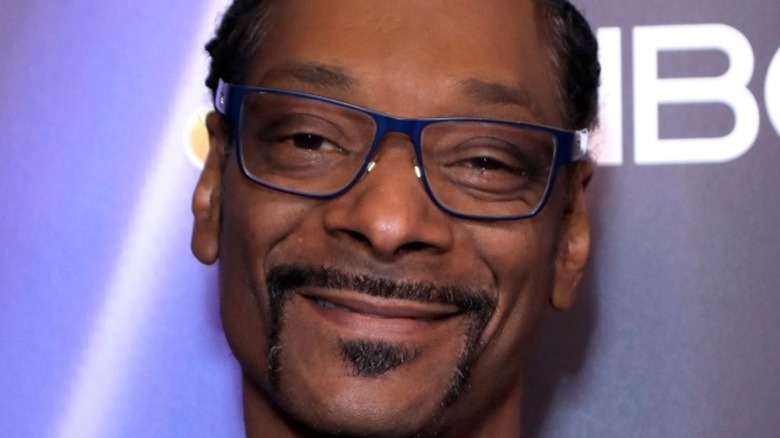 Kathy Hutchins/Shutterstock
Although Snoop Dogg is known as one of the greatest rappers of all time, he has also made his mark on the food and beverage industry with several products and brand collaborations (via The Mercury News). His friendship with Martha Stewart has certainly helped him make a splash in the space, hosting dinner parties together on "Martha & Snoop's Potluck Dinner Party" and the entertaining guru even wrote the foreword for the rapper's cookbook "From Crook to Cook: Platinum Recipes from Tha Boss Dogg's Kitchen" (via Insider). Outside of working with Stewart, the West Coast rapper has had his own line of wine with 19 Crimes, a plant-based donut sandwich with Dunkin', and he was an early investor in Beyond Meat.
One of the vegan rapper's most recent food partnerships was with Rap Snacks, alongside fellow rapper and Rap Snacks co-founder, Master P (via Black Enterprise). Master P, who TikTok calls the "master of merchandising," is no stranger to creating food brands, with his latest products being a high-tech ice cream machine and Master P's Master Crunch cereal (via Afro Tech). The cereal goes beyond the rapper's desire to have a black-owned brand in the breakfast aisle, as a portion of the proceeds goes toward Master P's Team Hope Foundation, which benefits inner-city youth. Following a successful collaboration on Rap Snacks, Master P is now helping Snoop Dogg create his very own cereal for a cause.
It's unclear when Snoop Loopz will hit shelves
The name of Snoop Dogg's new cereal is so perfect that it sounds like the answer to a riddle you would find on a popsicle stick. Q: If Snoop Dogg had a cereal, what would it be called? A: Snoop Loopz. 
Snoop Loopz are Master P and Snoop Dogg's latest collaboration in their 20-year history of working together in music and business. Master P already has his own cereal brand for a cause, so he has encouraged Snoop to do the same. "It's great to have diversity on the shelves," said Master P on Master Crunch cereal's official website. "The more we make the more we give back to the community. It's all about building economic empowerment at home, in the communities, where we live."
A portion of the proceeds from the "Gin and Juice" rapper's cereal will benefit Door of Hope, which "empowers families facing homelessness to transform their lives," according to the nonprofit's website. Per Billboard, the cereal brand falls under the rapper's company Broadus Foods, alongside other breakfast favorites like Mama Snoop's oatmeal, grits, and pancake mix. Master P compares the cereal to Froot Loops on Twitter, and the box boasts that the cereal is gluten-free and contains vitamin D, fiber, and whole grains. Although Master P said that this cereal would be "taking over grocery stores," on Instagram, the official launch date of Snoop Dogg's new brand is unclear.