Cracker Barrel Wants To Entice Ranch Lovers With A Zesty Item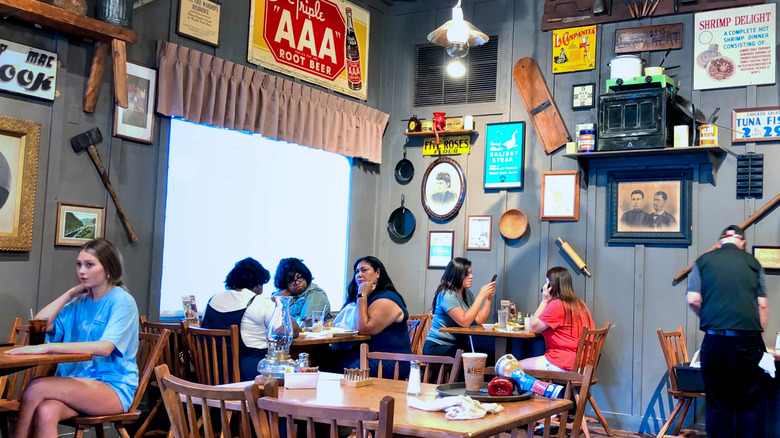 James R Poston/Shutterstock
When you're in the mood for some down-home comfort cooking, you may head to Cracker Barrel for its extensive menu that includes comfort classics, like its popular mac and cheese. Of course, what is a comfort food restaurant without fried chicken?! It may seem like a given, but Cracker Barrel didn't serve Southern fried chicken in its 600 stores until 2019.
According to Delish, Cracker Barrel debuted its Southern fried chicken in April 2019, the same year it celebrated its 50th anniversary. The reason it took so long? The restaurant wanted to ensure it got the chicken absolutely correct before offering it to customers. The chain's VP of culinary stated that the team spent "years" traveling the Southern U.S. to test recipes to ensure the best one was served up at Cracker Barrel. Per the website, the dish includes four pieces of bone-in chicken and is served with two sides, biscuits or corn muffins, and a bottle of honey.
Southern fried chicken is not the only fried chicken menu item. Cracker Barrel offers chicken fried chicken, hand-breaded fried chicken tenders, Sunday homestyle chicken, and its newest addition, Kick'n Ranch fried chicken.
Cracker Barrel introduces Kick'n Ranch fried chicken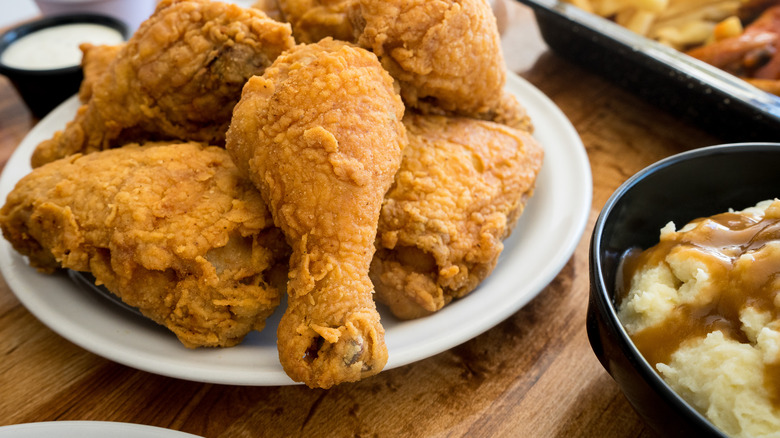 MARCEL DEL CASTILLO/Shutterstock
Cracker Barrel added the Kick'n Ranch fried chicken to participating locations in early August. The bone-in chicken is hand-breaded and deep fried until perfectly crispy. What makes this fried chicken unique is the seasonings that are used — a zesty ranch blend and a buffalo ranch sauce (via Brand eating). Like other Cracker Barrel entrees, this is served with two sides and biscuits or corn muffins. The dipping sauce of choice is the chain's dill pickle ranch sauce.
The Kick'n Ranch fried chicken officially became the highest-calorie fried chicken entree. Its Sunday homestyle chicken was already on the list of things you should never order, due to its whopping calorie count and 3,200 milligrams of sodium. The Kick'n Ranch chicken clocks in at 1,730 calories and that's before any sides or biscuits are added. And to boot, the side of dill pickle ranch has a cool 250 calories per serving (per Cracker Barrel).
If you're looking to save some of your daily calories, splitting the meal may be a reasonable option. According to a Cracker Barrel Instagram post, this chicken won't be around for long.