Bread And Butter Pickles Recipe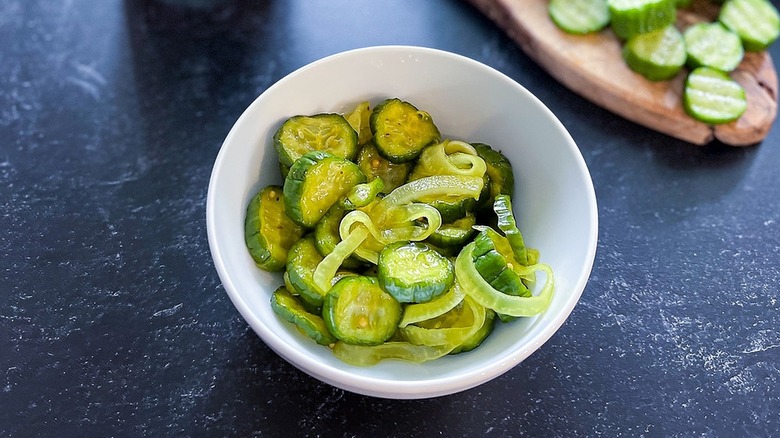 Erin Johnson/Mashed
One thing is for sure — homemade pickles just taste better than store-bought pickles. While dill pickles are incredibly popular, there's no denying the bread and butter pickles are fantastic in their own right, thanks to the wonderful flavor contrast. Pickles go great on pretty much any sandwich or burger and are also excellent on their own. They also complement plenty of other salty snacks, like potato chips, and what's stopping you from even enjoying one with something sweet?
Recipe developer Erin Johnson came up with this tasty dish that will satisfy all your pickle cravings. "Refrigerator pickles are a great alternative to traditionally canned pickles because they don't require any canning materials and stay crispier," she shares. Johnson also provides one more helpful tip before you begin. "The exact number of cucumbers you need depends on the size jar you want to use and the size of the cucumbers," she notes. "5 filled a quart jar for me. I recommend adding the sliced cucumbers to the jar(s) you plan to use before you salt them just to make sure you have sliced enough or don't overdo it." So, once you've got your jar picked out, let the pickling begin!
Gather the ingredients for the bread and butter pickles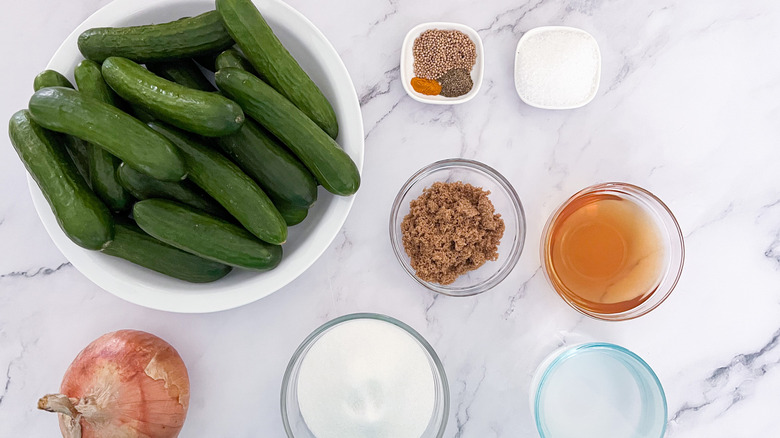 Erin Johnson/Mashed
Ready to kick things off? For this recipe, you will need miniature cucumbers, kosher salt, white sugar, brown sugar, white vinegar, apple cider vinegar, mustard seed, celery seed, turmeric, and sweet onion.
Slice the cucumbers and sprinkle with salt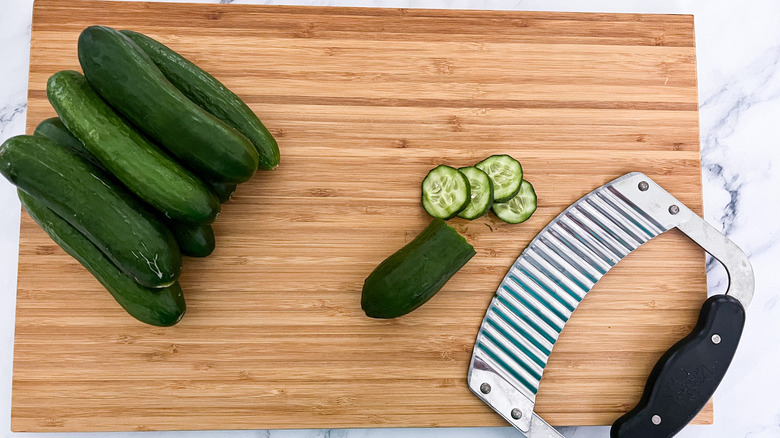 Erin Johnson/Mashed
Let's get right down to it! Grab your cucumbers, a knife, and a cutting board. Slice the cucumbers into ¼-inch thick slices to start. After you finish chopping, spread the cucumbers out and sprinkle them with salt. Allow the cucumbers to sit for about 30 minutes. 
Make the marinade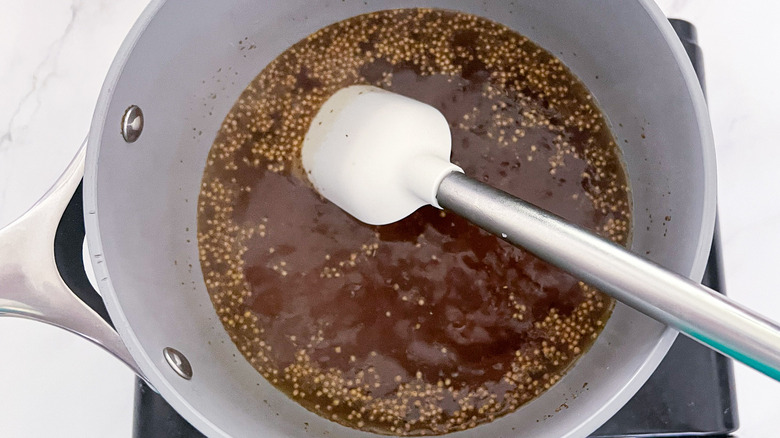 Erin Johnson/Mashed
In the meantime, you can make the marinade for the cucumbers. Take out a saucepan and add the brown sugar, white sugar, white vinegar, apple cider vinegar, mustard seed, celery seed, and turmeric.
Turn on the heat and stir well to combine everything together. Once the liquid starts to boil, remove it from the heat and set it aside.
Rinse and layer the cucumbers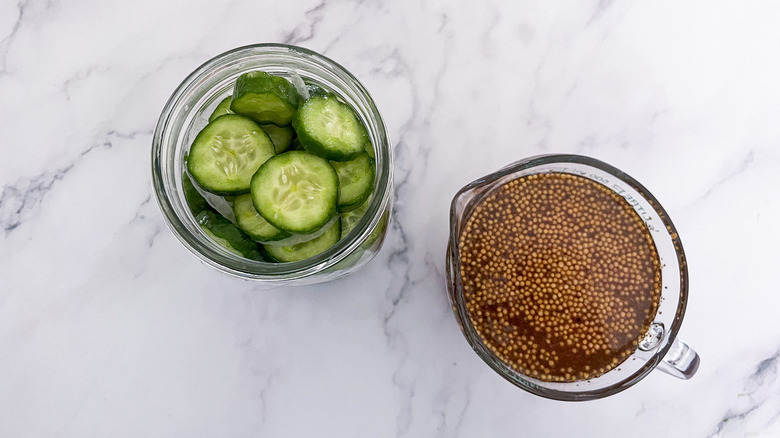 Erin Johnson/Mashed
Once the 30 minutes are up, go ahead and rinse and then drain the cucumbers. Layer them in a quart jar with the onions if you wish. "If you don't like onions, feel free to leave them out," Johnson notes.
The liquid is the last thing you need to add to the jar. Be sure that it fully covers the cucumbers, so they get a nice bath. Pop the pickles into the fridge for at least 24 hours before serving.
Serve your pickles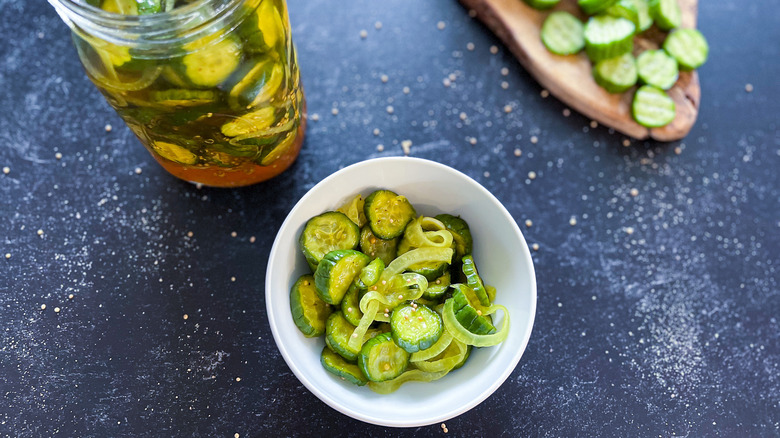 Erin Johnson/Mashed
You can put these bread and butter pickles on anything you wish, and there's no doubt that they make a tasty addition to any meal. Johnson shares a few of her favorite ways to serve the bread and butter pickles. "I like to chop these into my chicken salad and put them on hot dogs and burgers. They are delicious on their own and make a perfect addition to a charcuterie board," she shares. "These keep in the fridge for 1 month, if they last that long!"
After making these, we don't think you'll ever return to store-bought pickles again.
Bread And Butter Pickles Recipe
These bread and butter pickles will have you wondering why you ever went with store-bought pickles.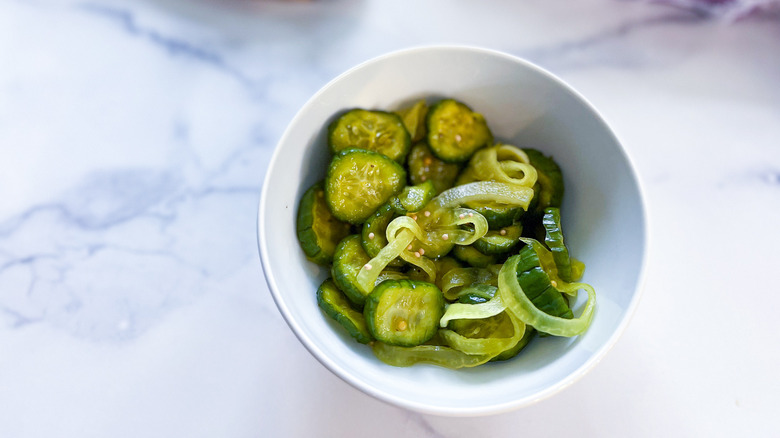 Ingredients
5 miniature cucumbers
1 tablespoon kosher salt
1 cup white sugar
¼ cup brown sugar
1 cup white vinegar
½ cup apple cider vinegar
1 ½ teaspoons mustard seed
½ teaspoon celery seed
¼ teaspoon turmeric
½ sweet onion, sliced thinly
Directions
Slice the cucumbers into ¼-inch slices.
Sprinkle the cucumbers with salt and allow them to sit for 30 minutes.
While the cucumbers are resting, combine the sugars, vinegars, and spices in a saucepan.
Stir and heat until boiling. Set aside.
Rinse and drain the cucumbers.
Layer the cucumbers and onion in a quart jar.
Pour the liquid over the cucumbers and onions, ensuring that the liquid fully covers them.
Refrigerate for 24 hours before serving.
Nutrition
| | |
| --- | --- |
| Calories per Serving | 64 |
| Total Fat | 0.2 g |
| Saturated Fat | 0.0 g |
| Trans Fat | 0.0 g |
| Cholesterol | 0.0 mg |
| | |
| --- | --- |
| Total Carbohydrates | 15.3 g |
| Dietary Fiber | 0.5 g |
| Total Sugars | 13.5 g |
| Sodium | 263.8 mg |
| Protein | 0.6 g |