Authentic Chicago-Style Italian Beef Sandwich Recipe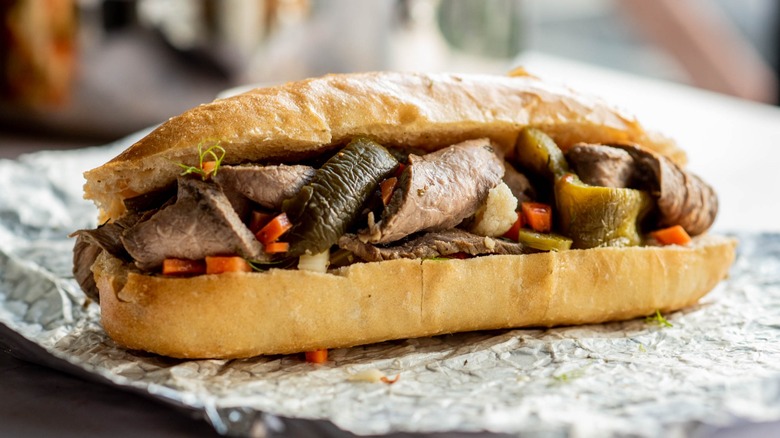 Michelle McGlinn/Mashed
If you're like us, you just finished binging all eight episodes of "The Bear" and are desperately craving an Italian beef sandwich from a real Chicago deli. Only problem? You don't live in Chicago, and a road trip isn't in the cards. Don't worry: We've got you covered. Here's an authentic, Chicago-style Italian beef recipe, just like the one from "The Bear" protagonist Carmen Berzatto (aka Carmy). This recipe is made for just four sandwiches, so no need to panic over 200 pounds of beef (and no sleeping in the kitchen, either). For a shortcut, the giardiniera can be pre-made, but we highly recommend trying your hand at this from-scratch version — especially if you can't get your hands on a good Chicago-style relish. It's easy, mostly hands-off, and totally delicious. You'll be using it on every sandwich after this one, too.
The ingredient list is long, but don't be intimidated: It all comes together seamlessly in a sandwich beloved by midwesterners for its sloppy, spicy, and flavorful eating experience. Soon, you'll be navigating the kitchen just like Chef Carmy and team, with delicious beef sandwiches that will make anyone say "yes, chef!"
Prepare your Italian beef sandwich ingredients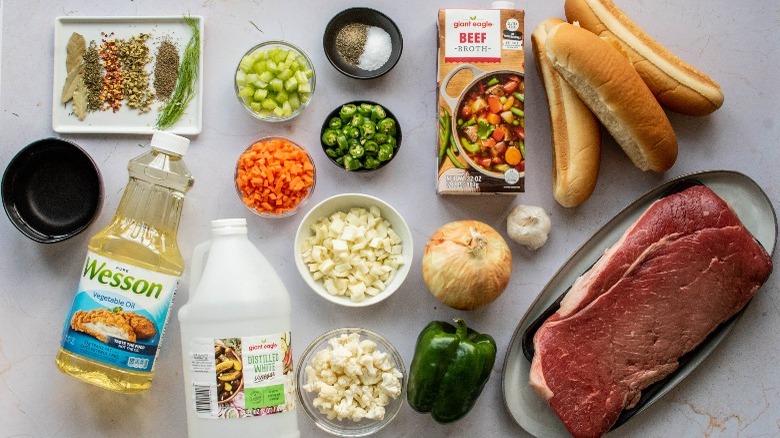 Michelle McGlinn/Mashed
A true, authentic Italian beef sandwich is a labor of love that requires time, patience, and quite a few specific ingredients. For the classic Chicago-style giardiniera, you will need cauliflower, carrots, celery, and green chili peppers. Our version also includes fennel: The fennel bulb is brined and pickled, and the fronds are tossed into the relish at the end for a fresh anise flavor. Traditionally, a Chicago giardiniera uses sport peppers. If you can't find those, serrano and jalapeño peppers are a close alternative.
For the beef, you will need a top round or rump roast, a whole onion, a whole head of garlic, celery, beef broth or stock, salt and pepper, thyme, oregano, and bay leaves. All of these ingredients will not only create a flavorful, tender sliced beef, but also the famous jus that the sandwiches are dipped in before serving. 
And lastly, to assemble the sandwiches, you'll need French rolls. While you can substitute hoagie rolls or submarine bread, it is worthwhile to seek out fresh, crusty French rolls to support dipping the heavy sandwiches in beef jus. If you want, you can also finish your sandwich with green bell pepper; when roasted and sliced, it adds a juicy, mild flavor to the beef, which in Chicago means it's served "sweet".
Prep the giardiniera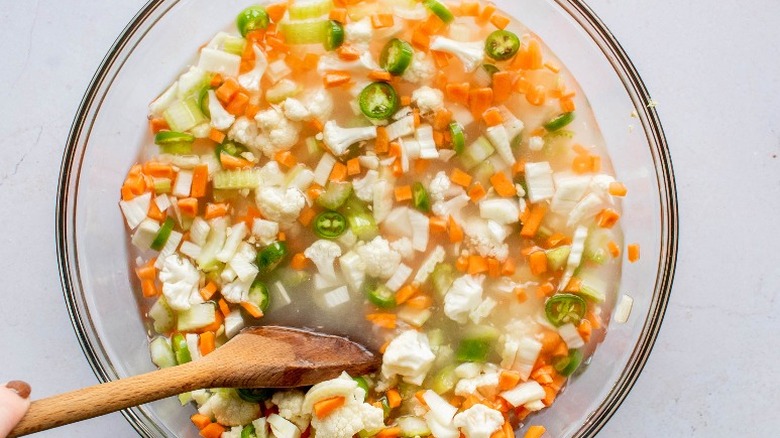 Michelle McGlinn/Mashed
You'll need to begin the giardiniera 3 days before you plan to cook the beef. This allows time for brining and pickling your chopped vegetables before they make their way to your finished sandwich. To start, chop the cauliflower, fennel (core removed), carrots, and celery into small pieces, then slice the peppers. Nothing has to be too precise — just small enough to enjoy as a chunky, hearty relish. To make things easier, you can use a food processor to chop the vegetables finely. If you like your giardiniera extra spicy, just slice a few extra peppers.
Brine the chopped vegetables in saltwater for 1 day to preserve their crunch, then strain and add the vegetables to a large jar or container. Next, you'll pickle the vegetables: Bring vinegar and water to a boil, add celery seed, oregano, thyme, sliced garlic cloves, black pepper, and red pepper flakes. Pour the pickling liquid over the brined vegetables and cool. Keep in the refrigerator for at least 2 to 3 days.
Finish your homemade giardiniera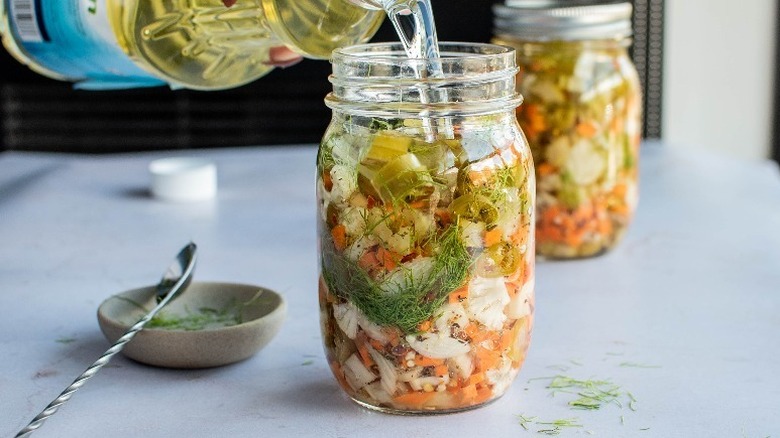 Michelle McGlinn/Mashed
The final step in finishing your homemade giardiniera is to strain the pickled vegetables and cover them with oil. Put the strained vegetables in a sealable jar; this recipe fills 2 16-ounce Mason jars with giardiniera — trust us, you'll want extra. Stir in a few sprigs of reserved fennel fronds. (The best way to reserve your fennel fronds while the vegetables are pickling? Keep them between a couple damp paper towels in a sealable plastic bag.) Cover the top of the vegetables with oil; be careful not to use olive oil, which will solidify in your refrigerator. Instead, use a polyunsaturated fat like soybean oil, which will remain in liquid state while refrigerated. Your giardiniera will keep for up to 6 months.
Brown the beef roast and vegetables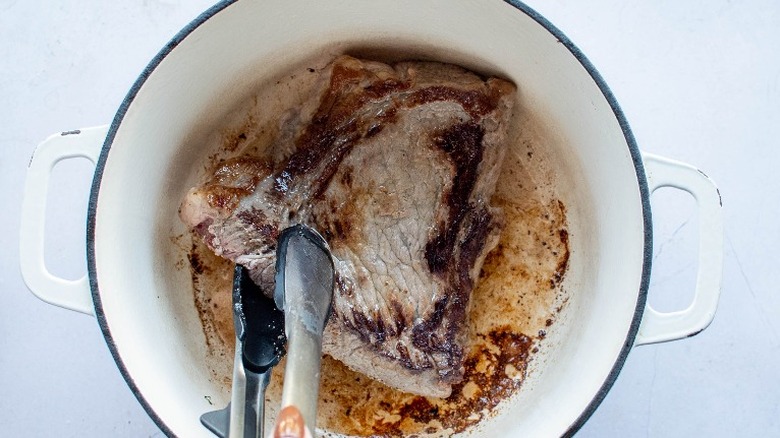 Michelle McGlinn/Mashed
Prep the beef by seasoning it generously with salt and pepper and resting it at room temperature while chopping the vegetables. Preheat the oven to a low 250 F, and heat a thin layer of oil in a Dutch oven on the stove over medium-high heat. You want the oil in the pot to be hot; when you add the beef, it should sear immediately.
Sear the beef quickly on both sides — just enough to darken each side and leave browned bits on the bottom of the pot. Remove the beef and add the roughly chopped onion, celery, and garlic. Sweat the vegetables, scraping the browned bits at the bottom as the pot moistens.
Braise the beef and veggies in the broth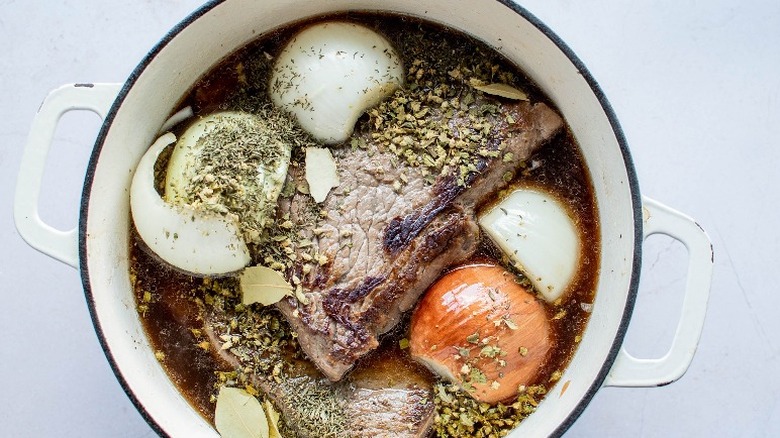 Michelle McGlinn/Mashed
Go ahead and return the beef to the pot and cover with beef broth. The key in cooking a lean cut of meat like top round and rump roasts is to cook it at lower temperatures for longer amounts of time; this, according to MasterClass, allows lean tissues to break down over time and tenderize the meat. With Italian beef, you want to be precise with your cooking times and temperatures; overcooking the beef will dry it out, and undercooking the beef will make it chewy. It is best to use a meat thermometer and aim for just undercooked, because once the beef is put back in the jus, it will finish cooking there without drying out.
So what temperature should you look for? Aim for 130 to 135 F. Anything over 140 F will be too tough and dry for a sandwich.
Slice and soak the beef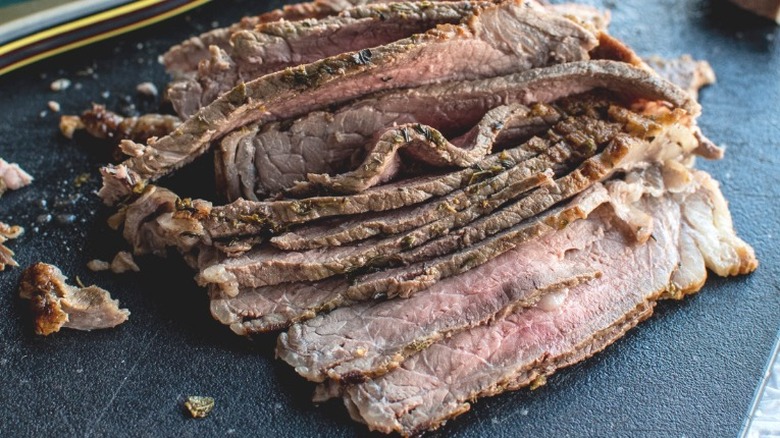 Michelle McGlinn/Mashed
Once the beef is cooked, remove the roast from the pot. Strain that delicious broth into a deep skillet and let it reduce slightly over medium-low heat. Meanwhile, use a very sharp knife to slice the beef. In a restaurant, this may be done using a deli slicer in order to achieve paper-thin slices. At home, aim for ⅛-inch or thinner, putting the knife at the edge of the beef and slicing slightly inwards. Once sliced, add the beef back into the jus (off the heat) to warm it through.
Finish assembling your Italian beef sandwich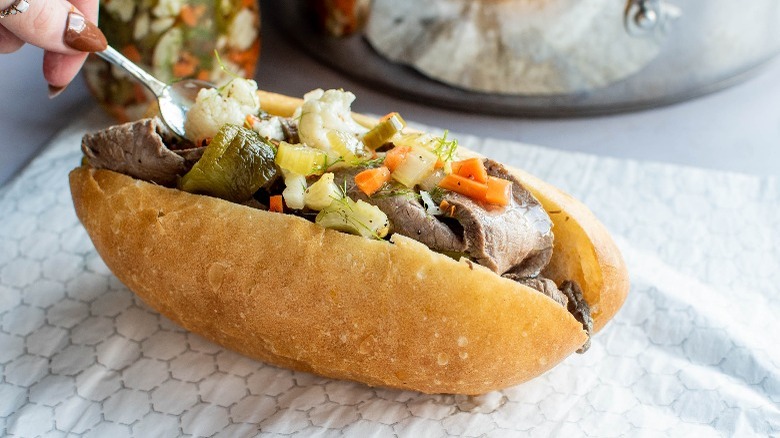 Michelle McGlinn/Mashed
For a traditional "hot" sandwich, pile on ¼ cup of giardiniera. For "sweet," add some slices of roasted bell peppers. For "half sweet half hot" ...you guessed it! Add a little bit of both.
Finally, it's time for the debatably most important step: dipping your sandwich. Don't be shy: Dunk both ends and the bottom into the jus to make a wet, spongey sandwich. Not your thing? You can skip it. But at least give it a try.
Enjoy your authentic Chicago-style Italian beef sandwiches hot and fresh, with the lingering aroma of beef jus, hot giardiniera, and Italian spices still filling the air. Keep a cold beverage and a pile of napkins close by to wash down (and wash off) the stuffed, spicy, juicy sandwich with. For a full meal, serve with freshly made french fries and an Italian ice. If saving leftovers, store the sliced beef in the jus in an airtight container for up to 4 days. Reheat them together on the stove until just warmed through.
Authentic Chicago-Style Italian Beef Sandwich Recipe
This sandwich is a labor of love. Your efforts will absolutely be rewarded, though.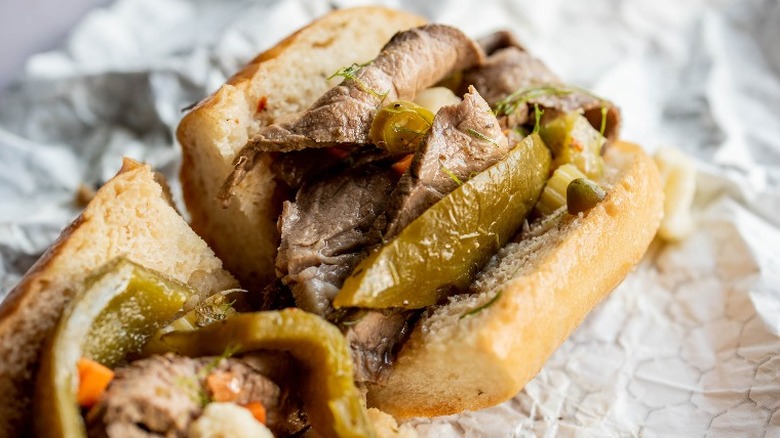 Total time: 73 hours, 10 minutes
Ingredients
For the giardiniera
1 cup chopped cauliflower florets
1 cup cored chopped fennel, fronds reserved and roughly chopped
1 cup finely chopped carrots
1 cup chopped celery
½ cup sliced sport, jalapeño, or serrano peppers
5 ½ cups water, divided
¾ cup salt
1 ½ cups distilled white vinegar
3 cloves garlic, thinly sliced
1 tablespoon celery seed
1 tablespoon dried oregano
1 tablespoon dried thyme
1 teaspoon black pepper
1 teaspoon red pepper flakes
3 cups soybean or vegetable oil
For the beef
1 (5-pound) top round roast or rump roast
1 tablespoon salt
1 tablespoon black pepper
2 tablespoons neutral oil
2 stalks celery, roughly chopped
1 onion, halved
1 head garlic, halved
5 cups beef broth, or more as needed
3 bay leaves
1 tablespoon dried thyme
1 tablespoon dried oregano
For the sandwiches
4 French rolls
Optional Ingredients
2 green bell peppers, roasted and sliced
Directions
Place chopped cauliflower, fennel, carrots, celery, and peppers in a large bowl and cover with 4 cups water. Stir in the salt, then lightly cover the bowl with plastic wrap.
Let covered bowl sit at room temperature for 24 hours.
Bring remaining 1 ½ cups water and vinegar to boil in a small pot. Add garlic, celery seed, oregano, thyme, pepper, and pepper flakes and remove from heat.
Strain chopped vegetables and discard the saltwater. Place the vegetables in a large jar or container and pour the vinegar mixture over the vegetables while still hot.
Allow jars to cool, then cover and refrigerate for 2 to 3 days.
After 2 to 3 days, strain the vegetables again and discard the pickling liquid. Place chopped vegetables back in jars and cover with soybean oil. Stir in ¼ cup reserved chopped fennel fronds, then cover and store in the refrigerator for up to 6 months.
To start the beef, preheat the oven to 250 F.
Take the roast out of the refrigerator. Season generously with salt and pepper on both sides. Allow it to rest at room temperature while prepping vegetables.
Heat oil in a large Dutch oven over medium-high heat until very hot. Add the seasoned beef roast and sear on both sides until dark brown, about 1 to 2 minutes a side. Do not overcook. Remove beef from the pot.
Add the celery, onion, and garlic to the pot and stir, scraping up the browned bits left behind from the roast. Once vegetables are softened and beginning to brown, pour in the beef broth and add the bay leaves, thyme, and oregano.
Nestle the seared beef roast into the broth, submerging as much as possible. Add more broth if needed to cover the roast. Bring to a simmer, then cover the Dutch oven and place in the oven.
Braise the beef for 1 hour, or until internal temperature is 130 F. If your roast is smaller than 5 pounds, adjust time accordingly. Do not exceed 140 F.
Once meat registers 130 F, remove from the oven and place the beef on a cutting board or carving board. Slice the beef as thinly as possible, about the width of a nickel (no wider than ⅛-inch).
Strain the beef broth into a deep skillet and heat on the stove over medium-low heat to reduce slightly. Discard solids and stir sliced beef into skillet. Remove from heat.
If using, add roasted and sliced bell peppers to the finished beef jus.
To build sandwiches, slice French rolls lengthwise and fill with 1 pound of sliced beef each. Top with roasted green peppers if using and up to ¼ cup giardiniera. Dip entire sandwich in beef jus. Serve immediately.