Marcus Samuelsson's Star-Studded Throwback Has Instagram Thrilled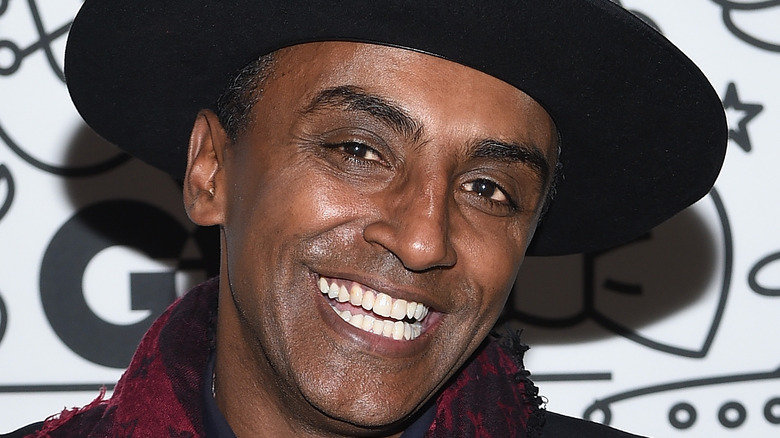 Dimitrios Kambouris/Getty Images
Marcus Samuelsson knows how to give the people what they want. America's second favorite Swedish chef (Samuelsson was born in Ethiopia, and grew up in Sweden, according to CNBC) has long been jockeying for first position in the hearts and minds of America, but the competition is fierce. The number one spot goes to The Swedish Chef, of course, of Muppets fame, who has been winning popularity contests and making pöpcørn shrimp since he first came on the scene in 1975 (per The Smithsonian). Hurdy gurdy to you, Swedish Chef, because Samuelsson is coming for you!
The 51-year-old's natural charisma and fascinating backstory have made him a shining star in TV's culinary constellation, which is why you may have caught him on "Top Chef Masters," "Chopped All Stars," or ABC's "The Taste" (via Marcus Samuelsson). If you want to beat the best, you have to be the best, though, and it would appear that a career as a successful restaurateur, philanthropist, and television star were not enough for Samuelsson to dethrone the Nordic puppet. So, the award-winning chef has had to resort to desperate measures, like working on his social media brand, by posting adorable TBTs and touching tributes to the most darling sous chef you ever did see. 
For the star's latest attempt at an overthrow of the long reigning Swedish Chef's kingdom, Samuelsson posted a picture on Instagram with so much star power, it puts the "coup" in "coup de grâce."
Chefs and Swedes and stars, oh my
"Now THIS is a #TBT!" Marcus Samuelsson wrote in his caption for a recent Instagram post. "As you can see, we go way back!" The "we" he is referring to is not the royal we, though the photo posted contains so much culinary royalty that we're guessing The Swedish Chef is quaking in his boots. The TBT features fresh-faced chefs Bobby Flay, Daniel Boulud, Todd English, Tom Colicchio, and Samuelsson himself in their younger years, with drinks in their hands and stars in their eyes. Of course, the stars could be a result of the camera flash, as the red-eye in this baby would suggest that it was taken long before smart phones. "Indeed Marcus!!" Boulud confirms in the comments. "Circa 1995 #goodolddays."
These days, each of the gentlemen pictured are the centers of their respective culinary orbits, which means that Samuelsson's photo contains more James Beard awards and successful restaurant collections than the average Instagram post. The amount of blue checks in the comments section would indicate that there's an appetite among the culinary elite for more group shots of famous chefs from the good old days. Or, as chef Adrienne Cheatham so succinctly put it in her comment, "This should be a kitchen poster!" accompanied by a fire emoji. To that end, may we humbly suggest a "Hot Chefs" calendar project? All proceeds could go to Samuelsson's campaign for number one Swedish chef. Just a thought!