The Hello Kitty-Inspired Frappuccino That's Taking Reddit By Storm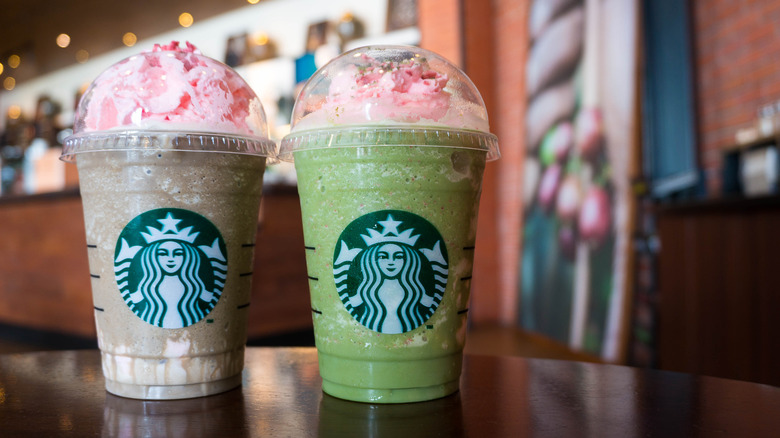 Bankoo/Shutterstock
Since the early '70s, Starbucks has been a destination for avid coffee drinkers. The Seattle-based java chain has also evolved into an oasis for consumers who crave something a little more luxurious to lift their spirits. The Frappuccino is a blended beverage made with ice, coffee, flavored syrups, and other yummy ingredients. It's an indulgent pick-me-up dessert-sipper that hits the spot any time of day. First introduced to Starbucks stores in 1995, the Frappuccino has become a beloved menu item around the globe.
Frappuccinos are available in a variety of flavors, ranging from Mocha Cookie Crumble to White Chocolate Mocha to Caramel Ribbon Crunch. A number of Frappuccinos have been the result of customers' and baristas' creativity.
Earlier this week, Redditor Strawberry_Belle shared a photo of a pretty pink handmade creation in the Starbucks subreddit with the caption, "I, quite literally, came up with this in my sleep. Behold my magnum opus, the Hello Kitty frappe."
The Hello Kitty Frappuccino is the product of a barista's dream
What appears to be a standard Strawberry Crème Frappuccino is topped with whipped cream, but the deliciousness — not to mention adorableness — doesn't stop there. There are also two chocolate chips for "eyes," a pineapple "nose," and two strawberry slices to form a cute "bow." Plus, two additional squirts of whipped cream form pointed cat ears. The drink resembles Hello Kitty, the most famous Sanrio character.
And fans are, for the most part, loving it. One user commented, "This is beautiful. PARTNER OF THE YEAR." Another praised, "I would absolutely pay twice the amount of a drink to get this."
Some users, however, are concerned that the drink is overly involved and will cause stress for workers. "Ok. Cute. Now delete," one wrote. "When customers start lining up to get this thing you only have yourself to blame," someone else chimed in.
Want your own Starbucks drink that pays homage to the cartoon feline? Totally the Bomb offers a rosy-hued recipe that calls for a Vanilla Bean Frappuccino with strawberry puree, dragon fruit pieces, and strawberry bits mixed in.