What's Really In Dollar Tree's Vanilla Extract?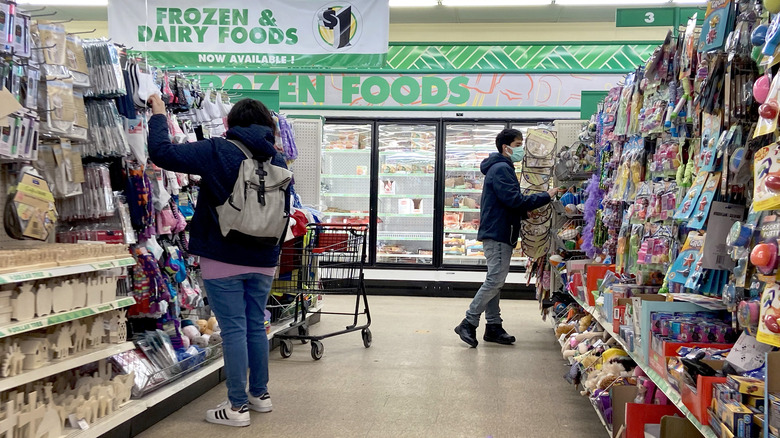 Scott Olson/Getty Images
Despite recent social media backlash for upping their prices to $1.25 after a 35-year reign as one of the only true dollar stores (per CNN), Dollar Tree is still a premiere destination for discounted goods. Offering everything from best-selling novels and cat toys to candles and shampoo, Dollar Tree is a frugal oasis with a buffet of miscellaneous merchandise for deal finders and couponers.
As inflation worsens America's food crisis, even top earners are turning to food banks and discount grocers to get their meals at an affordable rate (per Fox Business). For the millions of families and individuals currently strapped for cash, Dollar Tree is a great alternative to overpriced supermarkets. The discount variety store even offers name brand items like Nature Valley protein bars, Old Bay hot sauce, and Olive Garden's signature Italian dressing. While Eating Well lists items like Green Giant sliced carrots and Honey Nut Cheerios as some of Dollar Tree's healthier items, there are also plenty of items in the food section that skimp on quality ingredients in exchange for that revered $1.25 price tag.
YouTube creator Sensational Finds dedicates her channel to sharing discount shopping tips. But in her recent YouTube video, she adds Dollar Tree's imitation vanilla extract to her "don't buy" list. According to Healthline, vanilla extract is made by soaking vanilla beans in a mixture of water and ethyl alcohol, while Dollar Tree's imitation extract is loaded with sugar, artificial coloring and flavor, and preservatives.
There are plenty of affordable alternatives to Dollar Tree's imitation vanilla extract
According to Healthline, it's thought that artificial sweeteners may contribute to weight gain by altering the gut microbiome, leading to changes in metabolism and hormone regulation. And even during times of inflation, many Americans would rather not compromise on healthy, high-quality ingredients while trying to save money. The good news is that whether you're baking a pie or making homemade vanilla ice cream, there are plenty of substitutes for Dollar Tree's imitation vanilla extract.
YouTube account Sensational Finds was quick to offer solutions after condemning the sugary ingredients in Dollar Tree's extract (per YouTube). One option: The store actually sells a half ounce, miniature bottle of pure vanilla extract — while less quantity, a better quality ingredient. Common household ingredients like honey, maple syrup, nutmeg, and plant-based milks are also excellent alternatives to imitation extracts, and most can be found at Dollar Tree for the — still — low price of $1.25.