The Aldi Item That's Flooding Reddit With FOMO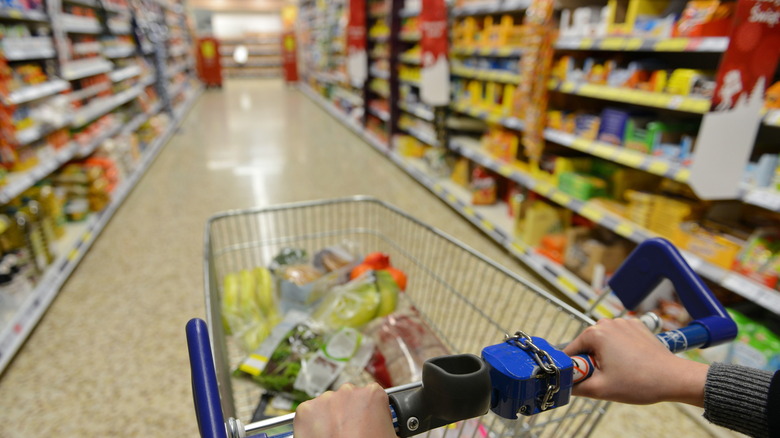 1000 Words/Shutterstock
Any Aldi shopper can confirm that the aisles of the store is lined with hidden gems. The discount supermarket is known for its affordable, high-quality, and unique selection of products that have won several awards from Product of the Year. By keeping an open eye and an open mind, shoppers are likely to stumble upon new items that just might become their new favorites. 
Alternatively, for shoppers who may not have time to roam the aisles and take in every option that lines the shelves, the internet is a convenient and powerful tool for discovery. From Instagram accounts to Reddit threads to Facebook groups, Aldi frequenters can easily learn about different products and decide what to add to their shopping list for their next grocery trip.
Right now, for instance, one particular product is taking the Aldi subreddit by storm, and members are flooding the thread with questions about where exactly to find it.
Why so much of Reddit is missing out
The Aldi product that's turning Redditor heads is the Tuscan Garden Giardiniera. The product was brought into the spotlight with a photo of two jars, one mild and one hot, being enjoyed as a snack with wheat crackers. For those unfamiliar, giardiniera is an Italian condiment made with a mix of vegetables pickled in vinegar or oil. In the Chicago Style variation, which the label in the photo claims to be, the vegetables are chopped more finely and are soaked in both oil and vinegar.
The post amassed mixed responses from Redditors. Some were envious, sharing that they had never seen the product at their local Aldi's and were convinced it wasn't sold there. Others claimed that they had seen it in the condiment aisle at their nearest Aldi's, but sadly for most, those claims came from shoppers who live in the vicinity of Chicago. One user shared that they reside in Milwaukee, Wisconsin, for example, while another said they're in Central Illinois.
Unless there's a widespread demand for Tuscan Garden Giardiniera, it seems that the product will be staying close to its Chicago roots for the time being.