We Finally Know Bobby's 'Secret Weapon' On Beat Bobby Flay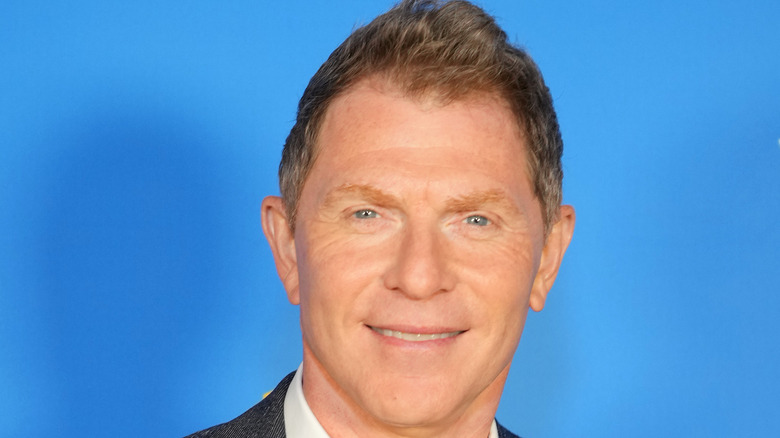 Kevin Mazur/Getty Images
Watching an episode of "Beat Bobby Flay" with a group can be quite a polarizing experience. You'll find yourself in two distinct camps — those that want Bobby Flay to win and those that want him to lose — and you'll quickly discover that no one is "lukewarm" when it comes to their desired outcome. Some will side with the gaggle of guest stars who eagerly point out all of Flay's faults and stop at nothing to throw him off his game. And others will call foul, cheering Flay on toward victory.
No matter how you feel, Flay doesn't actually win as often as many believe. In fact, Showbiz Cheat Sheet claims he is only victorious on about 66% of the shows. They attribute some of these losses to the fact that Flay lets his opponents choose which dish they will have to make and they tend to pick things that are outside Flay's wheelhouse. A prime example is the time Buddy Valastro took a "cakewalk" to victory with his tiered layer cake, while Flay's effort was referred to as a "Jackson Pollock imitation" (via Food Network). Some will be happy to know that during an appearance on "The Drew Barrymore Show," he confessed that he enjoys losing as he wants to "create a stage for other chefs from around the country who may not get that opportunity."
He does, however, have a secret weapon that he uses when he wants a win and it's time to reveal what it is.
Flay's crispy rice is an effective weapon
While Bobby Flay doesn't mind losing, it wouldn't be much of a show if his defeats became too regular. It's important that he has a few tricks in his culinary arsenal that he can use when the competition gets tough. And, it turns out that one of his winningest weapons is "crispy" or "crusty rice." In fact, when the judges realize that he's whipping up a batch of this famous dish, they get very excited as they know they're in for a treat. 
And Bobby Flay doesn't mind divulging this secret. During an appearance on the Rachael Ray Show, he confessed to making a lot of "crusty rice" when he wanted to "go for the win." During this episode, he came armed with Coconut and Green Onion Rice, recommending that viewers put the cooked rice in a pan until it gets "nice and crusty." When it comes to "Beat Bobby Flay," this dish works. Flay admits that, "If the judges were tied on their decision, this coconut rice, with its crispy bottom, was the deciding factor" (per Steamy Kitchen). In true Bobby Flay style, he puts his desire to teach others above his competitive edge. Even though this unexpected dish is Bobby Flay's competition go-to, the recipe's appearance in Parade shows that he is willing to share it with the world. No matter whose side you pick during "Beat Bobby Flay," at least you can enjoy "crispy" rice and culinary victory at home.