The Bold Burger Sonic Is Releasing For A Limited Time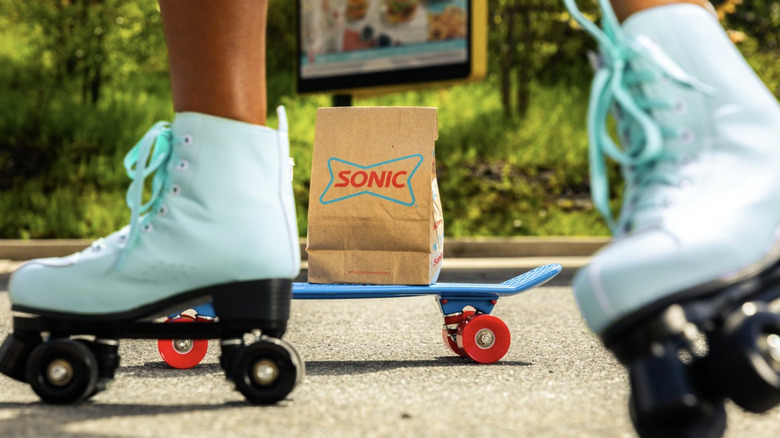 Brett Hondow/Shutterstock
Cheeseburgers are a staple menu item at many fast food restaurants. They're quick, filling, and easy to eat on the go or at home. It seems most fast food restaurants have a signature burger that is unique to each establishment. McDonald's is known for its Big Mac, Burger King has its flame-grilled Whopper, and Freddy's serves up thin steakburgers.
Sonic Drive-In serves up classic cheeseburgers, piled high with American cheese, shredded lettuce, tomatoes, raw white onions, and pickles. The burgers also come with a more controversial ingredient: mayonnaise. One of the perks of dining at Sonic is the customization option customers have to make their burgers any way they like. If mayo grosses you out, you can leave it off completely or add another condiment like mustard or ketchup. Sonic also gives customers the option to add on some unique toppings, like chili, fresh jalapeños, or bacon.
In addition to its regular burgers, Sonic occasionally introduces a new burger to its repertoire. In 2021, Sonic released its Dill Pickle Cheeseburger, which was topped with pickle fries, fresh pickles, and a dill pickle ranch. This year, Sonic is rolling out another new burger: the Chophouse Cheeseburger.
What makes Sonic's new cheeseburger unique?
Sonic's new Chophouse Cheeseburger debuts nationwide on August 29, and Sonic app users get early access to the new cheeseburger on August 22. The new burger features Sonic's 100% pure-beef patty, topped with tangy chophouse aioli, American cheese, and fried onion strings (per Business Wire). The Chophouse Cheeseburger is served on a fluffy brioche bun.
Sonic hopes this burger will allow customers to feel like they're eating a steakhouse burger with a fast food burger price. The Chophouse Cheeseburger will start at only $4.99 for just the sandwich. Sonic officials chose to debut the Chophouse burger to entice customers with flavors they have not seen before at fast food restaurants (per Business Wire). Just like all Sonic burgers, any item can be removed or added to customize the recipe to a customer's liking.
Sonic app users not only get early access to the new burger, but all burgers are half off on Tuesday nights when purchased through the app. Those eager to try the burger only have until October 30 to get their hands on it.