The Unexpected Ingredients Burger King Adds To Its Burgers In Spain
Epic burger toppings can create a life-changing sandwich, whether you use candied bacon, brown gravy, or extra-melty cheese. This doesn't mean that the standard burger with American or cheddar cheese, lettuce, tomato, and pickles is boring; it's a classic for a reason. Still, fast food menus around the world are evidence that the "gourmet" or kicked-up-a-notch burger is here to stay.
Take Burger King, for example, which made $1.8 billion globally last year (via Statista). While the chain considers its famous Whopper its ¼ pound crown jewel, its other burgers look very different around the world. Burger King Brazil's patties are stacked into towers, Burger King Japan had a spicy seafood Whopper, and many other locations around the world offer a play on the American classic based on the local food landscape and traditions. In Spain, that means burgers with ingredients that you would encounter in tapas spots, along with croquetas and patatas "Supreme." The Spanish outlets' newest burger creation is also locally inspired — but fancier. Meet the "Originals."
These Spanish Burger King burgers have premium ham and cheese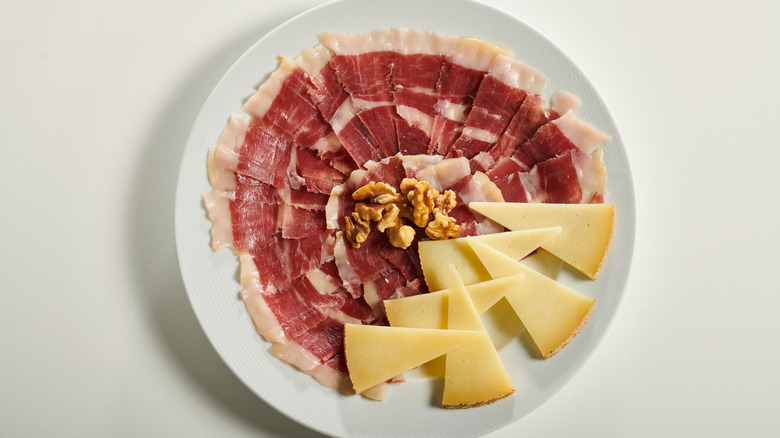 Kico Moncada/Shutterstock
Recently, Burger King Spain introduced a still-expanding gourmet burger line called the Originals. The chain's newest Original burgers feature patties made with Angus beef, sauces consisting of semi-cured cheese or grilled onions, and added veggies including arugula, roasted red peppers, and sun-dried tomatoes. All of these ingredients are served on a toasted brioche bun. Most notably, one burger features Manchego cheese, and another is finished with Iberico ham. If you're from or have ever traveled to Spain, you're probably aware that these premium ingredients are often served in local restaurants or at authentic Spanish dinner parties.
As demonstrated by its Originals burger commercial, which shows diners trying the sandwiches in a palace set to classical music, Burger King was definitely seeking a fancier feel with this product line. The word is still out on how the Manchego and Iberico ham burgers are performing, but one Spanish YouTube reviewer tried Burger King's previous Originals sandwiches a few months back and gave them positive reviews.