TikTok Took Chipotle's Quesarito To The Next Level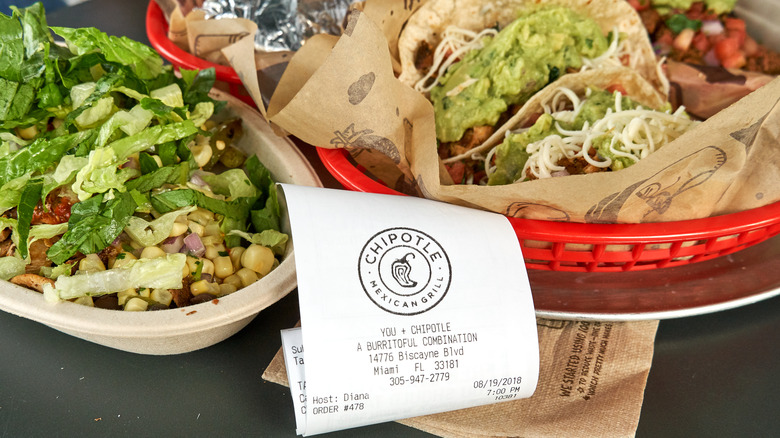 dennizn/Shutterstock
Food hacks make up a pretty impressive amount of TikTok's videos. In fact, thanks to their incredible popularity, some TikTokers' tips for turning traditional McDonald's foodie favorites into new tasty treats were even picked up as official menu items by the fast food giant.
Although McDonald's actually started selling some of its most popular TikTok hacks, it's far from the only restaurant chain that has found its menu being revamped by TikTokers. There are many videos on the platform telling users how to get the best out of our Taco Bell orders or giving the rundown on how to score secret Sonic snacks. And the casual fast food chain Chipotle is clearly one of TikTok's favorite restaurants to hack.
While there are plenty of hit videos revealing how to score a $3 burrito or the best way to order off-the-menu nachos, there is one Chipotle TikTok hack that many users have found themselves eager to try — and it involves one of Chipotle's most well-known secret menu items, the quesarito.
Chipotle lovers can't get enough of this quesarito TikTok hack
As if the half-burrito, half-quesadilla creation didn't already sound deletable enough, TikToker Alejandro Pagán, whose username is @aliwuzhere, posted a video where they revealed their recipe for "Ali's Quesorito." The list of ingredients the TikToker uses to take the quesarito up another level of deliciousness includes Pollo Asado, crushed chips, corn, fajita vegetables, Pico de Gallo, lettuce, and sour cream.
Many Chipotle fans in the comment section expressed their excitement over discovering this quesarito hack. One user wrote," them chips inside always the move." Another posted, "OMG I WILL HAVE ONE TOMORROW!" 
However, employees of the fast-casual chain noted that, due to the secret menu item taking a long time to make, Chipotle goers should be wary of how busy their local restaurant is before trying out the upgraded quesarito meal. One user wrote, "Just don't ask for no quesarito while it's busy like come on nah." Another posted, "As someone who works at chipotle plz don't order this when the store busy." 
So while this hack might look incredibly appetizing, considering that the employees working at Chipotle might be busy enough, and they will surely appreciate customers who are mindful of how this order could hold up a long line.