What Happened To Float 'N' Grill After Shark Tank?
Having fun on a boat day can work up quite an appetite, and feeding hungry boaters can be big business, as Float 'N' Grill proved in Season 12, Episode 24 of ABC's "Shark Tank." The company sold a single product that shared its name — a lightweight, easy-to-use floating grill with a 1,200 BTU propane burner. It provides boaters and their guests with an easy way to cook without ever getting out of the water, saving space on crowded crafts.
Founders Mike Bashawaty and Jeremy Quillico told the sharks they developed the idea after purchasing a boat and growing sick of soggy sandwiches and other cold food as their only options for long days hanging out at the sandbar. They developed a prototype and patented a design in 2017 that included features like a fuel tank holder and weight displacement to keep it from flipping. However, they failed to raise the money to further develop it through a Kickstarter.
What happened to Float 'N' Grill on 'Shark Tank'?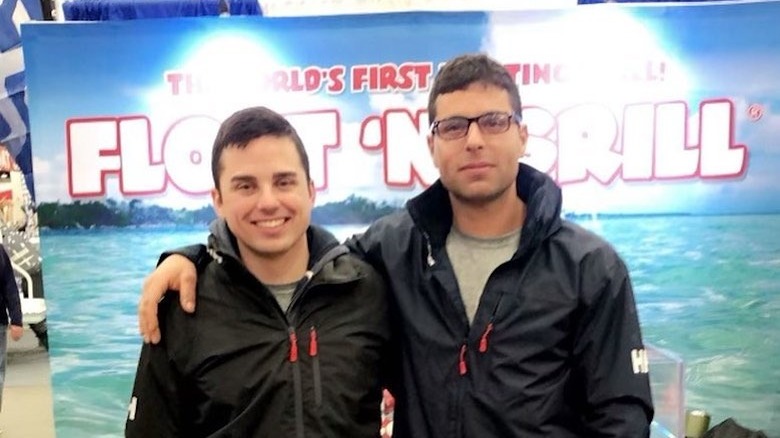 Facebook
While the sharks swarm on some products as fast as their namesake animals, that wasn't quite the case for this water-friendly product. After initially showing interest in the unique item and its fun, viral branding, and marketing, the pitch ran aground when the numbers came into the picture. The sharks thought the $229 price point was expensive, and they were highly dubious of the year-to-date sales, which were under $20,000 at the time of the taping. Shark Kevin O'Leary even went as far as to argue the "sandbar community" had rejected the product. The entrepreneurs pushed back, claiming those who encountered the Float 'N' Grill reacted positively and that new accessories would soon help boost sales.
Eventually, guest Shark Daniel Lubetzky brought up the potential to license the product to a larger grill company like Weber. He offered the inventors $200,000 for 50%, which the two rejected, noting they only owned 70% of the company after taking on previous investors. Mike Bashawaty countered with a complex offer involving a $100,000 investment for 20% of the company and a $100,000 loan with a $2 royalty on each unit sold until the loan is repaid.
Despite approving of the crafty negotiation, the rest of the sharks went out, leaving Lubetzky to make a final offer to the pair of $100,000 for 22.5% of the company, a $100,000 loan at 7% interest, and 50% of any licensing deals he helps them secure. Bashawaty and Jeremy Quillico accepted.
Float 'N' Grill After 'Shark Tank'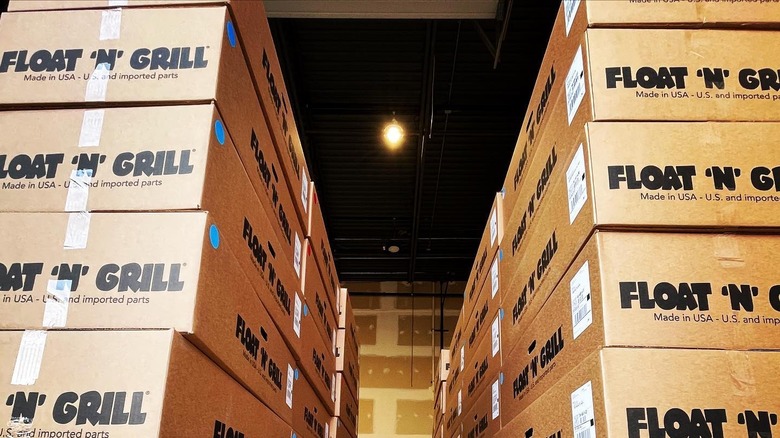 Facebook
Luckily for Float 'N' Grill's founders, it appears the deal did go through, which is not always a given on "Shark Tank." The show was taped in 2020, and nearly a year later, they told the Detroit Free Press that Lubetzky was a "cool guy" and called working with him a "great opportunity." They also praised his team, noting they're always available if the two need a contact.
Float 'N' Grill repeatedly sold out of the product following the show's airing. While a deal on "Shark Tank" can be a golden ticket for many companies and products, it's no guarantee of success. Despite Lubetzsky's and the founders' confidence, the concerns of Mr. Wonderful and the other Sharks turned out to be well-founded, as the item never became the must-have boating accessory the founders believed it could be. A licensing deal that Mike Bashawaty mentioned to the Free Press never materialized either.
Why did Float 'N' Grill go out of Business?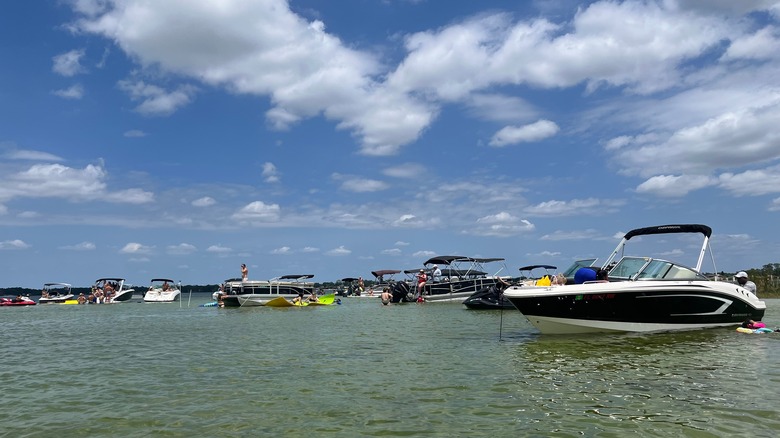 Bradley GT/Shutterstock
Unfortunately, as of late July 2023, the company's webpage was offline, and its Facebook, Twitter, and Instagram pages were no longer accessible. Additionally, the product's Amazon page listed it as currently unavailable. Therefore, it's safe to assume that Float 'N' Grill is no longer in business or at least has paused operations temporarily.
Float 'N' Grill was still operating as recently as 2022 when a Facebook post noted difficulty obtaining shipping materials was the reason some orders had been delayed. Numerous sources mention Float 'N' Grill's difficulty keeping the item in stock throughout its existence. This was a relatively common occurrence for many companies in the months and years following the height of the COVID-19 pandemic, thanks to significant disruptions to manufacturing and supply chains.
It's not clear whether these difficulties eventually forced the company to close its doors or if other issues or simply a change in direction from the founders led to the shuttering of operations.
What's next for Float 'N' Grill's Founders?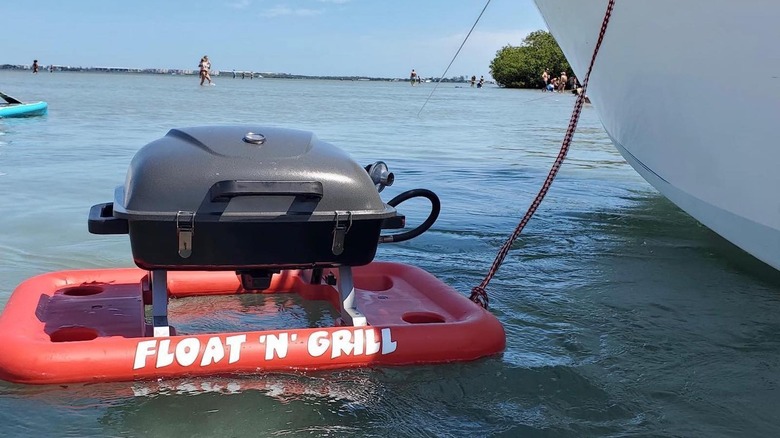 Facebook
There's no word on what Mike Bashawaty and Jeremy Quillico plan to do in the future. A Crunchbase page for Bashawaty lists no other organizations, and Quillico's LinkedIn still shows his most recent position as co-founder of Float N Grill.
As of mid-2021, the two still had full-time jobs outside of Float N Grill, with Bashawaty operating an auto repair shop and Quillico serving as a systems administrator for The Michigan Senate. The two might have simply returned to their day jobs once the company folded. In any case, both founders still have plenty of time for future entrepreneurship and business opportunities. Plus, a connection to a billionaire shark like Daniel Lubetzky never hurts. While it appears that Float 'N' Grill may have sunk, failure is its own motivator. In the meantime, you may find them hanging out at the sandbar — with a full stomach of freshly grilled food, of course.