Here's How You Can Get Paid To Drink Pumpkin Spice Lattes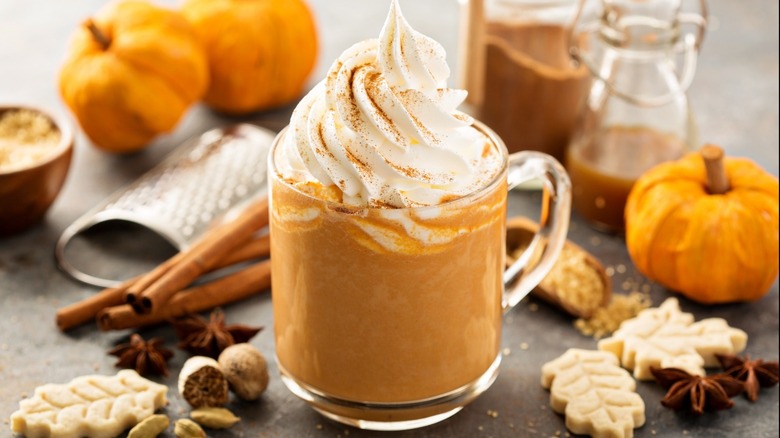 Elena Veselova/Shutterstock
It may only be August, but it's Pumpkin Spice season already. Even if you aren't one of those people who marks your calendar for the exact date Starbucks' PSL returns in 2022, you've probably noticed that pumpkin rolls are back in supermarkets and pumpkin spice is back at Dunkin'. This year, Dunkin' is adding a Pumpkin Cream Cold Brew into the mix as well (via Dunkin' Donuts). There's no doubt about it: Fall might not be here yet, but pumpkin spice season is upon us once again.
Pumpkin spice has been gracing menus since 2003, when it first appeared in its original form as the holy grail of Starbucks' seasonal drinks: the Pumpkin Spice Latte. According to Newsweek, the drink was created by Starbucks beverage developers holding bites of pumpkin pie in their mouth while sipping on coffee.
If you're a pumpkin spice aficionado, there's even more good news coming your way this year — Pour Moi may just have the perfect job for you this PSL season.
PSL Professional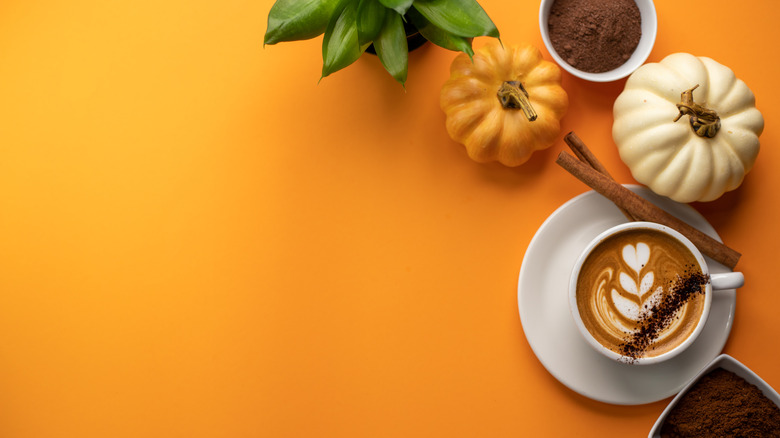 Charles-Edouard Cote/Shutterstock
Are you a pumpkin spice expert? Well, regardless of the scientific reason why you can't get enough of pumpkin spice, there's a chance for you to enjoy this beverage professionally. Women's clothing and lingerie brand Pour Moi is looking for one lucky pumpkin lover to help with a dream-worthy task. Pour Moi is seeking a taste tester to sample all the available pumpkin spice drinks from major chains and crown one the queen of PSL. The taste tester will also be expected to review each item they try, and rate them specifically on "sweetness levels, flavor, coziness, smell and add bonuses (cream, sprinkles, gingerbread, etc.)," according to Newsweek.
And yes, Pour Moi is paying the person selected for this task. The lucky tester will receive a one-time payment of $350, and Pour Moi will pay for all the treats to be tested. The catch? They're only hiring one taste tester whose reviews will be shared through Pour Moi's website. The search is open globally to anyone with access to the major chains selling these pumpkin spice delicacies. So, what are the job requirements? The ability to get the beverages from all of the specified coffee shops, "a penchant for pumpkin," and that's about it!
The job application, which can be found at Pour Moi, consists of two easy, short answer questions that include "What do you love most about autumn?" The winning applicant will be chosen at random. No socials or social media following needed.