The Aldi Dessert That Tastes Just Like Girl Scout Cookies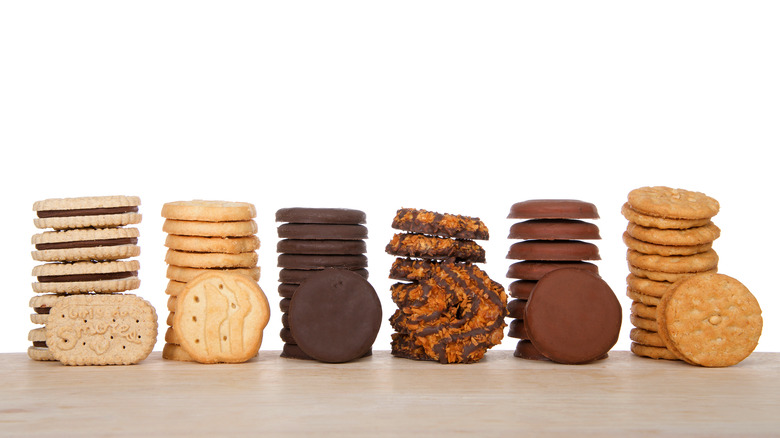 Sheila Fitzgerald/Shutterstock
Buying a box of Girl Scout cookies is a sweet experience in more ways than one. Not only do you get to enjoy a tasty treat, but you also get to support America's Girl Scouts as they continue to build upon their lives and leadership skills. There are thirteen Girl Scout cookie varieties, and every diehard fan has their own personal ranking of the worst to best flavor. Even celebrities have a go-to cookie that they tend to gravitate toward. While Milo Ventimiglia loves snacking on Do-Si-Do cookies, Leonardo DiCaprio gravitates toward the Trefoils (via People).
While every Girl Scout cookie is delicious in its own right, not all are equally adored. When it comes to everyone's favorite, Thin Mints situate themselves at the top of the Girl Scout cookie hierarchy. According to the official website, Thin Mints are sold more than any other type of cookie. The rich indulgence of chocolate, paired with a cool and refreshing minty flavor, what more could you want in a cookie? If you're firmly on Team Thin Mint, then there's one Aldi dessert that you might want to keep on your radar (via Reddit).
While they may be hard to find on shelves, Aldi customers adore Benton's mint striped fudge cookies
One user took to Reddit to share one of their favorite Aldi finds: Benton's mint striped fudge cookies. "Totally recommend, they taste just like girl scout cookies," the consumer captioned the thread. People in the comments section echoed the original poster's endorsement, singing the praises of this Aldi cookie. "I can't buy them anymore — I don't have ANY sort of self-control around them," one user wrote. Another concurred with this statement, saying, "was going to say the same. That was a one time thing, was gone like that." One user even said, "honestly I think they may be better than thin mints."
Users also had a few suggestions for fellow Aldi shoppers regarding these Thin Mint alternatives. For one, these cookies seem to be a popular product at Aldi, so buy a package when you get the chance. Other users recommended various ways to serve these goodies, from freezing the treats first to crumbling the cookies on top of ice cream.
Fans of both the Thin Mint and Aldi's alternative should also turn their attention to the most recent addition to the Girl Scout cookie line-up: the Raspberry Rally. This new cookie, which will debut in early 2023, is being referred to as the "sister" to the Thin Mint (via NJ). While this fruity addition has the same chocolate shell as its minty counterpart, it sets itself apart with a raspberry filling.