Why Reddit Thinks Wendy's Discontinued A Popular Sauce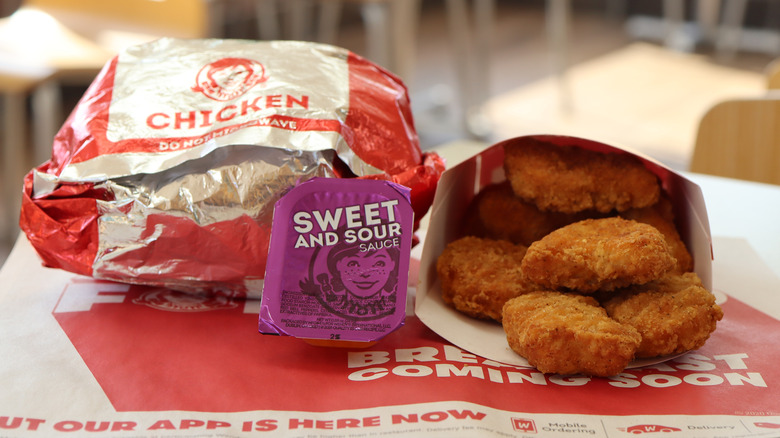 Deutschlandreform/Shutterstock
For many years now, condiment connoisseurs have been making space in their pantries for hot honey: A delectable amalgamation of spicy and sweet that Thrillist says lends itself nicely to pizza, chicken sandwiches, and even ice cream. The sticky sauce first made its presence known in the U.S. with the debut of Mike's Hot Honey in 2010. However, it wasn't until a feature on national television in 2015 that it started to seriously pick up steam (via CBS).
Now, in 2022, the hot honey trend is heating up like never before. Not only have several notable brands started to produce their own versions of the condiment that one could easily describe as liquid gold, but it has also infiltrated the menus of a number of popular restaurant chains like Wingstop and Johnny Rockets, where hot honey-inspired dishes were added to the menus just last month.
The hot honey movement is clearly here to stay. However, even with the condiment's immense and ever-growing popularity, there is one eatery that some Redditors think may soon be cutting ties with the trend. "Has the hot honey sauce been discontinued?" u/idoubtthatsaaron asked their fellow Frosty fanatics in a post to the Wendy's subreddit page earlier this week. Could this really be the end?
Wendy's may not be doing away with its hot honey entirely
Wendy's was a relatively early participant in the hot honey trend, introducing two chicken sandwiches slathered in the condiment to its menu in February of this year (via Chew Boom). Additionally, the eatery also debuted a hot honey dipping sauce, which the Wendy's website describes as a habanero-infused honey that is "equal parts sweet and heat." The sauce was met with several positive reviews, being labeled by FoodSided as one of the brand's "most versatile sauces" that paired well with fries, nuggets, and even Frostys. However, despite its warm reception, a recent Reddit thread seems to serve as evidence that Wendy's hot honey dipping sauce may soon be no more.
"Just got told at my local Wendy's it's been discontinued and in so many words I am totally devastated," u/idoubthatsaaron shared on Monday, August 22. Their post received a mix of responses, with one Redditor saying they were told the same thing, while others claimed they had just ordered the sauce this week. Sadly, those glimmers of hope were squashed, as not one, but two apparent Wendy's employees chimed in to confirm that the rumor is, in fact, true. "We have a few more packs of sauce, but we don't have any more boxes getting delivered," u/Chrisg69911 commented, while u/NightNurse14 shared a similar tale. However, both also shared that the hot honey chicken sandwiches would still be available, meaning fans may still be able to get their sweet and spicy fix.