Johnny Rockets Just Hopped On The Hot Honey Bandwagon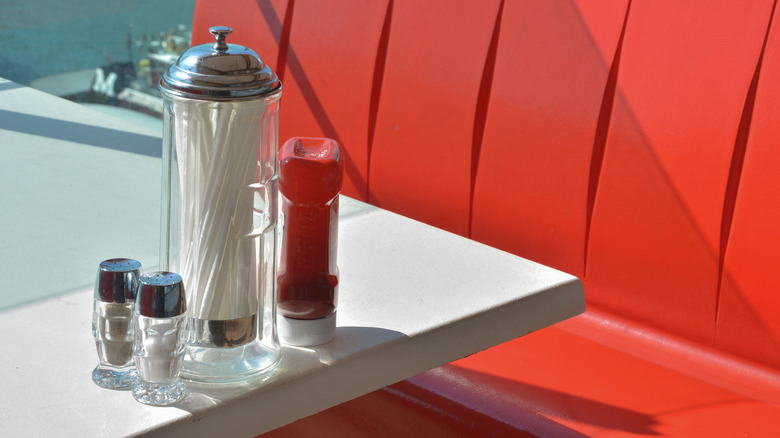 Lemonpink Images/Shutterstock
Johnny Rockets may be reminiscent of a 1950s-style diner, complete with tabletop jukeboxes and a counter where you can sit on barstools and enjoy a root beer float, but the retro food chain is staying au courant with its latest menu addition. The quick service eatery that specializes in malts, burgers, and fries has been around since 1986, per Business View Magazine – the same year that Oprah Winfrey made her entrance into the world of talk show hosts, "Phantom of the Opera" graced London's West End theatre (via The People History), and Cyndi Lauper was singing to us about our "True Colors." Fast-forward to 2022, and Johnny Rockets is now hopping on the hot honey bandwagon.
Hot honey has been a thing since Mike's Hot Honey infiltrated condiment cabinets in 2015. This chili-infused honey was created by Michael Kurtz after he tasted the condiment on pizza in Brazil while in college (via CBS News). Eaters clearly enjoy the sweet heat of this golden syrup, as the trend leads to menu items at Fatburger, Wendy's hot honey chicken biscuit, and now at Johnny Rockets.
A new chicken sandwich
According to Johnny Rockets' website, the chain has added a crispy chicken sandwich to its menu with a drooling drizzle of Mike's Hot Honey to play against the fried chicken. Additionally, this sandwich is piled high with pickles and bacon, and you can customize it with cheese, an onion ring, extra bacon, grilled mushrooms, caramelized onions, jalapeños, chili topping, and grilled green peppers (if you want to go for the works). Chew Boom notes this sandwich will only be available for a limited time, so make certain you check your local Johnny Rockets so that your taste buds aren't disappointed.
Johnny Rockets' addition of its new chicken sandwich is on par with the food trends QSR Magazine has seen in its data analysis. According to the publication, they've noted an 187% increase of menu items using this sweet and spicy syrup on their dishes. Hot honey is, well, hot. But don't worry if you're new to the trend, we have you covered with the ways you should be using hot honey and how to make the spicy and sweet sauce at home.