House Of The Dragon Now Has Its Own Wines
We may receive a commission on purchases made from links.
Three years after HBO's "Game of Thrones" finished, it still ranks as one of the most popular shows on television today (via Winter is Coming). As such, when it was revealed that a spin-off prequel titled "House of the Dragon" was about to hit our screens, it's no wonder that the news was received with excitement and anticipation.
During the eight years that "Game of Thrones" aired, we had a range of inspired products ranging from the usual t-shirts and merchandise but there were other companies who went out of their way to show their love for the show and to bring customers to their door. There was a Game of Thrones beer, a Papa John's pizza inspired by the series and Oreo went to great lengths to recreate promotional scenes. The show was so popular that people couldn't get enough of it. So it stands to reason that there will now be an abundance of things "House of the Dragon" related.
Episode 1 aired on HBO on August 21 and fans were thrilled, giving it an 8.9 rating on IMDb. With another nine episodes to go, it stands to reason that you'll want to celebrate the series by watching it with a loved one or with friends. So, Vintage Wine Estates in California has partnered with Warner Bros. to bring you an exclusive range of red wines featuring the House Targaryen symbol for you to toast to the show (via Delish).
The perfect watch party pairing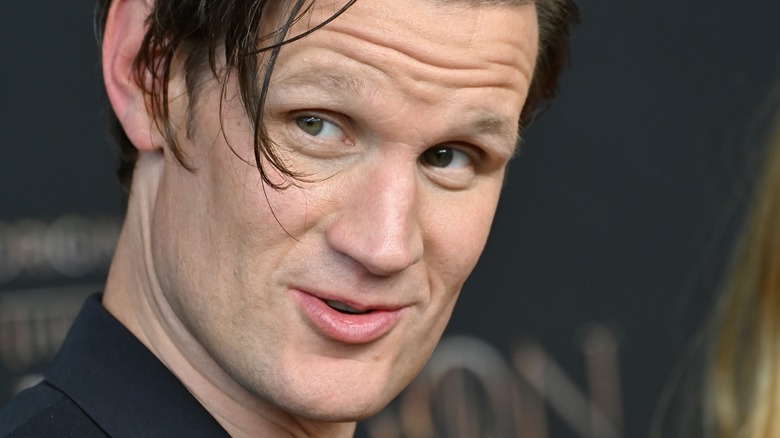 Featureflash Photo Agency/Shutterstock
According to Delish, the wine is bottled by a division of Vintage Wine Estates cleverly calling itself Seven Kingdoms Cellars in honor of the kingdoms of Westeros.
There are three red varieties to tempt your palate, including a 2021 Pinot Noir which Seven Kingdoms describes as having "lovely aromatics, including tart red cherry and cranberry, followed by subtle earthy and savory notes", a 2019 Cabernet Sauvignon described as "dense, rich, and jammy", and a Red Wine blend that brings together Cabernet Sauvignon, Zinfandel, Petite Verdot, and Malbec in unison with tasting notes of cocoa, cranberry, and black currant (via House of the Dragon Wines).
All of the bottles are reasonably priced at $20 directly from the House of Dragon Wines website. However, both the red blend and the Cabernet Sauvignon are sold out at the moment with the promise of more stock to come. They do still seem to be available at other outlets, however, including Buy Wines Online, where it's currently on sale for $16.95 a bottle. 
Since the release was quite recent there are few reviews of the product online with the exception of a 5-star review on Buy Wines Online for the Cabernet Sauvignon in which a fan confesses, "I love game of thrones and this wine is actually pretty good for the price."