The Wendy's-Inspired Racing Game Instagram Is In Love With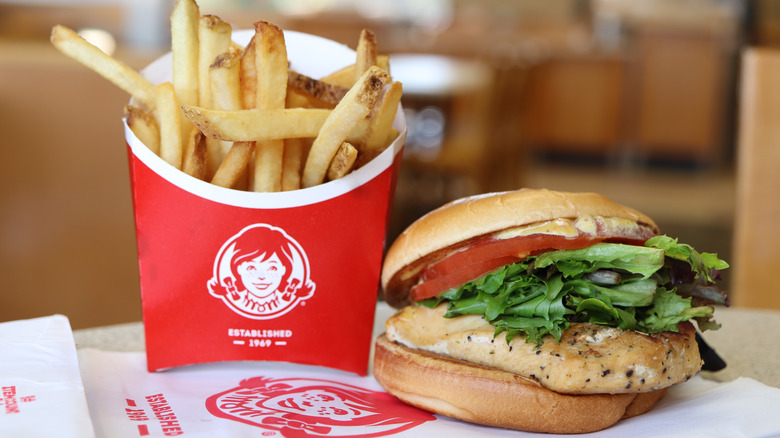 Deutschlandreform/Shutterstock
Wendy's is known for its crispy, hot French fries, classic Frostys, its square-shaped burgers, and its witty social media. Whether this beloved brand is asking for proposals on Twitter for a chance to win free fries for a year, tempting us with the Wendy's Baconator, or humorously roasting its competition (via Timeout), Wendy's knows how to keep its customers entertained and their appetites satiated. And all that hard work has paid off. The fast food restaurant is the third largest hamburger chain in the world, per Fast Food Menu Prices, and definitely keeps us talking.
But it's not exactly the food that has our tongues wagging right now. Instead, Wendy's Instagram post featuring a Wendy's-inspired race car stadium and race track has its fans feeling like they are watching the NASCAR race of their food dreams. Instead of the likes of Corey Lajoie and Bubba Wallace sitting behind the wheel of tricked-out race cars, speeding around the Daytona International Speedway, Wendy's uses its own superstars to race some truly "hot wheels" around a track that brings back some real nostalgia for some of its fans.
Not your average speedway
Wendy's took the idea of stadium food to a whole new level in its Instagram video, showcasing its "Spicy Nugg Speedway" filled with watchful fries, a kid's racetrack, and four race cars with chicken nuggets strapped on top. This Wendy's creation really has an "If you build it, they will race" vibe to it and the chain captioned its sporting event with "Nugg racing > marble racing. Cause marbles aren't delicious. (Not that we've done the research)."
Over 13,000 Wendy's followers liked the post and noted the genius of the set-up. One fan succinctly described the action, typing, "@wendys slot racers, spicy nuggs, more Wendy's fries than I can possibly eat and green indoor-outdoor carpet in my room. All that's missing is a cheerleader with a large Dr Pepper to tame some of that nugg heat." Another simply wrote, "This is too cool." And still another devoted lover of this fast food chain shared their soothsayer skills, sharing, "I knew red was gonna be bringing the heat like them spicy nugs!"
Wendy's is no stranger to NASCAR races, per Speed Sport, the brand sponsored Noah Gragson's car when he raced at Talladega Superspeedway, driving No. 62 Wendy's $5 Biggie Bag Chevrolet Camaro. Still, fries as spectators? Yes, please.