The One Step That Will Majorly Upgrade Your Caesar Salad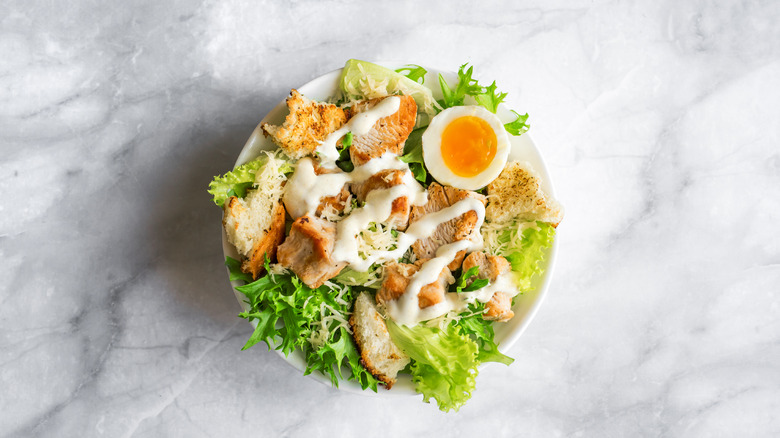 Oksana Mizina/Shutterstock
Making a salad seems easy on the internet. Most chefs or bloggers would advise playing with colors, textures, and flavors when it comes to veggies and getting creative with proteins, nuts, cheeses, and more toppings. But, sometimes, we end up quite confused while sneaking into the fridge because we don't feel inspired, and we still haven't thought of the dressing yet. At that moment, ordering a takeout salad seemed to be the quickest and healthiest solution.
Don't feel bad if you're the kind of person that likes to stay with the classics. Classic salads are classic for a reason — they are simple dishes that have gone through countries, generations, and restaurants, like a Caprese or Greek salad, and of course, the one and only Caesar salad, created by Italian-American immigrant in Tijuana in the 1920s (via Food & Wine).
This salad, normally with romaine lettuce, croutons, parmesan cheese, a creamy dressing, and your choice of protein, is quite versatile and easy to do. However, if feeling like getting creative but not overthinking, you can use an interesting twist at home so you don't get bored and get to enjoy the flavorful dish. You just need to add a step to the recipe: Grill the lettuce.
Grilled lettuce gives a charred flavor to the classic Caesar salad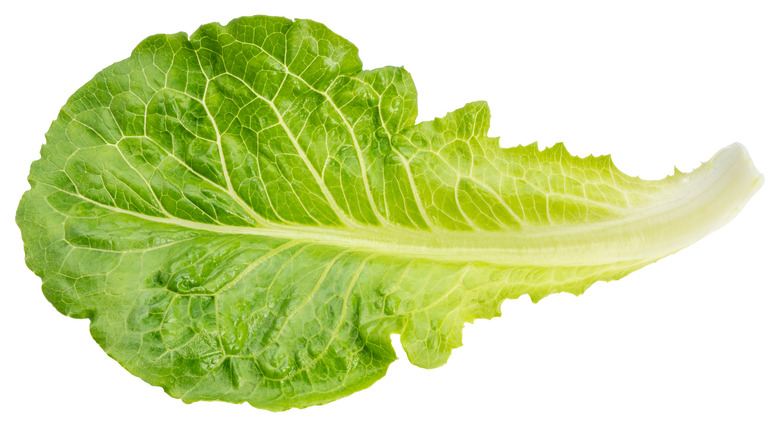 MERCURY studio/Shutterstock
Food & Wine says that grilling the lettuce, a tip given by Danny Grant, a Chicago-based chef, gives the salad a smoky touch and slightly removes the bitterness of the lettuce. Once the romaine hearts are cut in half and brushed with oil, they will be ready to grill for around one to three minutes, depending on your palate. They would be the new base for your Caesar salad, a perfect char flavor that would perfectly balance with the rest of the ingredients, especially the creamy Caesar dressing (you can find a vegan Caesar dressing at Aldi).
Feel free to use your lettuce of preference for this recipe, as Teaspoon of Spice notes, from red leaf lettuce to Boston or Bibb lettuce. For any type, however, ensure you are cutting the head in half and brushing all the sides with oil, so it's equally smoked. Keep the leaves on medium heat until you can see the grill marks, carefully avoiding getting them wilted. For maximum flavor, grill the lettuce outside if the weather allows it. Once that's done, you can enjoy your favorite classic salad with a different touch. Hopefully, this elevates your future lunches!