Creamy Mashed Cauliflower Recipe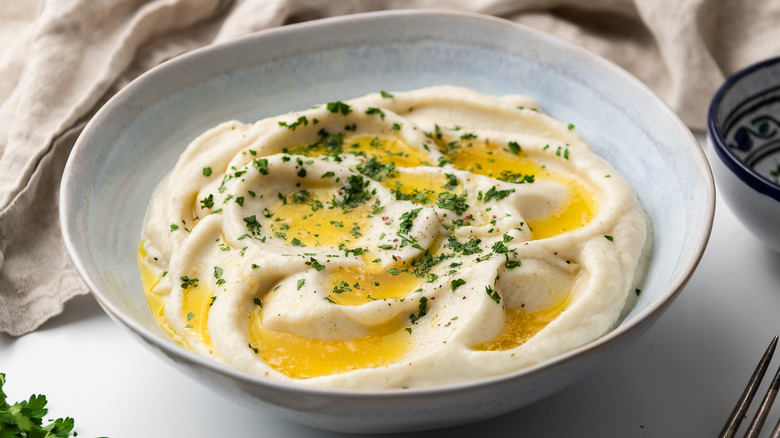 Jennine Rye/Mashed
Chances are you're familiar with cauliflower in its most common form: basic florets. But creative recipe developers know that this simple cruciferous veggie has so much more to offer in terms of flavor, texture, and serving options. For instance, you can turn it into cauliflower nuggets or cauliflower buffalo "wings." And if you're craving a lower-carb substitute for mashed potatoes, recipe developer Jennine Rye of The Marshside Pantry has the perfect option for you: creamy mashed cauliflower. 
"My favorite thing about this recipe is that it showcases cauliflower in a different way," Rye says. "It is such a delicious vegetable and it pairs with so many other flavors." In fact, Rye loves the side dish so much that she's hoping it will someday become popular enough to grace the shelves at local grocery stores, just as cauliflower rice has done. "I'm looking forward to that day, but until it comes, I will keep returning to this recipe," she says. And you should, too. 
Gather the ingredients to make creamy mashed cauliflower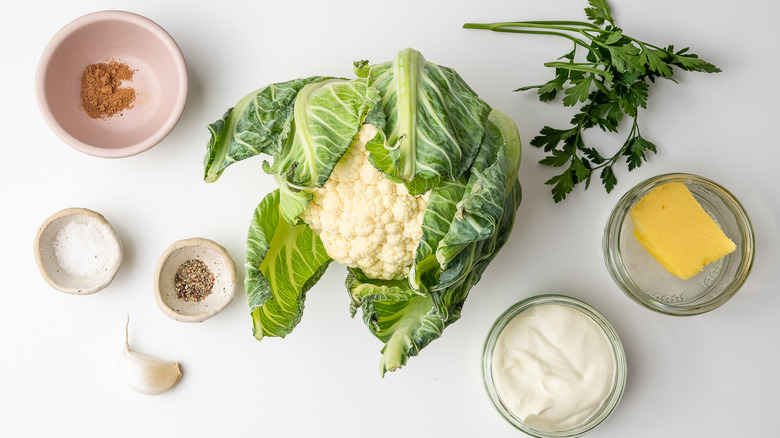 Jennine Rye/Mashed
Aside from a large head of cauliflower, you'll need to pick up a few more ingredients to make this creamy mash. You'll need butter, a clove of garlic, ground nutmeg, sour cream, salt and pepper, and chopped parsley. 
If the ground nutmeg seems to stick out as an unexpected ingredient, you're right — it is. But it's also a critical ingredient for this recipe. "Nutmeg is such a wonderful spice and it is so often overlooked, especially when it comes to savory dishes. The warmth and nuttiness of the nutmeg complements and brings out the sweet, nutty flavors in the cauliflower, helping to make it shine," explains Rye. 
Prep, cook, and drain the cauliflower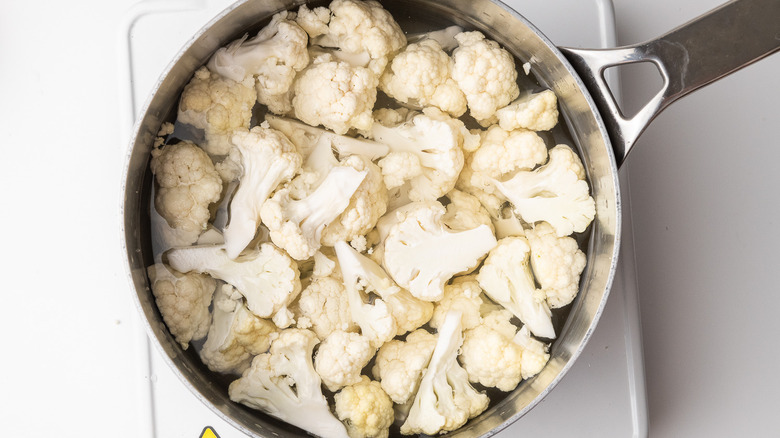 Jennine Rye/Mashed
With your ingredients ready to go, you'll need to start by prepping the cauliflower. Remove any outer leaves from the veggie, then chop it into florets. These pieces don't have to be perfectly equal in size, but try to make them similarly-sized so they cook evenly. 
Add water to a large saucepan (fill it about halfway) and bring it to a boil. When the water is rolling, add the cauliflower florets and a little salt, then cook the cauliflower for roughly 10 minutes, until the florets are soft. Drain the cauliflower completely and set it aside. 
One thing to keep in mind is that cooked cauliflower retains more water than, say, potatoes. This means that mashed cauliflower will always be more watery than mashed potatoes. That said, there are a couple ways to keep the water content in-check, if you're so inclined. "Steaming the cauliflower rather than boiling it can help with managing the water content, and also making sure to allow the cauliflower time to drain properly before mashing it," Rye suggests. 
Make garlic butter sauce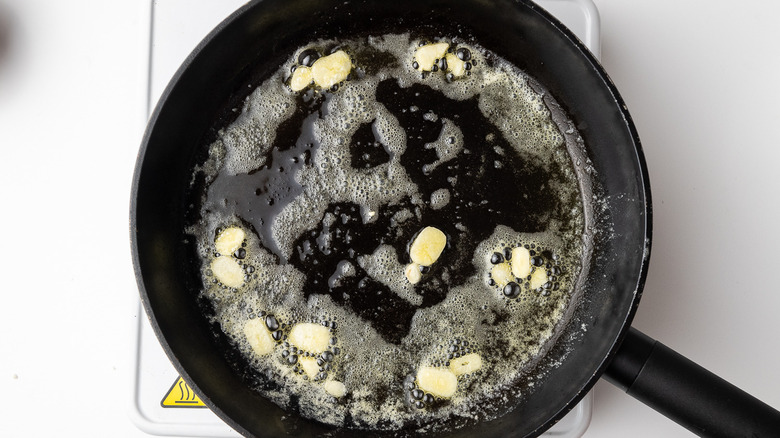 Jennine Rye/Mashed
While the cauliflower drains, go ahead and make your garlic butter sauce. Slice the garlic clove into thin pieces and place a medium-sized saucepan on your stove. Heat the pan and melt the butter. When the butter is melted, add the sliced garlic, frying it in the butter until it's fragrant, about 2 minutes. Remove the garlic butter sauce from the heat and set it aside. 
Mash the cauliflower in a food processor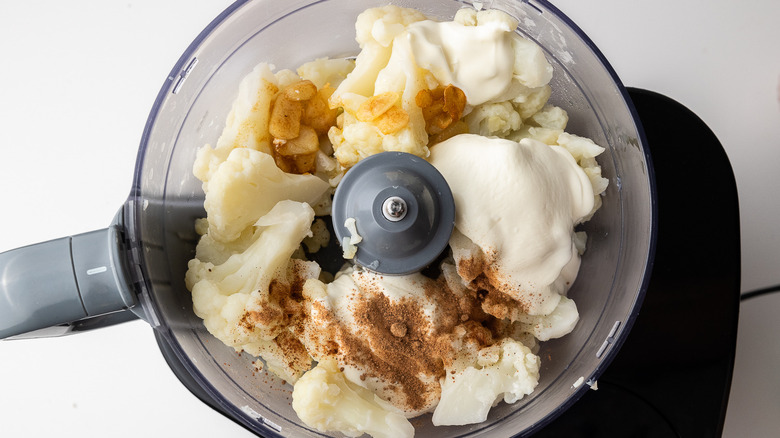 Jennine Rye/Mashed
Now it's time to make your mash. Add the cauliflower florets, 1 tablespoon of the garlic butter sauce, the nutmeg, sour cream, and salt and pepper (to taste) to a food processor. Blend all the ingredients together until the cauliflower mash is nice and smooth. 
Serve with garlic butter and parsley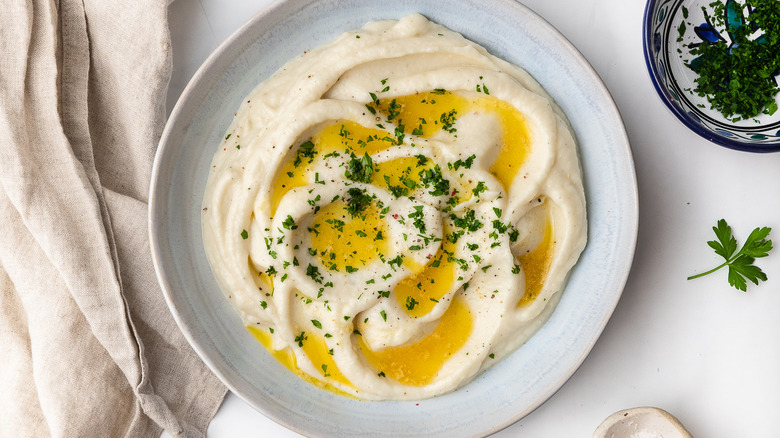 Jennine Rye/Mashed
The mashed cauliflower is now almost ready to serve! Simply transfer the blended mash into a serving dish and top it with the remaining garlic butter sauce and chopped parsley. "Cauliflower mash is best served piping hot, and it's ready to go as soon as it's cooked, unlike some foods which benefit from a little resting period before serving," says Rye. "[It] pairs really well with so many different flavors. I love it with lamb, pork, roast chicken, duck, or beef. It is also delicious with various types of fish, and it works well with various greens on the side, like broccoli, peas, spinach, green beans, or spring greens." 
And if you want to mix things up, Rye suggests topping it with toasted almonds instead of parsley, as this also helps "complement that delicious nutty flavor" of the cauliflower. 
Creamy Mashed Cauliflower Recipe
Switch up the way you prepare cauliflower with this creamy mashed cauliflower recipe.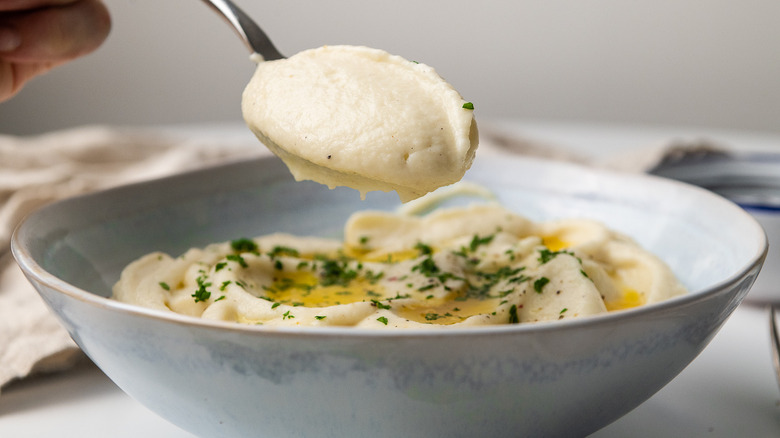 Ingredients
1 large cauliflower head
1 garlic clove
2 tablespoons butter
¼ teaspoon ground nutmeg
¼ cup sour cream
salt, to taste
pepper, to taste
1 tablespoon chopped parsley, to serve
Directions
Remove the outer leaves of the cauliflower head and chop it into similar-sized florets.
Bring a large pot half-filled with water to a boil. Add the cauliflower florets and a pinch of salt, then boil the cauliflower for 10 minutes, until it is soft.
Drain the cauliflower florets in a colander and set to one side.
Slice the garlic clove.
Melt the butter in a medium saucepan and add the slices of garlic. Fry them in the butter for 2 minutes, until fragrant. Remove the garlic butter sauce from the heat.
Add the cauliflower florets, 1 tablespoon of the garlic butter sauce, the nutmeg, sour cream, and salt and pepper, to taste, to a food processor and blend together until the cauliflower is smooth.
Serve the creamy mashed cauliflower straight away, topped with the rest of the melted butter and the chopped parsley.
Nutrition
| | |
| --- | --- |
| Calories per Serving | 135 |
| Total Fat | 9.3 g |
| Saturated Fat | 5.6 g |
| Trans Fat | 0.2 g |
| Cholesterol | 22.7 mg |
| | |
| --- | --- |
| Total Carbohydrates | 11.7 g |
| Dietary Fiber | 4.5 g |
| Total Sugars | 4.5 g |
| Sodium | 544.2 mg |
| Protein | 4.5 g |