Cauliflower Nuggets Recipe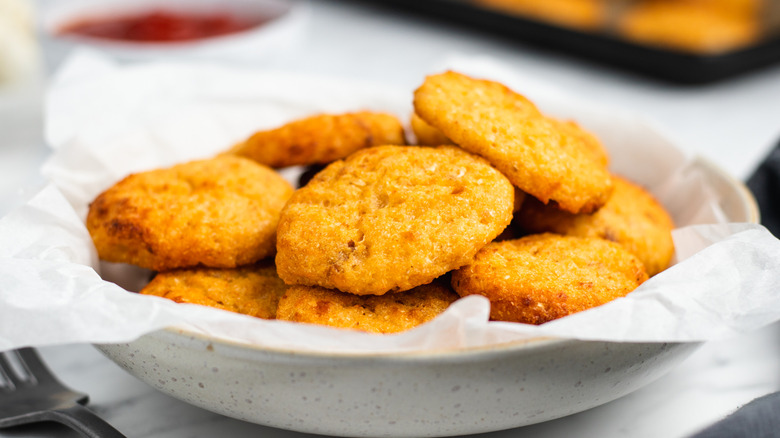 Catherine Brookes/Mashed
One eating trend that seems to be gaining traction is the flexitarian diet. This is for people who don't want to commit to going full-on vegetarian, much less vegan, but who acknowledge that they — and the planet — would most likely be better off if they manage to cut back on eating meat.
If this sounds like it might appeal to you, you could always start off with something nice and easy like these cauliflower nuggets. Recipe developer Catherine Brookes acknowledges that these nuggets don't really taste like chicken nuggets, but says "the idea of them [and] what you'd serve with them" are similar, and describes them as "definitely [a recipe] for people wanting to add more veggies to their diet." While these nuggets aren't low carb due to the breadcrumbs, nor are they vegan due to the cheese and egg, Brookes says they're "super nutritious" so they make for a nice healthy snack or a light meal.
Gather the ingredients for cauliflower nuggets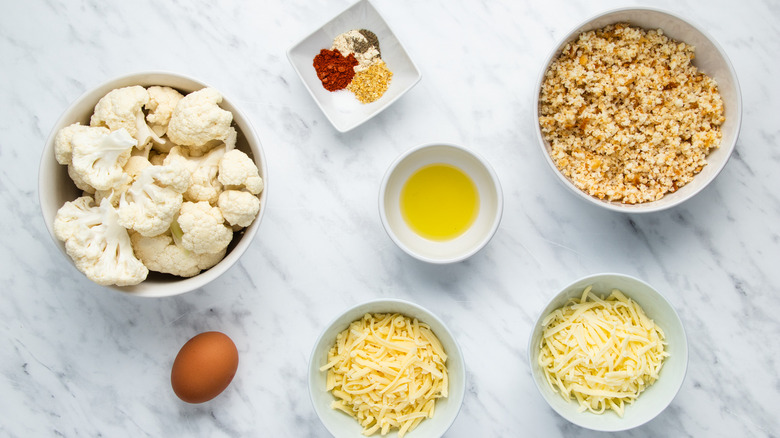 Catherine Brookes/Mashed
You'll need an entire head of cauliflower to make these nuggets, as well as an egg and some breadcrumbs to bind them. Cauliflower on its own doesn't have much flavor, so you'll also need some seasonings: garlic, onion powder, and smoked paprika are what Brookes uses, although she also says chili powder or flakes would offer some extra spice. 
These nuggets also get much of their flavor from cheese, with Brookes favoring a mixture of mozzarella and cheddar, but then, any semi-hard cheese or cheeses of your choice should also work. Even though the nuggets are baked, not fried, you will also need just a bit of cooking oil to coat them with.
Do some prep work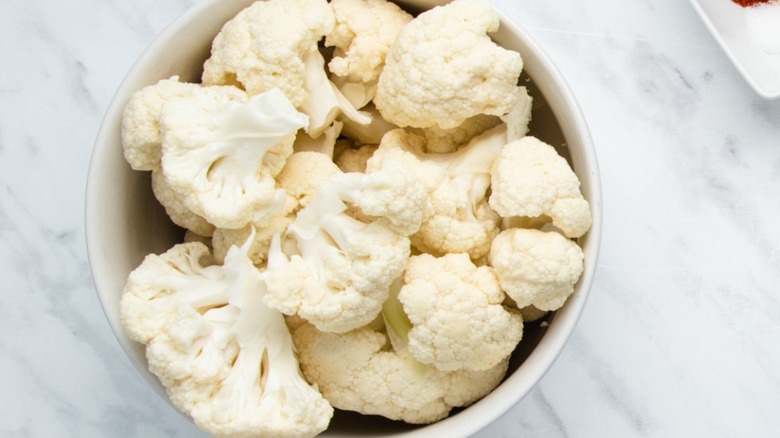 Catherine Brookes/Mashed
The first thing you may want to do when you set out to make these nuggets is to preheat the oven to 350 F, particularly if it takes your oven a while to heat up. You'll then need to get out 2 baking sheets. Brookes likes to line hers with parchment paper brushed with oil, but if you're not a parchment paper person you could simply grease the pans, instead.
Once you're done with the baking sheets, you'll need to get out that head of cauliflower and break it down into florets.
Mix the ingredients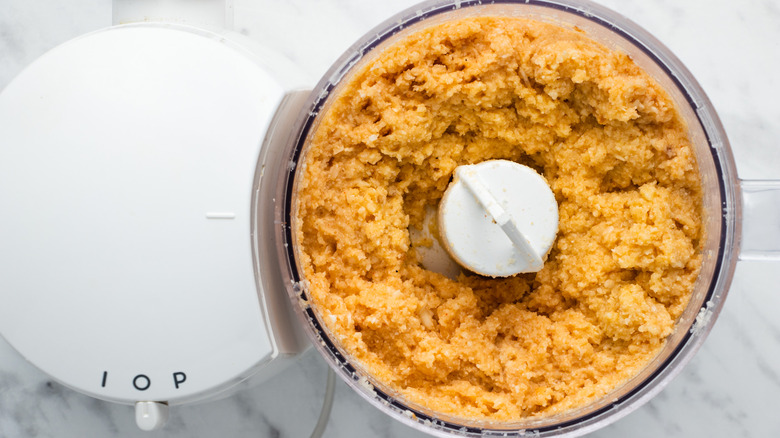 Catherine Brookes/Mashed
Take your cauliflower florets and run them through a food processor until they have the consistency of rice. Add the seasonings, cheeses, and breadcrumbs, then season the mixture with salt and pepper. After you've done so, add the egg. (You don't want to taste the uncooked mixture once you've added the raw egg.) Mix everything well. Brookes tells us "The texture should be dough-like and not too wet." She adds that, if necessary, you can supplement extra breadcrumbs or some flour to get the right consistency for shaping.
Shape and bake the nuggets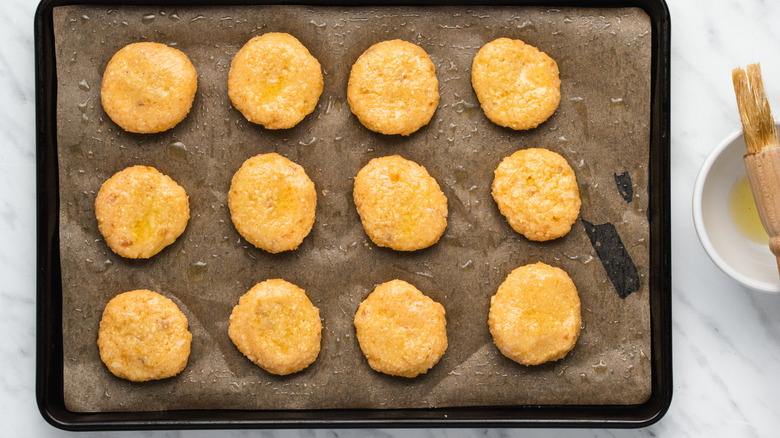 Catherine Brookes/Mashed
Use your hands to form the mixture into nuggets, laying out 12 of them on each baking sheet for a total of 24 nuggets. Use the oil to brush the tops of the nuggets, then bake them for 20 to 25 minutes, until they are golden brown.
Brookes suggests serving these cauliflower nuggets with ketchup, mayonnaise, or sweet chili sauce. She says she finds them "quite versatile," something that could serve as either a snack or a main dish.
Cauliflower Nuggets Recipe
Skip the standard chicken nuggets and opt for a healthier, more nutritious snack with this easy recipe for cauliflower nuggets.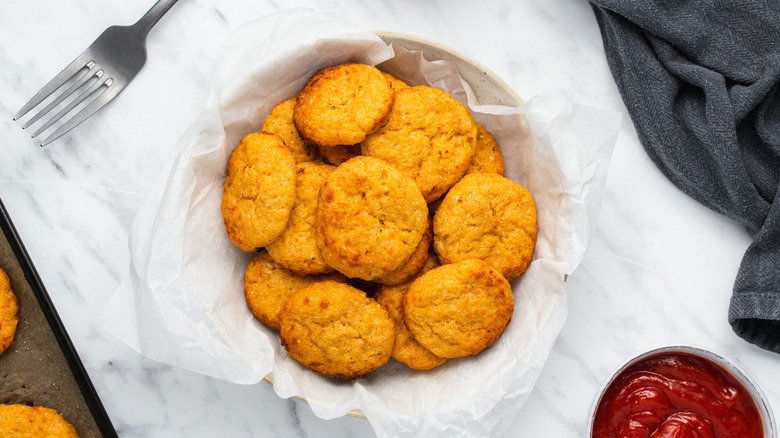 Ingredients
1 head cauliflower, broken into florets
1 large egg
1 ¾ cups breadcrumbs
½ teaspoon garlic powder
½ teaspoon onion powder
½ teaspoon smoked paprika
½ cup grated mozzarella cheese
½ cup grated cheddar cheese
1 tablespoon olive oil
Optional Ingredients
salt and pepper, to taste
Directions
Preheat the oven to 350 F and line two baking sheets with parchment paper.
Brush the paper with a little olive oil.
Add the cauliflower to the bowl of a food processor and blitz until it has the texture of rice.
Add the breadcrumbs, garlic powder, onion powder, paprika, and cheeses to the mixture and season with salt and pepper, to taste.
Add the egg, then blitz the ingredients again until everything is well-combined.
Shape handfuls of the mixture into nuggets and arrange them on the baking sheets.
Brush the tops of the nuggets with the olive oil.
Bake the nuggets for 20 to 25 minutes, or until golden brown.
Nutrition
| | |
| --- | --- |
| Calories per Serving | 221 |
| Total Fat | 10.5 g |
| Saturated Fat | 4.9 g |
| Trans Fat | 0.1 g |
| Cholesterol | 46.1 mg |
| | |
| --- | --- |
| Total Carbohydrates | 21.2 g |
| Dietary Fiber | 2.5 g |
| Total Sugars | 3.0 g |
| Sodium | 370.8 mg |
| Protein | 10.8 g |