The Fan-Favorite Taco Bell Item That's Coming Back For A Limited Time
The extensive menu at Taco Bell has not stopped fans from requesting the company to bring back certain loved items. One Taco Bell fan-favorite that has a permanent place on the menu is the chalupa. The standard chalupa supreme comes with ground beef, lettuce, tomato, sour cream, and shredded cheese (via Taco Bell). The chalupa shell is a crispy and airy fried flatbread, similar to a deep-fried pita. The chalupa can be customized with additions like rice, beans, potatoes, and a whopping eight sauces.
Over the years since the chalupa's inception, Taco Bell has rolled out different variations to please a wider range of customers. The Black Bean Chalupa Supreme is a vegetarian's dream as it is filled with black beans, topped with veggies, and contains no meat. It's even a certified vegetarian food item by the American Vegetarian Association. In 2017, Taco Bell first released its Naked Chicken Chalupa. The game-changing chalupa shell was made from fried white meat chicken. The inside was filled with fresh lettuce, tomatoes, and a refreshing ranch avocado sauce.
Unfortunately, the item is not currently available, but Taco Bell is bringing back another unique chalupa.
The Chipotle Cheddar Chalupa offers a slight twist on a classic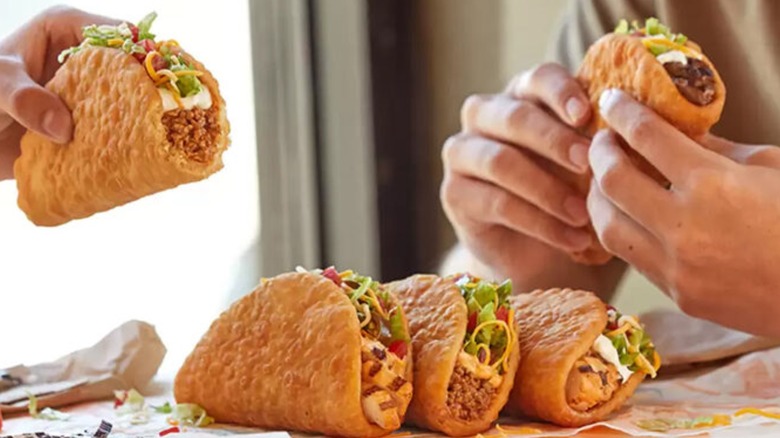 Taco Bell
The Chipotle Cheddar Chalupa first debuted at the end of 2021. The chalupa is smothered in a spicy chipotle sauce and filled with Taco Bell's seasoned ground beef, lettuce, tomatoes, and shredded cheddar cheese. The new chalupa comes in a vegetarian version that is made with black beans. Those looking to upgrade their chalupas can substitute steak or chicken for an additional cost. The regular and black bean Chipotle Cheddar Chalupa sells for $3.89 each (via Chew Boom).
If you and your crew are feeling extra hungry, the Chipotle Cheddar Chalupa is offered as part of a combo deal that provides two chalupas, one crunchy taco, and a large drink, for around $8.49. The chalupa will only be around for a limited time and there's no word if or when it will return. If you happen to miss the chance to order the new chalupa, there is a way to recreate it from the regular Chalupa Supreme. Simply, omit the sour cream and three cheese blend, and add chipotle sauce and shredded cheddar cheese (via Brand Eating).