The Real Difference Between Three Classic Tuscan Soups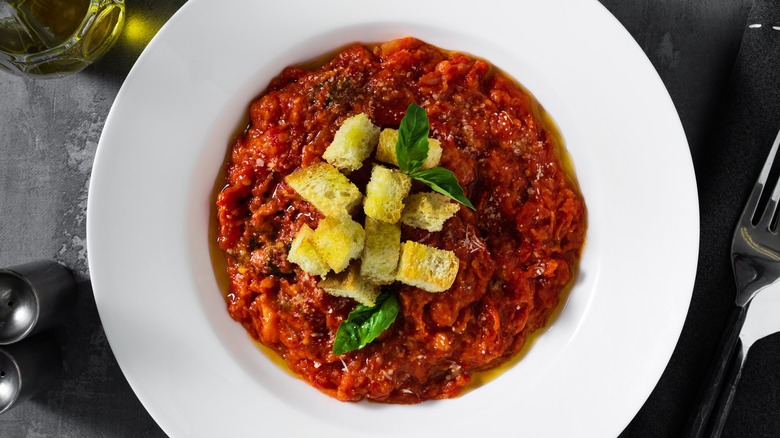 IriGri/Shutterstock
Even though it might be hard to pinpoint Italy's most beautiful region, Tuscany is probably on the top of the list with its famous scenery, rolling hills, and architectural delights. The leaning tower of Pisa and Michelangelo's David might also be some of the top reasons to visit Tuscany (via Visit Tuscany). Located on the Italian coast, the region of Tuscany is also a foodie's paradise. And one style of cooking is especially popular in Tuscany: cucina povera, meaning poor cuisine or peasant cuisine. 
The practice of cucina povera dates back to the times when the country was poor and peasants had to use readily available ingredients from their gardens. However, necessity is the mother of all invention, so Tuscans quickly learned to transform simple ingredients into delicious and flavorful dishes (per Never Ending Voyage). But cucina povera is not reserved only for Tuscany. There are many poor cuisine dishes throughout Italy, such as pasta e fagioli (pasta and beans) and the famous Campanian spaghetti aglio e olio (spaghetti with garlic and olive oil), which is on the list of 3 pasta recipes everyone should know, according to Lidia Bastianich. However, Tuscany boasts three delicious soups that are traditional staples of poor peasant cooking (per Pasta Evangelists).
Panzanella, ribollita, and pappa al pomodoro
Three Tuscan soups nicely showcase the cucina povera-style cooking: pappa al pomodoro, ribollita, and panzanella. Trips2Italy revealed the difference between the three soups, even though all of them are equally tasty. 
Panzanella, although technically a bread salad, can also be made into bread soup, consisting of pieces of stale bread that are drenched in vinegar and olive oil, and mixed with vegetables and herbs such as basil, tomatoes, celery, and onions. However, extra ingredients such as capers and cucumbers are a welcome addition. Panzanella is typically eaten chilled during the summer months (via La Cucina Italiana). 
Ribollita, on the other hand, is a vegetable soup that's usually composed of onions, stale bread, kidney beans, carrots, celery, tomatoes, cabbage, stock, and thyme. The name means reboiled because the soup is traditionally made in winter and reheated the next day. The reheating causes the soup to thicken, and the flavors become even better (per Food52). 
And finally, the famous pappa al pomodoro is a thick and hearty soup made with a combination of tomatoes, olive oil, stale bread, basil, garlic, salt, and dried chili peppers. Once cooked, pappa al pomodoro can be enjoyed warm or at room temperature, and it's sometimes spooned over a dry Tuscan bread called pane toscano (via Visit Tuscany). So whether it's summer or winter, you can cook one of these soups in your own kitchen and let the flavors transport you to the beautiful Tuscan countryside.