Jameson Whiskey Just Brought A Pop-Up Distillery To New York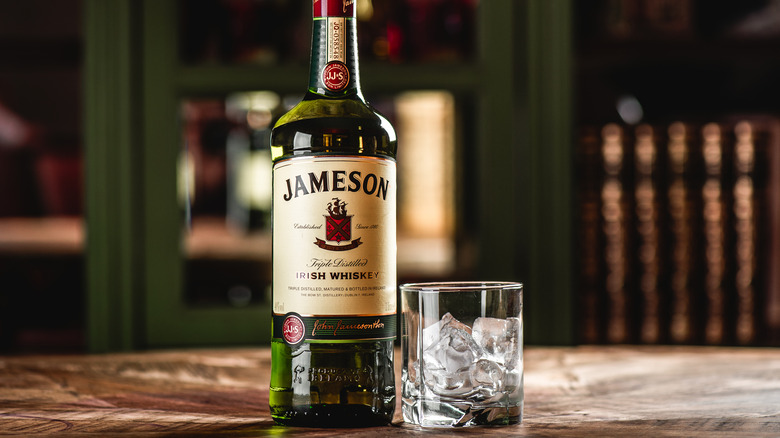 Leron Ligred/Shutterstock
There are many things that go on tour: singers, circus acts, comedians, and now, apparently, distilleries. Pop-up shops, from limited-time-only bars to clothing stores, certainly have taken off over the last few years. As Business Insider explains, the marketing tactic has been shown to cultivate excitement and interest about a product or brand, whether it's a completely new concept or an established entity like Jameson Irish Whiskey. It also allows businesses to explore opportunities in new cities.
Jameson is no stranger to pop-up events, as the 242-year-old brand has been hosting them to drum up business for several years now. Each of its events features a different theme, like one it did back in 2011 that featured a 1920s-style speakeasy in the Soho neighborhood of London. Being an Irish brand with its main distillery in Dublin means Jameson is very much connected to St. Patrick's Day in the minds of many people worldwide. Jameson seems to be banking on that global reputation with its latest international pop-up.
Jameson Whiskey is bringing Dublin to New York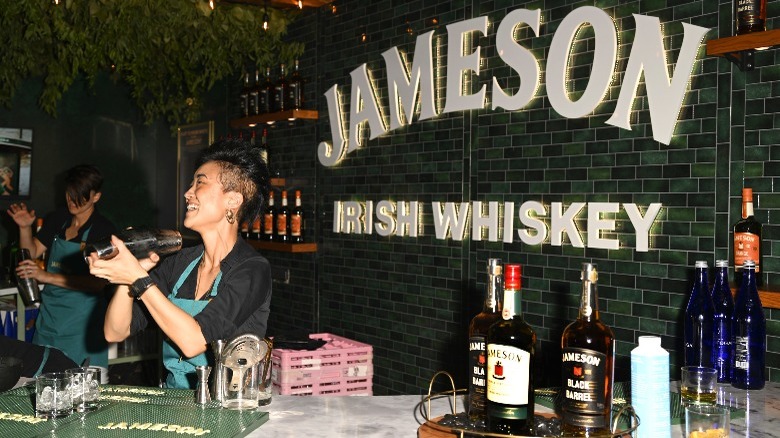 Pernod Ricard USA
According to a press announcement sent to Mashed, Jameson Distillery on Tour landed in New York City on August 25 — the brand's first American edition of its tour experience. The event opened with a performance by Irish singer-songwriter (and former busker) Dermot Kennedy in a tribute to Dublin's Bow St., the site of Jameson's original distillery in a city known for its street performers. As part of the pop-up, which runs at Hudson Yards through September 7, Jameson is paying for 1,000 NYC buskers' performance permits.
Of course, the pop-up also has a whiskey focus, allowing attendees the opportunity to learn how Jameson is made, how coopers craft wooden whiskey casks, and how to properly taste the spirit. Also on the lineup are more live music and an ice cream truck selling a Jameson-infused orange sorbet.
Jameson certainly isn't the only major food and beverage brand to pop up in New York City this year. In April, Rao's had its first-ever pop-up market, selling its Italian pasta sauces in the Big Apple to raise money for a nonprofit partner's community engagement events. Last month, The Golden Girls Pop-Up Kitchen announced an upcoming New York tour date in the fall, which will include dishes inspired by the famous quartet (and lots of cheesecake).