The Best Meal-Planning Apps Of 2022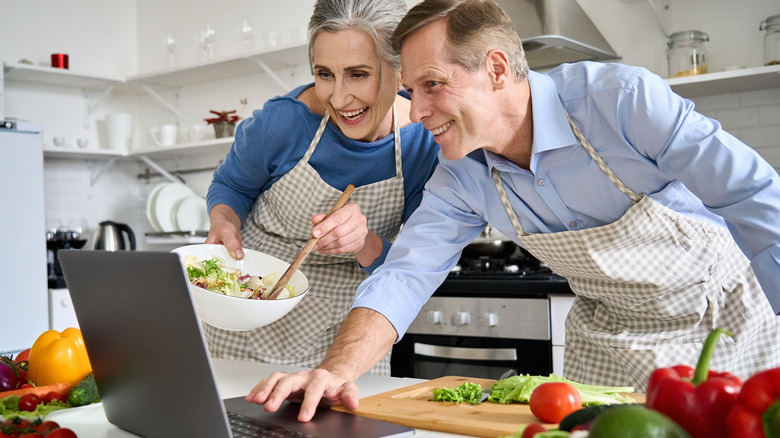 Ground Picture/Shutterstock
In between work, childcare, and all the other obligations of an adult life, you may be forgiven for not having enough time to cook daily meals. Yet, while fast food may be convenient, it's also often unhealthy. Let's face it: nobody has ever reached their fitness and weight management goals by eating at McDonald's on the regular. Luckily, there are plenty of meal-planning apps out there to help you prepare delicious and nutritious meals without spending hours in the kitchen.
Most meal-planning apps come with a database of recipes tailored to various dietary requirements and lists of the ingredients to create them. They also often let you import your favorite recipes for future reference. In addition, many such platforms provide users with nutritional information about different dishes to make healthy meal planning all the easier. And once you have your weekly meals all worked out, meal-planning apps can be used to create grocery lists to minimize the time you spend grocery shopping
Ready to eat healthier without sacrificing time with your friends and loved ones? Here's our list of the best meal-planning apps of 2022 to get you started on that path.
How we selected products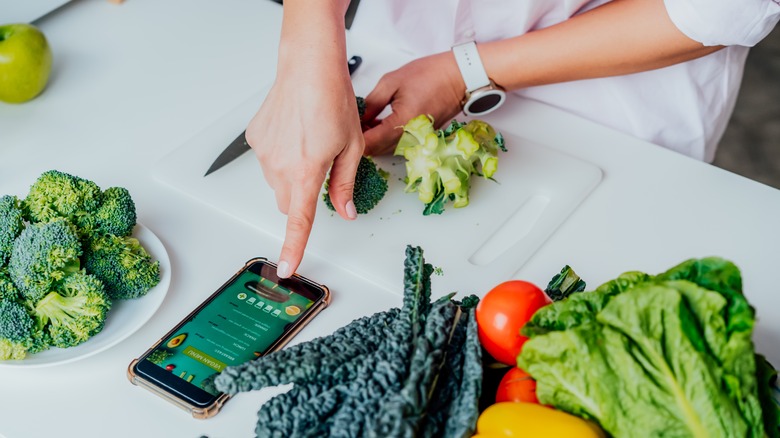 Okrasiuk/Shutterstock
The market is inundated with apps designed to take the guesswork out of cooking. As such, it shouldn't come as a surprise that not all of them are of the same standard. It's also little wonder that such apps come with a sometimes dizzying array of different features and services. While most meal-planning apps offer free versions, access to their full range of features typically requires a paid subscription.
There are certain key factors that should be taken into account before investing in a meal-planning app. While some platforms come with a database of recipes, others will also let you input your own cooking instructions. Many meal-planning apps additionally let you enter your dietary requirements, as well as any culinary likes and dislikes. Using that info, they then supply you with an eating plan tailored just to you or your family. Some meal-planning platforms can also be a game changer when it comes to shopping, since they can be used to create grocery lists based on meal plans. What's more, some apps will even let you order food online.
With all of these options, it may seem daunting to get started. But if you're wondering just which app is best for you, then look no further. We've compiled this very list to help you narrow the list considerably.
Best overall meal-planning app
Tired of having your recipes scattered across an array of different platforms? If you're suffering from recipe clutter, then Paprika might just be the answer. The highly customizable Paprika lets you organize recipes at a touch of a button — or, rather, a few touches of a few buttons. That's because this app features a recipe clipper that makes importing recipes from anywhere on the web a breeze. Alternatively, you can manually type in your favorite cookbook or family recipes to have them on hand next time you're ready to cook. Once saved, you can organize the recipes under your own categories. Better still, you can edit and add notes to the stored recipes while keeping links to the originals.
While Paprika lets you create meal plans, it doesn't have a built-in nutritional information function as other services might offer. Nevertheless, the app will automatically scale the amounts of ingredients depending on how many servings you are planning to cook. It can also display these amounts in metric or imperial measurements. Plus, the app can generate customized shopping lists based on your meal plans.
Perfect for those on the go, Paprika's sync function lets you access your recipes on various devices. Lara from Grantourismo has praised this feature, saying she uses it across a variety of Apple devices with ease.
Purchase Paprika through the brand's website for $4.99.
Best free meal-planning app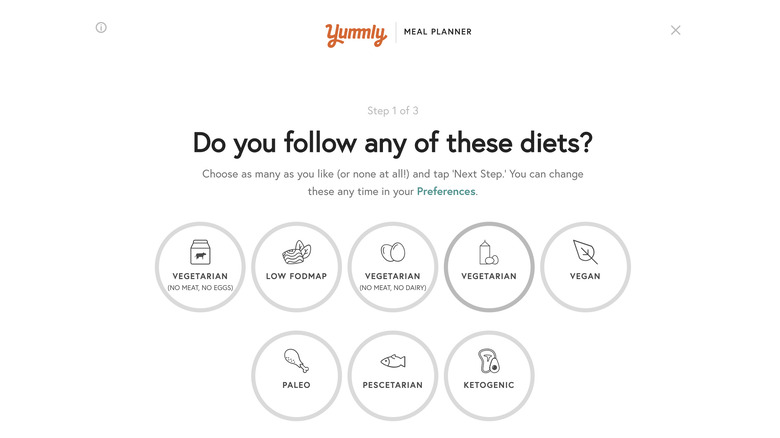 Yummly
While the free versions of most meal-planning apps leave much to be desired, Yummly is a welcome exception. This app offers millions of recipes without a paid subscription. You can also use it to store recipes from the web and access them from different devices without spending a cent (via Yummly). Better still, Yummly doesn't inundate free users with ads, truly setting itself apart from the ad-laden pack of many free apps (via PC Mag).
Unlike some other meal-planning apps, Yummly offers both written recipes and high-quality video instructions. All of the recipes can be customized to fall in line with a variety of personal dietary requirements and tastes. The app even asks you to rate your cooking skills so it can tailor the recipes to your ability. Last but definitely not least, the app's recipes come with plenty of valuable information such as nutrition, prep time, and calories. There's also a shop tab that helps you make grocery lists and buy them from participating supermarkets via Instacart. Finally, you can connect the app to the Yummly Smart Thermometer if you purchase it separately (via Get Gym Fit).
The basic version of Yummly can be downloaded for free through the brand's website.
Best meal-planning app for quick meal preparation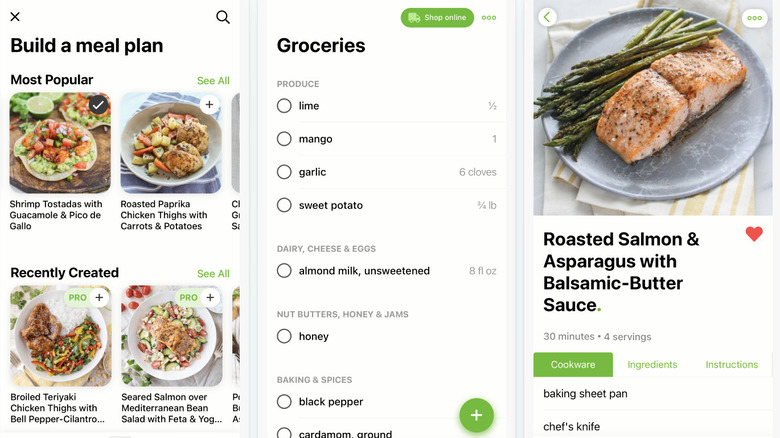 Mealime
Meal-planning apps typically have two goals. One is to help you cook delicious and healthy meals and the other is to make food preparation more efficient. Mealime achieves both perfectly. In fact, the app promises to make the whole process, from picking a recipe to cooking it, as easy as stopping by your favorite take out spot.
Once you fire up Mealime, simply set your meal preferences and let the app tailor your recipes (and their nutritional value) to your dietary requirements. Whether you're vegetarian, flexitarian, or on a keto diet, Mealime has you covered. And if you're short on time, rest assured that all the recipes can be prepared in around 30 minutes. The app can also be used to create grocery lists based on your meal plans and can help you buy these ingredients online.
With an App Store rating of 4.8 out of 5 stars across more than 49,000 users, Mealime sets some pretty high expectations. So how does it measure up? Apps UK praised the app for its simplicity and utility, as well as its hefty variety of meals available for its intrepid users.
The basic version of Mealime can be downloaded for free through the brand's website.
Best meal-planning app for weight management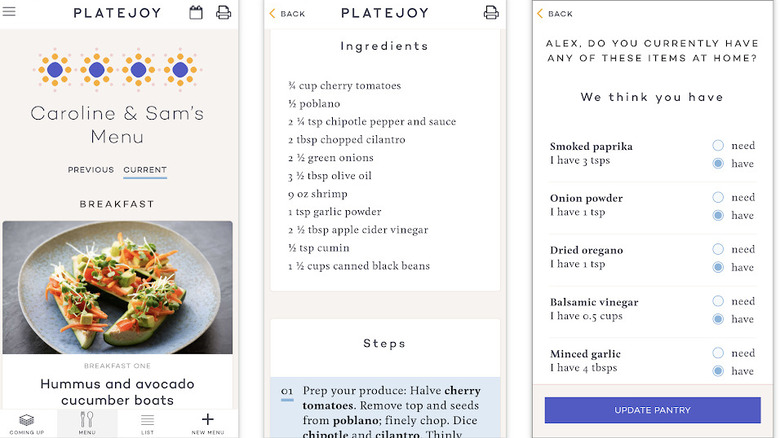 PlateJoy
While PlateJoy is pricier than many other meal-planning apps on the market, it does promise to help you reach your weight loss goals and save money while you're at it. That's not over promises, either, as freshly prepared home meals tend to be less expensive than eating out. Once you fire up PlateJoy, the app quizzes you on your weight goals, carb and protein preferences, and any other dietary concerns that you might want to manage while using the app. It also lets you eliminate any ingredients that you don't like or can't have. PlateJoy then takes all that info and creates a customized menu, complete with nutritional data.
One of the app's unique features is the PlateJoy Path, which gives each recipe a ranking based on its nutrient content. If you decide to follow the PlateJoy Path, the app will only give you Balance Plate suggestions or recipes with high nutritional content.
Once you have your dietitian-designed recipes and meal plans in place, PlateJoy automatically generates a grocery list. It will even take into account what you already have in your pantry and what you still need to buy. Once you have your shopping list in place, you can either head to the store or transfer it to your Instacart or Amazon Fresh account to order all your ingredients online.
Purchase PlateJoy through the brand's website for $12.99 for one month, $69 for six months, and $99 for a year.
Best meal-planning app for meals on a budget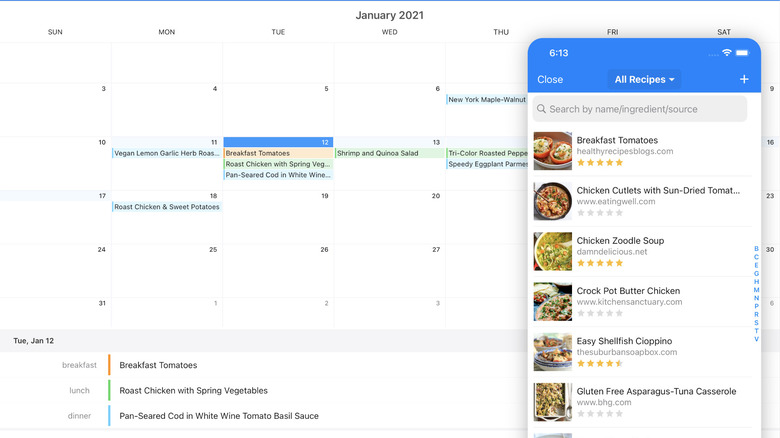 MealBoard
The MealBoard app can be a game changer for those struggling to stay within a set budget when they go out grocery shopping. This is simply because the app lets you add item prices to your grocery lists, thereby helping make sure that you don't overspend. In addition, the recipe management app lets you upload recipes from anywhere on the web and then categorize them according to your preferences. You can then make meal plans using the stored recipes by adding them to the app's built-in calendar. Better still, this information can be synced between different devices.
MealBoard has received positive reviews from users. Toque found the app very easy to use, noting that the "import recipe" was especially well-designed. The app also received high marks for its ability to not only lay out a grocery list's prices, but to help track down coupons.
The basic version of MealBoard can be downloaded for free through the brand's website.
Best meal-planning app for families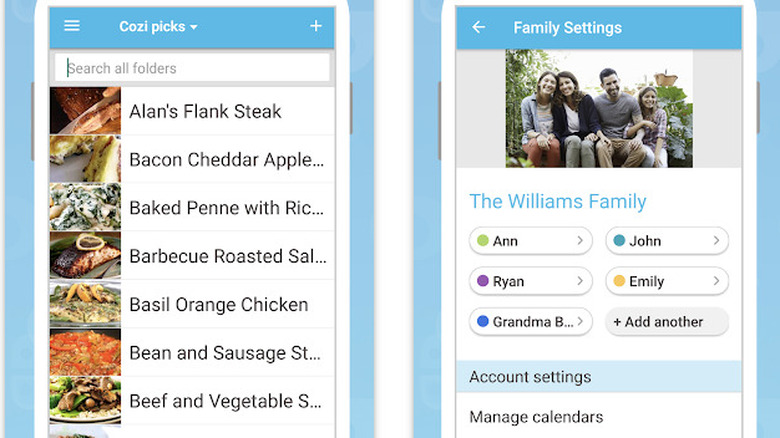 Cozi
Ideal for heads of busy households, Cozi Family Organizer lets you organize more than just your food preparation. Billed as an app that "makes it easy to stay on top of it all," Cozi can be set up to track the activities of all family members in one convenient shared calendar. The app can also send out automatic notifications and agenda emails to keep the entire clan in the loop.
So what makes Cozi a meal-planning app? The platform lets you manually enter or import your favorite recipes, for one. It then allows you to use these recipes to create grocery lists. Once completed, you can share shopping lists with a loved one via their "To Do List"(via Develop Good Habits). Better still, Cozi lets you enter your menu for the day in the shared family calendar to eliminate any unwelcome dinner time surprises (via Mashable).
Cozi has met with a pretty favorable reception from a wide variety of users and reviewers, with 4.8 out of 5 stars across more than 267,000 App Store users. Cozi can also help to create connections amongst all of the members of a busy family.
The basic version of Cozi Family Organizer can be downloaded for free through the brand's website.
Best meal-planning app for plant-based meals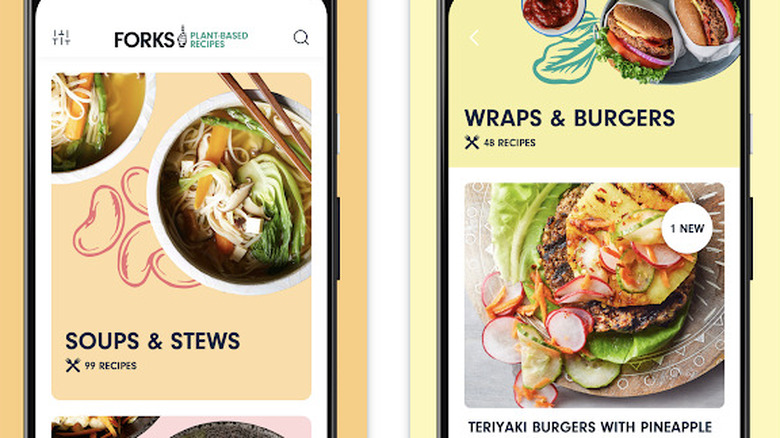 Forks Over Knives
In a world of highly processed foods, we must admit that not all vegetarian and vegan foods are created to be equal. However, using Forks Over Knives to help you plan your meals can ensure that your vegan-friendly and plant-based meals aren't just delicious but also nutritious and healthy. Even if you're not vegan or vegetarian, the app can help you incorporate more fruit, vegetables, legumes, and whole grains into your diet.
Designed to make plant-based diets "easy and enjoyable," Forks Over Knives is perfect for streamlining your meal preparation. That's especially useful if you don't normally have enough energy to cook after a busy day at work. Created by chefs and nutritionists, all of the app's recipes can be made in under 35 minutes. They can also be customized to your specific tastes, health goals, and other dietary requirements (via Get Gym Fit).
One of Forks Over Knives' other notable features includes a grocery list tab where you can create shopping lists with all the items required to prepare your chosen meals. To simplify the process even further, the app gives you the option to buy your groceries online using Amazon Fresh.
Purchase the Forks Over Knives through the brand's website for $19.99 for a month, $44.99 for three months, or $119.99 for an entire year's subscription.
Best meal-planning app for making the most of leftovers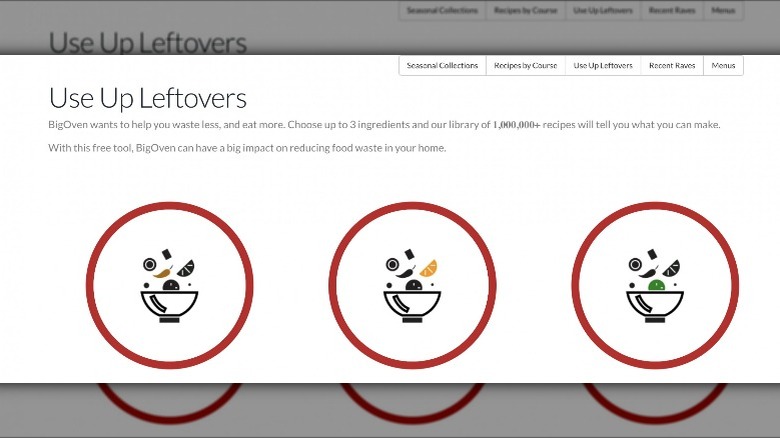 BigOven
Wasting leftovers is not only costing you money and stinking up your fridge with fuzzy foods, but it's also bad for the planet. In the U.S. alone, food waste creates greenhouse gas emissions equivalent to what's generated by 32.6 million cars (via World Wildlife Fune). Luckily, the BigOven app can help you make the most out of your household leftovers, ensuring that they end up on your kitchen table instead of the bin and, ultimately, up in the atmosphere as planet-warming gases. Simply go to the app's "Use Up Leftovers" tab, enter three ingredients that are nearing their use-by date, and watch as the app comes up with recipes that incorporate these foods.
BigOven features over one million recipes drawn from across the internet. Alternatively, you can also enter your favorite recipes into the app manually or even by uploading snapshots. Each recipe comes with information about ingredients, serving sizes, prep time, and calories (so long as that info is available). The app also comes with menu planning and grocery list features (via Paste). Both Paste and Supermarket Guru give BigOven points for its wide variety of menus, the ability to rate recipes, and its clean, uncluttered interface.
Get the basic version of BigOven through the brand's website for free.
Best meal-planning app for meal prepping
Designed for those who like to prepare their meals ahead of time, MealPrepPro all but eliminates the stress of last-minute meal planning and preparation. Since we all lead different lifestyles, the app lets users select their preferred prep level, from full prep (that would be for creating large batches of food) to no prep (single servings). MealPrepPro features simple and quick-to-make recipes that are both tasty and good for you. Plus, you can easily set your dietary preferences and even get the app to work out your macro goals and meal plan based on your health stats (via Spencer Was Here).
Just like many other meal-planning apps, MealPrepPro lets you add your own recipes and can help you create shopping lists that will hopefully streamline your next trip to the grocery store. Unlike the majority of other similar apps, however, MealPrepPro can be synced with the Apple Watch and Apple Health to make it even easier to track your calorie and water consumption. You can also use your Apple Watch to access your shopping list while in the store.
Purchase the MealPrepPro through the brand's website starting at $5.99 a month or $47.99 for a year's subscription.