What Makes Chick-Fil-A's Peach Bowl Sponsorship Unique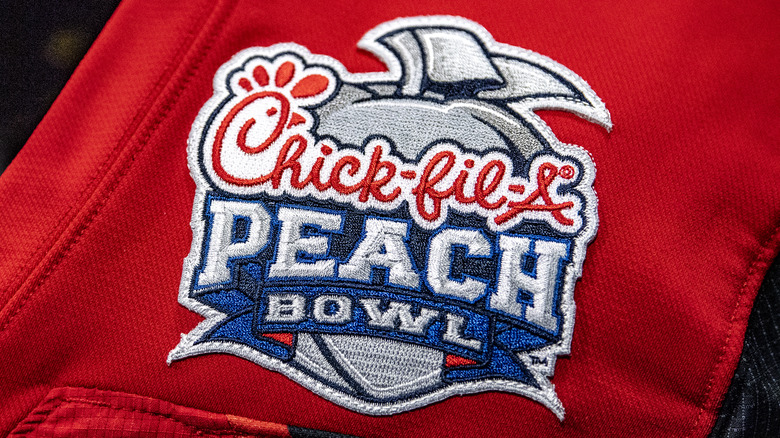 Benjamin Solomon/Getty Images
Known for its iconic fried chicken sandwich, Chick-fil-A is statistically America's favorite fast food franchise. Thanks to its straightforward menu and friendly customer service, the chain serves enough people a day to employ more than 120,000 people across 26,000 restaurants in North America (per CNBC & Chick-fil-A). While the company is celebrated for its food, it also has a long history of philanthropy. While some of Chick-fil-A's charitable donations have been problematic and harmful to the LBGTQ+ community, the fast food giant has done some good.
According to its website, Chick-fil-A donates surplus ingredients to local shelters and soup kitchens via a "shared table" program. It has also awarded approximately $61 million in higher education scholarships to 46,700 team members and frequently invests in local communities (per Chick-fil-A). And as it turns out, the company also has a hand in college football. Chick-fil-A is the largest sponsor of the Peach Bowl — an annual, Division 1 postseason football game played in Atlanta, Georgia by top-winning college teams (per Britannica).
Chick-fil-A was the Peach Bowl's first-ever title partner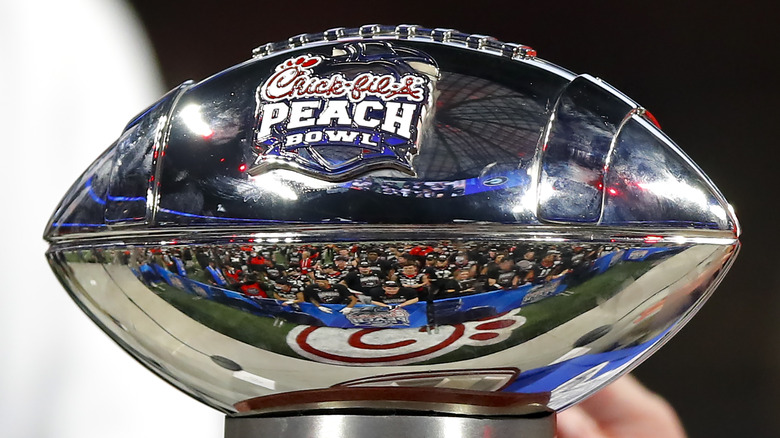 Todd Kirkland/Getty Images
In addition to five other bowls, including the Cotton Bowl, Rose Bowl, Sugar Bowl, Orange Bowl, and Fiesta Bowl, the Peach Bowl is reserved for the most talented teams in college football. And knowing just how beloved football is in America, the bowls need plenty of funding. Enter Chick-fil-A, the Peach Bowl's first-ever sponsor in 1996 (via Peach Bowl). A testament to the chain's investment in local communities, it's no surprise that Chick-fil-A chose the Peach Bowl, seeing that the restaurant was founded in Georgia where the event takes place.
Not only does Chick-fil-A fund the game, it's also dedicated to making the Peach Bowl a more memorable experience for patrons. According to the event's weekly sponsorship highlight, Chick-fil-A has premiered new menu items at the game and has been known to leave discount coupons under stadium seats. Arguably the most important aspect of its sponsorship is the chain's commitment to higher education, as it donates $100,000 in scholarships annually to the competing teams (per Peach Bowl).
According to John Shackelford, who leads the franchise's involvement with the game, it's all about creating the ultimate fan experience (per Chick-fil-A). So if you want to attend a bowl game with plenty of fried chicken and hospitality this year, look no further than the Chick-fil-A Peach Bowl.