What You Need To Know About KFC's Brand-New Limited-Time Deals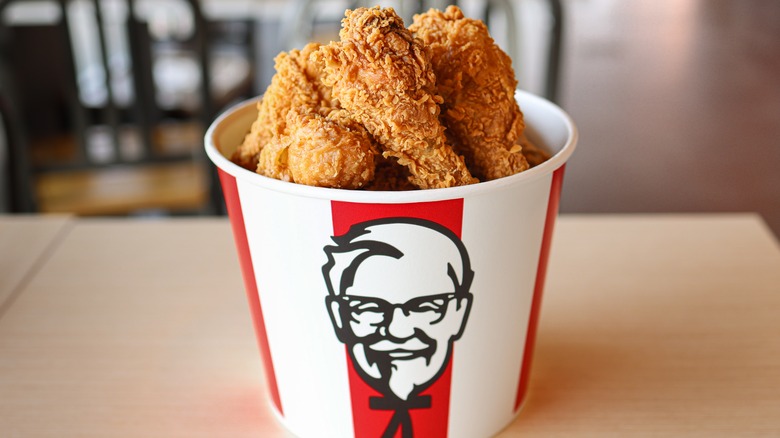 KPPWC/Shutterstock
You're in good company if you ordered a bucket of chicken or two during the pandemic, especially if it was from KFC. According to CNBC, the home of Original Recipe and Extra Crispy chicken not only posted some pretty impressive sales stats in the fourth quarter of 2020 but also opened its 25,000th worldwide location. The chain has come a long way since selling its first bucket meal in 1957 (via KFC).
But, chicken isn't the only thing KFC sells by the bucket! KFC's gigantic beverage bucket, which came out in 2021, can hold a whole half-gallon of the chain's beverage options like lemonade or soda (via Newsweek). Now, for a limited time, KFC is giving customers a beverage bucket for free when they order a 12-piece meal or larger, according to a press release published by PR Newswire. Naturally, not every customer may be in need of an entire bucket of chicken or soda. For those customers looking for a somewhat smaller meal, KFC has a new deal on the table.
KFC's new meal will cost you $6
Sometimes, two pieces of chicken are more a customer's speed, and KFC has a 2-Piece Drum & Thigh Combo Meal. According to a press release published by PR Newswire, the new limited-time value deal includes a drum, a thigh, mashed potatoes and gravy, a biscuit, and a medium drink for $6. The Street reports KFC's new deal seems to be targeted at consumers who have been affected by inflation like other recent fast food offerings, including Burger King's $6 Your Way Deal. As Nick Chavez, CMO, KFC U.S. explained in KFC's press release, "We know consumers are feeling a pinch in their pocketbooks, and these affordable meal deals make it easier for them to enjoy the KFC favorites they love."
The chain also announced that it is extending the $5 price point through November 13 for the Mac & Cheese Bowl, a KFC menu favorite that returned after a three-year hiatus. Combining mac and cheese with popcorn chicken, the Mac and Cheese Bowls are available in Classic or Spicy. The more piquant of the two options is made with KFC's Nashville Hot Sauce, an ingredient that was in short supply in some locations last year due to the popularity of TikTok videos featuring taste tests involving the Nashville Hot Tenders (via Business Insider). Both the 2-Piece Drum & Thigh Combo Meal and the $5 Mac & Cheese Bowls (spicy or not) are available on KFC's website and mobile app.