How You Can Use Banana Peels To Upgrade Your Cookies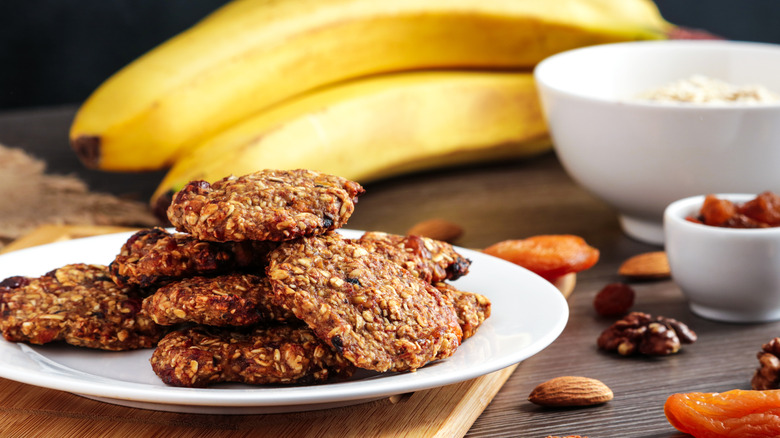 DaryaKi/Shutterstock
A multifaceted fruit, bananas have long been a staple ingredient for healthier versions of desserts. Banana bread, banana pancakes, and even banana cookies usually substitute ingredients with this ripe fruit. Rich in moisture, bananas are a good replacement for a wide variety of wet baking ingredients such as eggs, butter, and oil (via The Spruce Eats). There's no need to run to the grocery store next time the pantry is low as long as you have a few of bananas on hand.
Banana-based cookies aren't anything particularly groundbreaking. Trusted recipes like banana bread cookies and banana oatmeal chocolate chip cookies are simple sweet treats, all made with ripe fruits. Leave a bunch of bananas out for a few days, and soon enough, they'll ripen into the sweet and soft consistency needed for delicious bakes. Usually, when done with this fruit, the browning peel will get thrown away with no apparent use in any recipe. However, there's another way to up your cookie game using bananas, this time with the peel.
There's something a-peel-ing about these cookies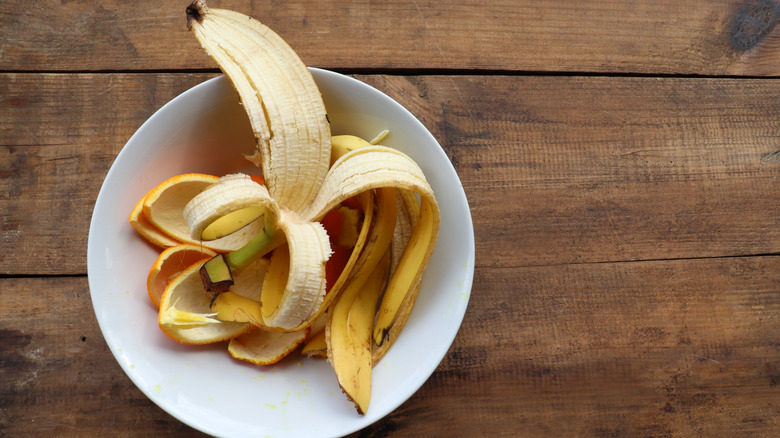 Juver/Shutterstock
We have almond flour, coconut flour, and now, banana peel flour. A study published in ACS Food Science and Technology aimed to see if flour made from widely underutilized banana peel would not only make cookies healthier but last longer. Results of the ACS research found that cookies baked with banana peel flour had more moisture and improved antioxidant properties and phenolic content in general without altering the dessert's physical and nutritional properties.
Basically, banana peel cookies contain more antioxidants than those baked with wheat flour. However, if you're trying to make gains, banana peel cookies might not be the right recipe for you as they were found to have lower protein levels. According to Eat This, Not That, this dessert was also found to be more satisfying. Whether making flour or using them for compost, don't throw your banana peels away. With loads of benefits, you can use the easily tossed-out skin in everything from enriching your soil to enhancing your cookies.