The Fall-Flavored Burger That Took Autumn Too Far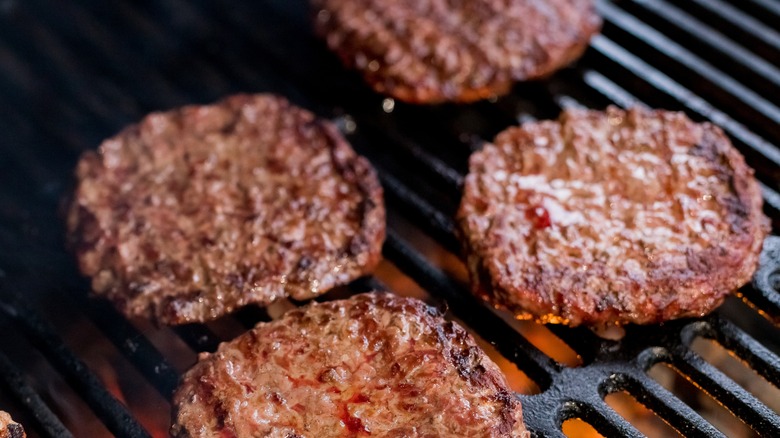 Yulia YasPe/Shutterstock
When it comes to fall, we crave the beloved flavor of pumpkin spice. Whether it's the OG Starbucks Pumpkin Spice Latte, a yummy pumpkin spice loaf from Costco, or one of Krispy Kreme's pumpkin spice donuts, we just can't seem to get enough of the Autumn inspired taste.
But no matter how much we love these fall-flavored products, we've got to admit that some foods just don't mix. For instance, pumpkin spice salmon might be taking it too far, along with pumpkin spice flavored water and pumpkin spice Pop Rocks. Ew, ew, and ew.
Believe it or not, these aren't even the weirdest pumpkin-flavored products on the market. Pumpkin spice-flavored peanut butter, Spam, milk, chicken sausages, and kale chips also pop up on grocery store shelves this time of year (via alot). If you aren't grossed out yet, consider this — someone thought it was a good idea to create a pumpkin spice burger. 
What in the pumpkin-spice is this world coming to?
People like all different kinds of burgers, but let's be real, did anyone actually ask for a pumpkin spice burger? Doubtful. Regardless of whether or not anyone wanted this product, Umami brought it into existence, and Wide Open Eats promptly added it to its list of "ridiculous products that have taken pumpkin too far."
Umami's pumpkin spice latte burger first graced Twitter in 2014, much to everyone's dismay. People commented, "Sounds disgusting," "Too far," and "Stop the madness." Another person firmly stated that they would never eat that burger. Perfectly understandable.
According to the Cooking Channel, Umami "killed" pumpkin spice when it created this burger. The burger itself, which hasn't been available for quite some time now, included a beef patty, Japanese squash, roasted garlic aioli, pumpkin spice mascarpone, and a coffee drizzle. If the combination of flavors and textures isn't off-putting enough, consider the price — $12 for a burger (via Our Tasty Travels). For the same price, you could buy a couple of pumpkin spice lattes from Starbucks or McDonald's and still have money left over, but as we always say, to each their own.