Chipotle Just Announced It's Testing Out A Fiery New Chicken Option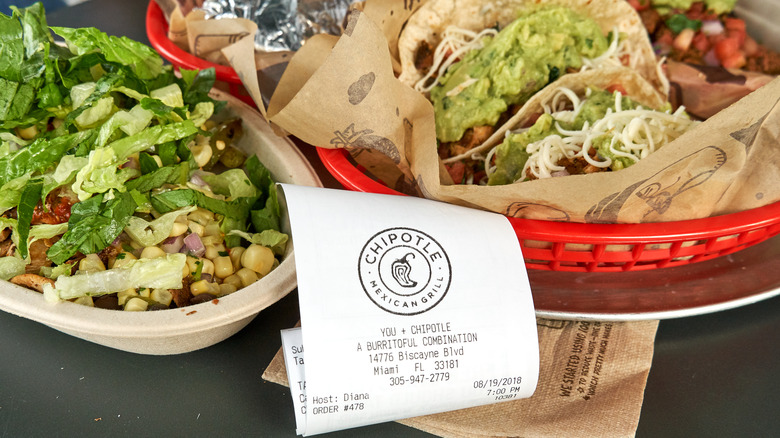 dennizn/Shutterstock
Back in March, Chipotle made its first chicken change-up in 29 years. According to a press release, the fast-casual chain introduced pollo asado, an ingredient made with seared chicken, spices, marinade, lime juice, and cilantro. The reason for the addition had a lot to do with customers' purchasing habits. As Chief Marketing Officer Chris Brandt explained, "Chicken is easily our most popular protein, with many of our most loyal Chipotle customers ordering it the majority of the time." We tried Chipotle's pollo asado and our taste tester "absolutely loved" it and found it to be moist with bold and flavorful seasoning.
Now, Chipotle is trying out another chicken option. In a press release published by PR Newswire, the chain announced it is testing chicken al pastor on its menu. The new poultry option is made from Responsibly Raised chickens just like the chain's other chicken options, but this one is bringing the heat. But, don't run to your nearest Chipotle location just yet expecting to find the item on the menu. Chipotle is only testing chicken al pastor in a couple of areas, which may make some spicy chicken lovers who live elsewhere a little hen-vious.
Chipotle is testing chicken al pastor in just two major cities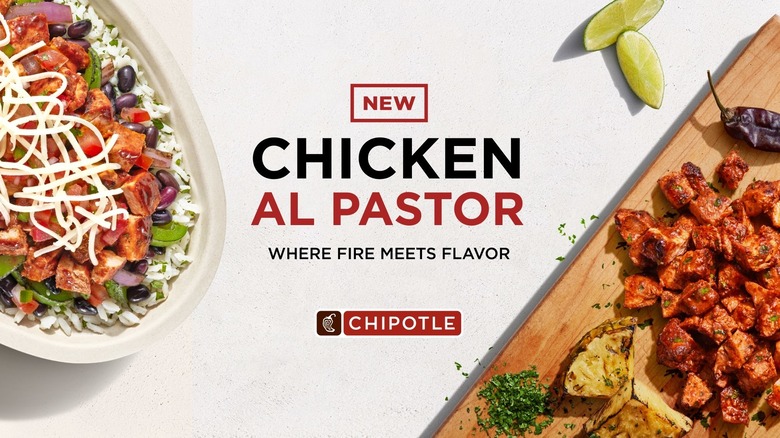 Chipotle
Anyone who has eaten tacos al pastor in the past likely knows what Chipotle's new chicken option is all about. According to a press release published by PR Newswire, the new ingredient combines grilled chicken with spicy adobo, achiote, morita peppers, pineapple, cilantro, and lime juice. Achiote, as Chili Pepper Madness explains, is a mild spice that tastes like pepper. Also referred to as annatto, it can be used to make food yellow. Morita peppers are a variety of jalapeño that is dried and smoked, according to Mexico in My Kitchen. Customers who want to try out tacos al pastor will need to flock to Chipotle locations in one of two cities. 
The chain's press release reveals that 94 restaurants will be preparing the "premium chicken option" in small batches throughout the day for a limited time. The lucky cities that get to try out chicken al pastor are — drumroll please — Denver and Indianapolis. Chipotle is further enticing customers in those cities to try the new item by offering a $0 delivery fee for all chicken al pastor orders made on its app and website from September 6 to September 11. The rest of us will just have to live vicariously through social media, unless chicken al pastor claims a permanent spot on the chain's roost-er.