Gatorade Is Adding An Unexpected Ingredient To Its New Lineup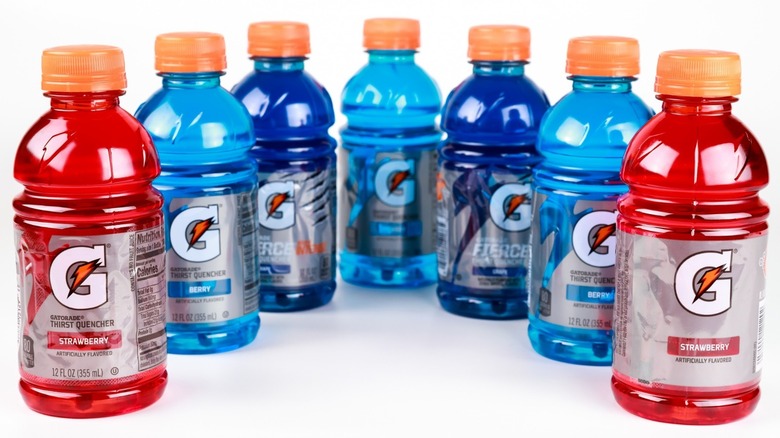 tastyfood/Shutterstock
If you ever wondered where the "Gator" came from in Gatorade, it stands for the University of Florida Gators (via History and Florida Gators). Why? The truth behind Gatorade is that the famous sports drink was invented at the university in 1965. It was developed by a team of scientists at the campus after the school's assistant football coach approached them about creating a beverage to help his players recover more easily in the heat. The team of scientists, headed by Dr. James Robert Cade, created a beverage with specific salts and sugars that the body could rapidly absorb. It was nasty — the original Gatorade reportedly tasted so bad that players threw up after drinking it.
After nearly 60 years, Gatorade has perfected its flavor and is now far more likely to be something you drink after throwing up than before. And lately, they've been branching out beyond their classic Thirst Quencher.
Gatorade uses caffeine to enhance workouts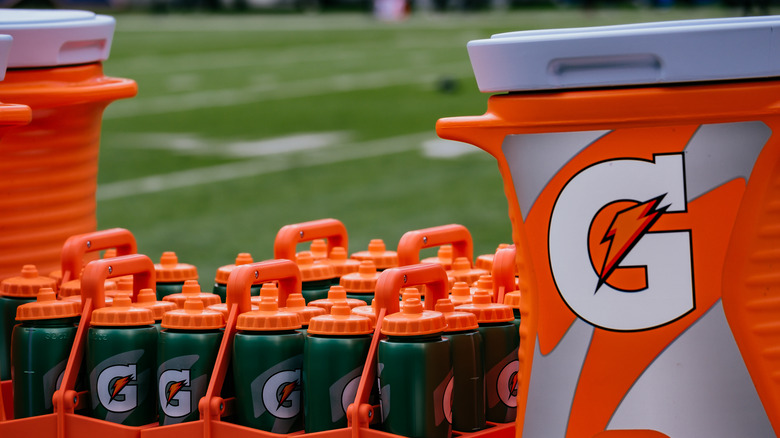 Christopher Lyzcen/Shutterstock
The brand has already launched one new product this year in the spring – Gatorade Fit, which is for more than just athletes, according to its brand VP. It's a low-calorie, low-carb drink that packs antioxidants in addition to the electrolytes you expect from the Gatorade name.
If one launch wasn't enough, Gatorade's got another coming down the pipeline. According to CNBC, it'll be debuting its new Fast Twitch energy drink geared toward athletes prepping for their workouts this fall. As part of an exclusive deal with the NFL, players will be sipping the energy drink as they sit on the sidelines at games this season. It won't be available to the general public until February 2023. 
A continuation of the brand's pre-existing Fast Twitch caffeinated pre-workout supplement mix, the new energy drink is highly caffeinated, per Gatorade. A single serving packs as much caffeine as two 12-ounce Red Bulls or over 200 milligrams (via Caffeine Informer). It will be packed with B vitamins and launch in six flavors, including Gatorade classics like Cool Blue and Glacier Freeze, per Beverage Digest.