Martha Stewart's 'Teenage Dirtbag' Photos Are Turning Heads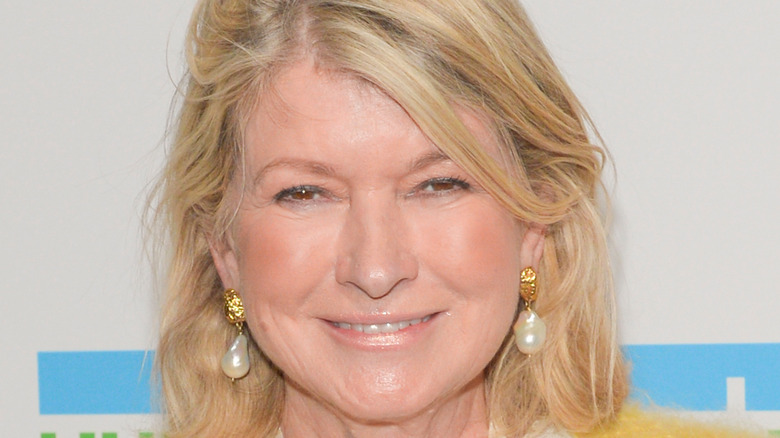 lev radin/Shutterstock
If you've been on social media recently, you're likely to have noticed the #teenagedirtbag trend from, at least, one of your favorite celebs. If you haven't yet seen one of these posts, basically it's a montage of throwback photo's to one's teenage years played over the song by Wheatus, "Teenage Dirtbag." With a quick search on Instagram or TikTok, you'll find posts from celebs like Kevin Bacon, Little Nas X, Paris Hilton, and Jennifer Garner — among many others.
If you are a Food Network fan, you're probably obsessing over Emeril Lagasse's teenage dirtbag Instagram post as much as we are. And, as if the culinary Gods have heard the cries from foodies everywhere, the Domestic Goddess has graced the world with her teenage dirtbag pics. That's right, Martha Stewart jumped on the trend and the internet is going nuts. So far, Stewart's TikTok post garnered 259,200 likes and a whopping 5,280 comments. It's worth mentioning that she also posted the video to Instagram, but used the instrumental version of "Still D.R.E" by Dr. Dre and added her lobster hack at the end.
Did Martha Stewart nail the 'teenage dirtbag' trend?
Martha Stewart's video clip on TikTok includes nine throwbacks with the caption "My teenage dirtbag pictures." In the montage, we see young Martha striking a pose in shots that include laying by a pool, standing in front of a helicopter, and even with a basket of eggs. Of course, posing is something the celebrity chef is experienced in, as Stewart once worked as a model.
The TikTok video led to some fans arguing that there's nothing dirtbaggish about the photos at all. Comments include, "Not a dirtbag photo in the bunch. Gorgeous photos," "she didn't understand the assignment," and "The epitome of class." While there were thousands of compliments on her beauty, there were, as you'd expect, a few trolls trying to get a dig in on Stewart — but we just scrolled past those.
A few viewers did share their disappointment over one particular photo that was missing. Users commented, "was really hoping for something from 10/08/04-03/05/05" and "Idk why I was hoping to see the mug shot." As the mugshot wasn't taken close to her teenage years, we think Stewart really did understand — and indeed nail — the assignment.