What Happened To Granola Gourmet After Shark Tank?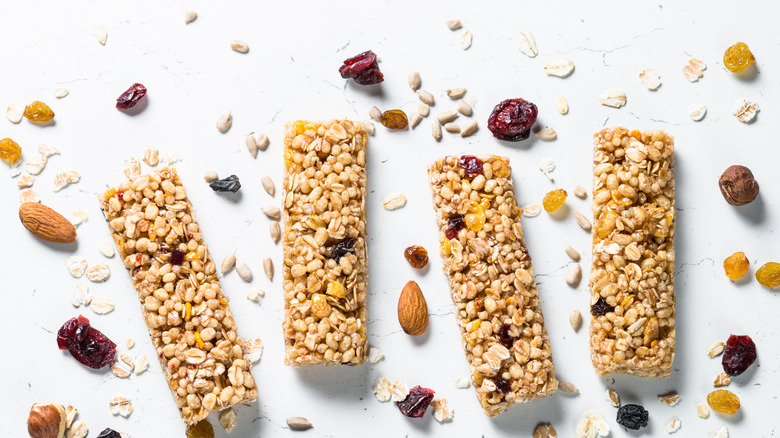 nadianb/Shutterstock
Creating an award-winning product and having it backed by "Shark Tank" investors is no easy feat and for one entrepreneur in Southern California, the invention of a low sugar granola bar seemed like a business venture full of potential success. Of course, granola lovers have always had the option of following an easy granola bar recipe at home, but with the CDC reporting that diabetes affects over 37 million Americans, some folks might be looking for a healthier in-store option.
Family man and long-time diabetic, Jeff Cohen created a health-focused bar back in 2011 to fulfill his desire for a tasty energy bar without the sugar crash (via Granola gourmet). Cohen concocted his oat-based recipe on the glycemic index of foods–research that indicates not all carbohydrates are the same. Certain carbohydrates provide healthy amounts of fat and protein and are absorbed more slowly post-consumption as opposed to sugary foods and drinks (per Cleveland Clinic).
Per SharkTankBlog, Granola gourmet's energy bars claimed to have a low glycemic range and Cohen essentially needed $175,000 from investors to get his snack bar business up and running in the U.S. grocery market. Was this low-sugar product convincing enough for Cohen to procure shark funds?
The sharks opinions of Granola gourmet
Jeff Cohen appeared on episode 105 of "Shark Tank's" first season and pitched his healthy energy bars to investors asking for $175,000 with a 25% return. Most of the sharks found the bars to be tasty yet Cohen shared one detail the sharks just couldn't overlook.
The healthy creator behind these low sugar bars filed for bankruptcy due to a software deal that went wrong, and financially it didn't look so great on paper. While Cohen insisted that he had his product in almost every Whole Foods location in Southern California at the time, making up to $10,000 in profits each month, the sharks were put off by Cohen's inability to bring Granola gourmet to a higher level with Whole Foods behind him. Kevin O'Leary ultimately deemed Cohen "radioactive" because of his past bankruptcy (per SharkTankBlog).
While the sharks may be privy to what happens when you eat too much sugar and believe in the idea of healthier granola bars, they decided Granola gourmet was not worth an investment.
Where is Granola gourmet now?
2009 wasn't the only year that Jeff Cohen made an appearance on "Shark Tank." The entrepreneur made a return in episode 202 in 2011 to showcase Granola gourmet's recent success (per SharkTankBlog). At the time of Cohen's second appearance, his low-sugar energy bars were doing well and available in various stores and on Amazon as well (per YouTube).
Yet, sometime after episode 202, the business seemed to fall apart. Not only are the bars no longer available for purchase anywhere besides the outdated company website, but its Twitter account hasn't been updated since 2013 and the brand's Facebook account is no longer active.
Even though you may have missed your chance in trying Granola gourmet's energy bars, there is still good news on the horizon for snack bar lovers. Since its downturn during the COVID-19 pandemic, the energy bar market is expected to expand this year with new products focusing on healthier ingredients (per Food Business News). Apart from the absolute healthiest foods you can buy, you can now add a variety of nutritious snack bars to your evolving grocery list.