The Controversial Recipe Danielle Walker Put In Her New Cookbook - Exclusive
We may receive a commission on purchases made from links.
Listen up, dairy-free eaters — Danielle Walker has the perfect recipe for you. The bestselling cookbook author has made her career on sharing creative alternatives to your favorite foods. If you enjoy spending time in the kitchen but have run out of ideas, you should check out Walker's cookbooks. The "Against the Grain" author has a slew of food recipes — from cookies to pizza — for people with food restrictions. Now, her fifth cookbook, "Healthy in a Hurry," has been released as we head into fall.
During an exclusive interview with Mashed, Walker talked about healthy meals, meal prepping, and what it's like to live dairy-free. The last one may be the most important, as Walker named her most successful blog recipe that made its way into "Healthy in a Hurry" but got cut from her previous cookbooks. 
There are many foods in which chefs and social media influencers have attempted to find substitutes for dairy. Whether it's cheese, milk, or yogurt, Walker has you covered, especially when it comes to this popular appetizer — though the name alone might have you wondering how it could possibly be dairy-free.
Walker made queso dairy-free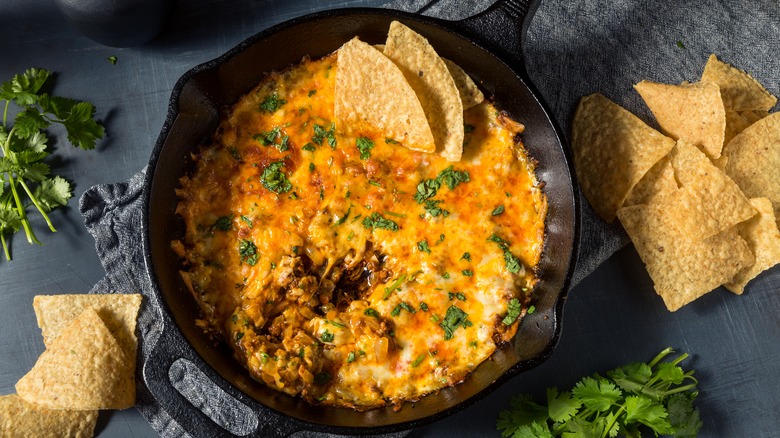 Brent Hofacker/Shutterstock
You heard it here first: Cheeseless queso is a thing. Danielle Walker told Mashed that cheeseless queso is the top-viewed and top-made recipe on her blog, as it is composed of white sweet potatoes, carrots, and nutritional yeast. She said, "You can use ghee in it, which is not dairy-free, but it's lactose and casein-free, so depending on what your sensitivity is ... You can use a butter substitute or olive oil, anything like that to keep it 100% dairy-free." 
Danielle mentioned that her inspiration for the recipe came from the chain restaurant Chili's, which she and her dad used to frequent. The skillet queso from Chili's is served with beef, and Walker said that she puts ground beef and some taco seasoning into the recipe. 
The food influencer also mentioned that this is just one of many dairy-free options that may be unexpected to fans; she also has recipes for things like butterscotch pudding and ice cream. Cheeseless queso sounds like the ultimate oxymoron, but don't knock it until you try it! Taco Tuesdays just got a new snack.

Check out Danielle Walker's Instagram page to keep up with her latest recipes. You can order Danielle's new cookbook, "Healthy in a Hurry," on Amazon, out on September 6.