Reddit May Have Spotted A New Item On Select Wendy's Menus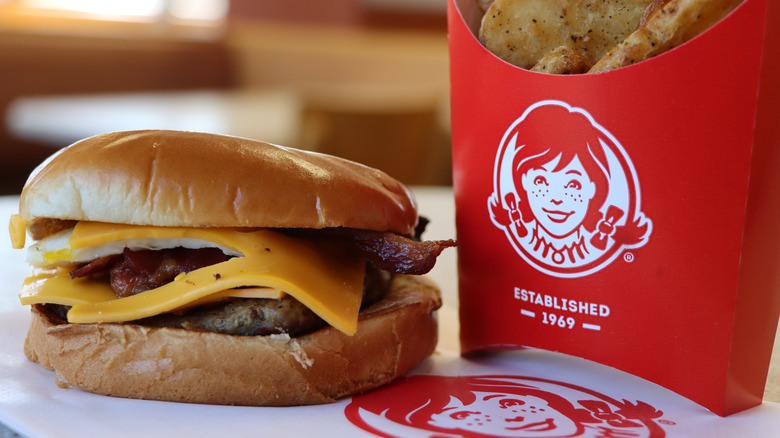 Deutschlandreform/Shutterstock
There's an aura of simplicity behind Wendy's that might lead a newcomer to expect its menu to reflect old-school American burger joints of yore — the kind that had its heyday in the 1960s, when the chain was established (per Wendy's). But if you're a regular at the fast-food chain, you know that there's more to choose from than square-patty hamburgers and Frosty milkshakes. 
In addition to a deluge of unique burgers — including the newly introduced Pretzel Bacon Pub Double, which comes complete with crispy fried onions — Wendy's also has a (not-so) secret menu that's known to comprise unusual, indulgent combinations of existing items. (If you're jonesing for a burger piled with bacon, beef, spicy chicken, and ham, order the Barnyard.) According to a thread on the subreddit r/Wendys, fans looking for something even more exclusive to try on their next visit to Wendy's might be able to score an off-the-radar Baconator.
A quiet entrance from the Blazin' Baconator
"Is this new?" asked a Redditor on the Wendy's subreddit this week, referring to a photo of an ad for a juicy-looking double Wendy's hamburger layered with bacon and melty cheese. "Can't find any record of it by searching Google or this subreddit." Commenters cleared up the confusion over the mysterious menu addition. "We just got it in our location today," wrote one user, adding that the Blazin' Baconator is "pretty good" with its spicy mayo, pepper jack cheese, and "hot honey sizzling bacon." Another user who works for the chain said the limited-time burger is "basically the same concept [as the Baconator] just spicy." 
Wendy's website confirms the rumors, stating that the Blazin' Baconator is made with "sweet and spicy bacon" and jalapeño cheese. Serious Wendy's fans might compare the fleeting addition to the chain's spicy and sweet hot honey chicken sandwich that enjoyed a brief tenure in February. Not everyone seems jazzed to taste the blaze, but one Redditor cut through the thread's skepticism, writing, "That sounds delicious! I might have to get one of those next time I get Wendy's." Honk if you agree.