Quick Pickled Jalapeños Recipe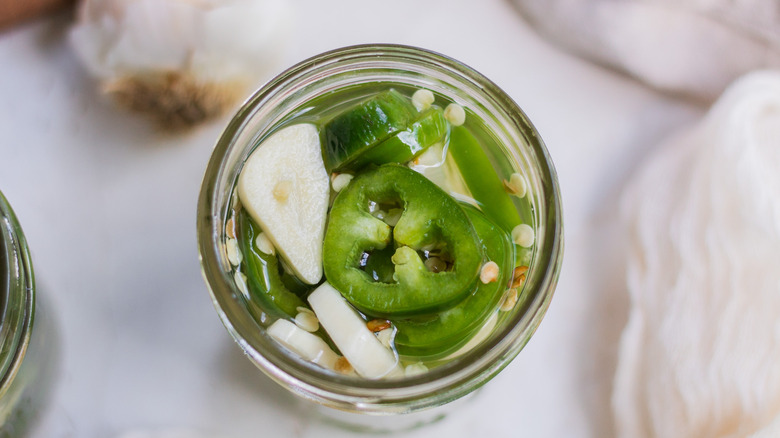 Jaime Shelbert/Mashed
Jalapeño lovers, rejoice! You don't have to go through the hassle of canning and preserving jalapeños if you want to make a pickled version of the spicy vegetable. In fact, with this quick recipe for pickled jalapeños from registered dietitian Jaime Shelbert of Wholly Nourished, you can have a jar of them ready to eat in just 15 minutes. 
It's the ease and simplicity of the recipe that Shelbert herself loves, "I like how quick and easy this pickling process is. [It's] a quick pickling method for refrigerator pickled [jalapeños]. It's less fuss than the sterilization and canning process." And really, aside from a slightly crispier texture that the jalapeños retain, the only real difference is they have to be stored in the fridge, rather than in the pantry.
And, once you've mastered the basic recipe, you can customize it to create pickled vegetable combos. "You can add other vegetables to the brine such as onions or bell pepper. This is the ultimate condiment to level up your favorite dishes," Shelbert says.
Gather your ingredients for quick pickled jalapeños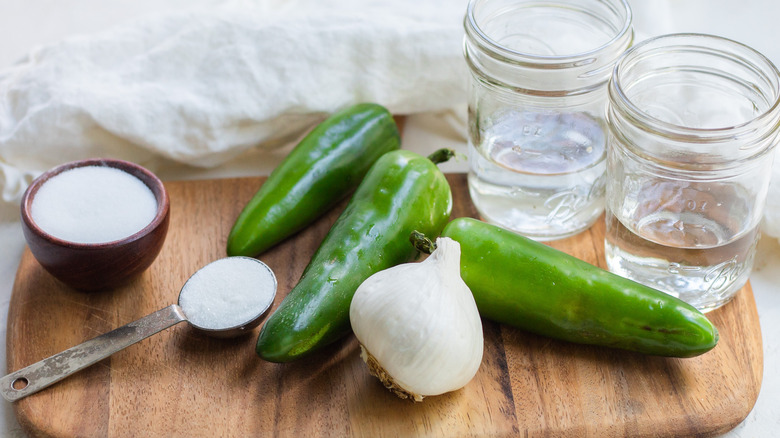 Jaime Shelbert/Mashed
There's not much that goes into this recipe for pickled jalapeños. All you need are the jalapeños themselves, water, distilled white vinegar, sugar, salt, and a couple garlic cloves. Just make sure you slice the jalapeños into thin rounds and the garlic cloves into slices. 
With this combination of ingredients, you end up with pickled jalapeños that are "equal parts sweet, salty, and hot," says Shelbert.
Bring the pickling liquid to a boil and simmer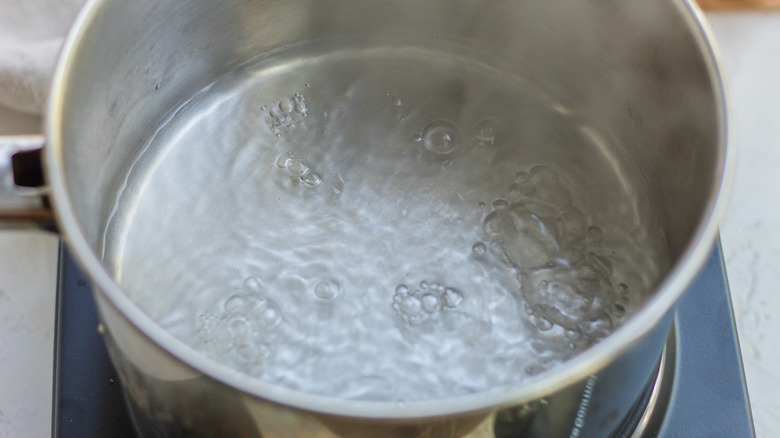 Jaime Shelbert/Mashed
Place a small pot or saucepan over medium-high heat and add the water, vinegar, sugar and salt to the pot. Bring the liquids to a boil, then reduce the heat and simmer the brine, stirring until the sugar and salt dissolve. This should take about 5 minutes. When the granules have fully dissolved, remove the pot from the heat. 
Add the jalapeños and garlic to a Mason jar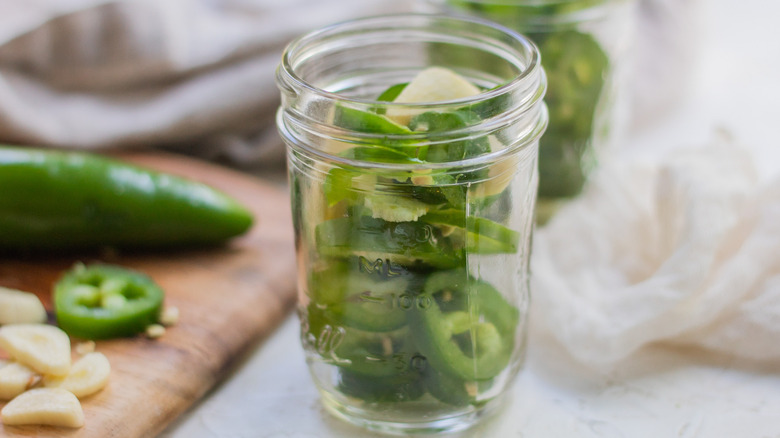 Jaime Shelbert/Mashed
Grab a 16-ounce Mason and fill it up with the sliced jalapeños and garlic. If you don't have a 16-ounce jar, two 8-ounce jars will work, just make sure you distribute the garlic and jalapeños evenly between the two jars.
Pour the pickling liquid over the jalapeños and cool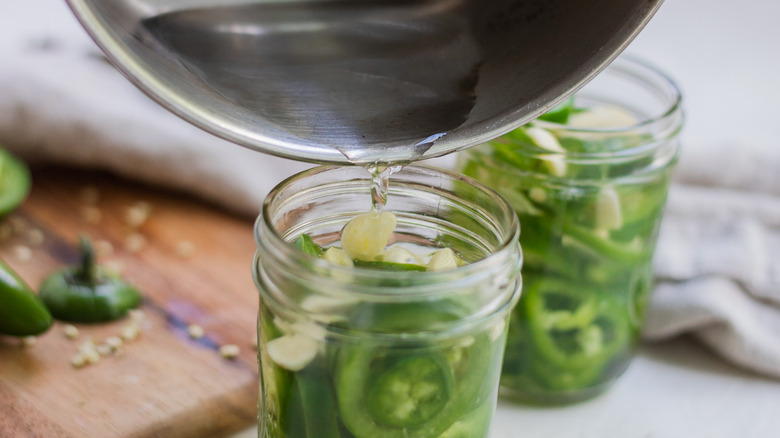 Jaime Shelbert/Mashed
Pour the hot pickling brine into the Mason jar, covering the jalapeños completely. If the jalapeños float toward the surface, press them down with a fork to submerge them. Allow the jar to sit on the counter until it cools to room temperature. 
Believe it or not, your work is almost done. "The texture of the jalapeños are similar to a pickle. The retain crispness," Shelbert explains. "Note that although the jalapeños look bright green in the photos, they will turn and olive green as they sit and pickle." 
Seal and refrigerate until ready to use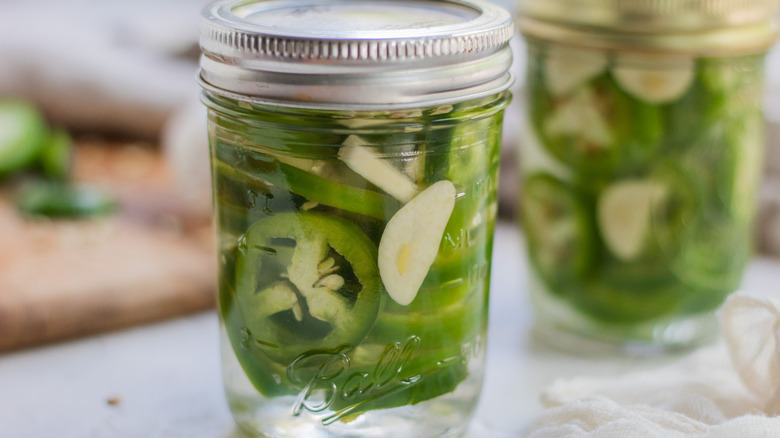 Jaime Shelbert/Mashed
When the brine and jalapeños have cooled, seal the Mason jar and pop it in the refrigerator until you're ready to put them to use. "I like to use these pickled jalapeños on sandwiches and salads to add extra punch and flavor," Shelbert says. "They are also a delicious addition to burrito or taco bowls, nachos, queso dip, and loaded baked potatoes." Really, there are practically unlimited ways to enjoy these pickled jalapeños, and you'll have plenty of time to try them in different ways — they keep well in the fridge for up to two months, so don't be shy about doubling (or tripling) the recipe to make sure you have plenty on-hand. 
Quick Pickled Jalapeños Recipe
These quick pickled jalapeños pack the perfect balance of spice and saltiness.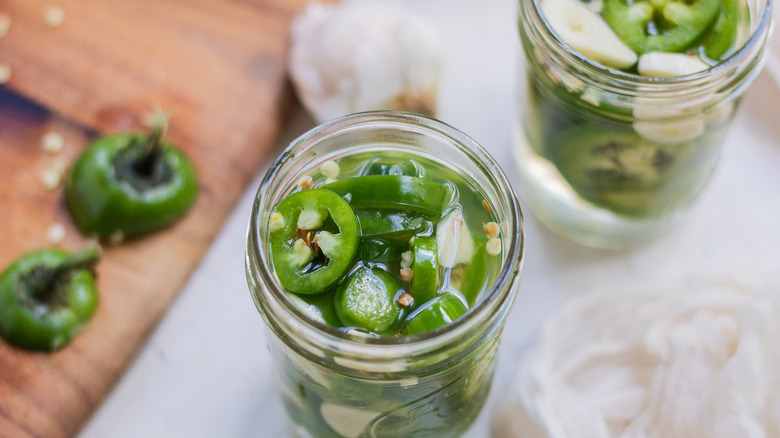 Ingredients
⅔ cup water
⅔ cup distilled white vinegar
1 tablespoon sugar
1 teaspoon salt
3 large jalapeños, sliced into ¼-inch rings, about 1 ½ cups
2 cloves garlic, sliced thin
Directions
Add the water, vinegar, sugar, and salt to a small saucepan set over medium-high heat. Bring to a boil and reduce to a simmer, stirring until the sugar and salt dissolve, about 5 minutes. Remove from heat.
Add the sliced jalapeños and garlic to one 16-ounce Mason jar, or divide evenly between two 8-ounce Mason jars.
Pour the hot pickling water over the jalapeños, pushing the jalapeños down with a fork so they are completely submerged.
Once cool, place a lid on the jar(s) and refrigerate, then use as desired.