Fantastic Burger You've Never Tasted Recipe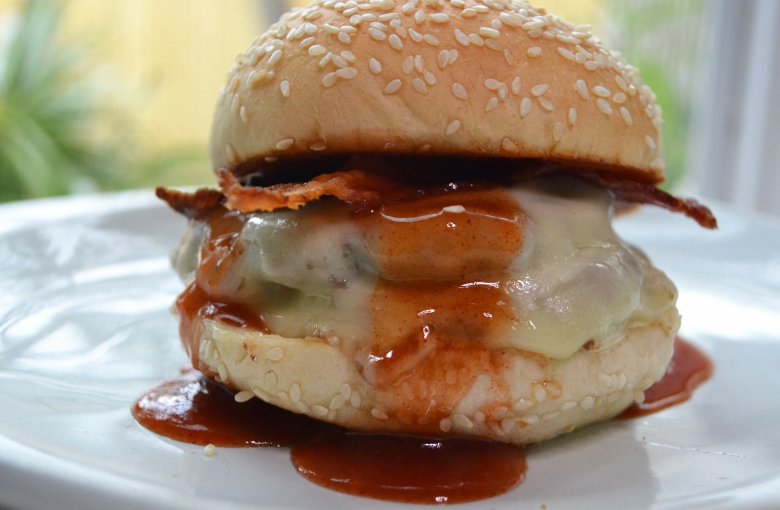 Nothing like coming right out and throwing down that gauntlet, eh?  You've had plenty of great burgers in your time, but to make a claim as "best burger ever!" is just a wee bit brazen — that is until you see what we have under the hood. There's a lot of things that don't seem to make sense here, but perfectly mixed and seared meat, with a savory bun and sweet and smoky sauce, all accentuated with a melty cheese will make you question everything you thought you knew about food groups. Trust me, and live a little! This is the best burger you've ever tasted.
Gather your ingredients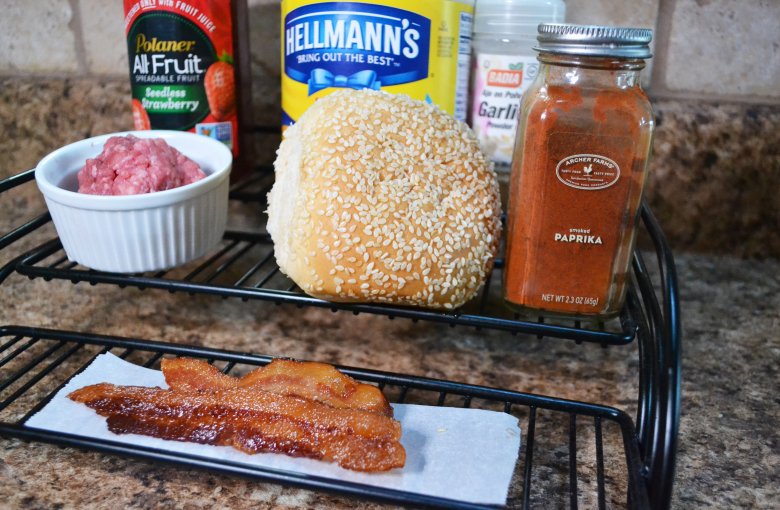 Here's what you need to make your own — wait for it — strawberry jam burger. Yep, you read that right. Ground chuck, ground round, ground sirloin, center cut thick bacon, provolone cheese, strawberry jam, mayonnaise, water, garlic powder, smoked paprika, and a sesame seed bun. The full ingredients list is at the end of this article, along with a step-by-step recipe.
Are we mixing food groups?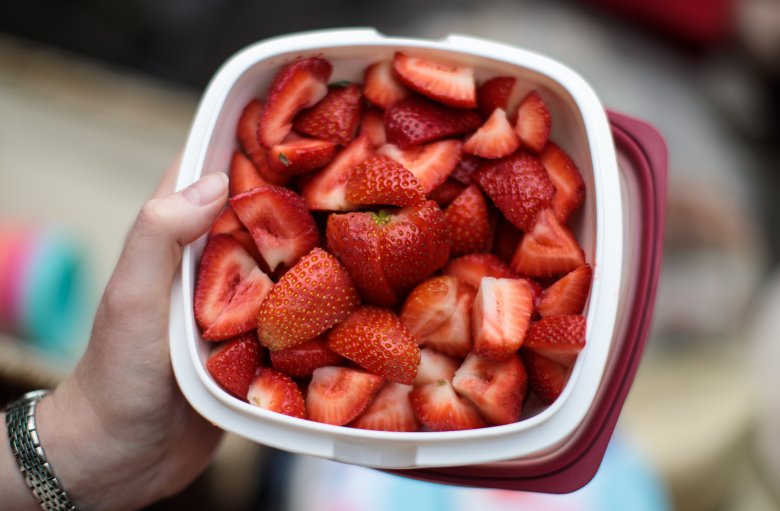 Getty Images
Obviously you're asking, "Why would I ever put strawberries on a hamburger?" Good question. You'd never dream of mixing a super sweet fruit with a burger, yet somehow this all works. The key to this dish is the balance; once everything gets on there they'll work in concert with each other and it will have you saying, "I can't believe that works!" I know i did. This is going to change the way you look at hamburgers.  
Strawberry time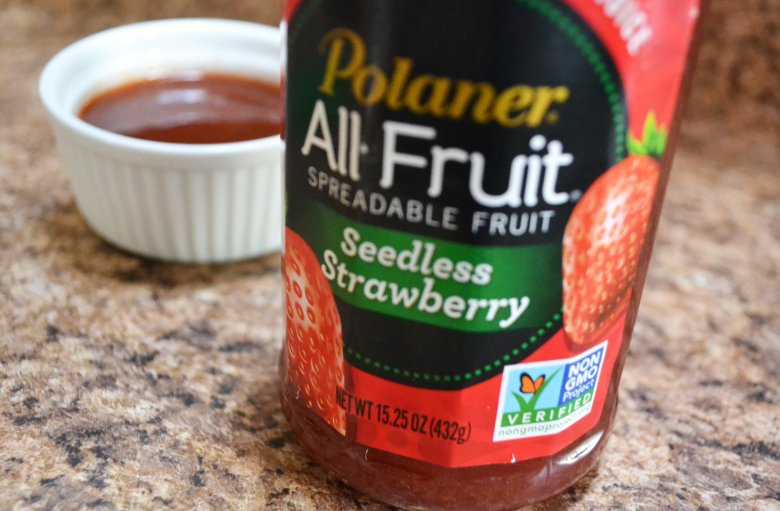 The first thing we have to do is prepare the strawberry topping. There's a few different types of strawberry jam out there, from the generic "grocery store" kind to a super high-end bottle that's probably labeled in some stylish script. The only thing that matters is you get one with no seeds. The last thing you want to do is bite into a burger and have some strawberry seed get all up in your teeth. I guess technically I'm going "medium end" jam, but it was on sale.   
The little spice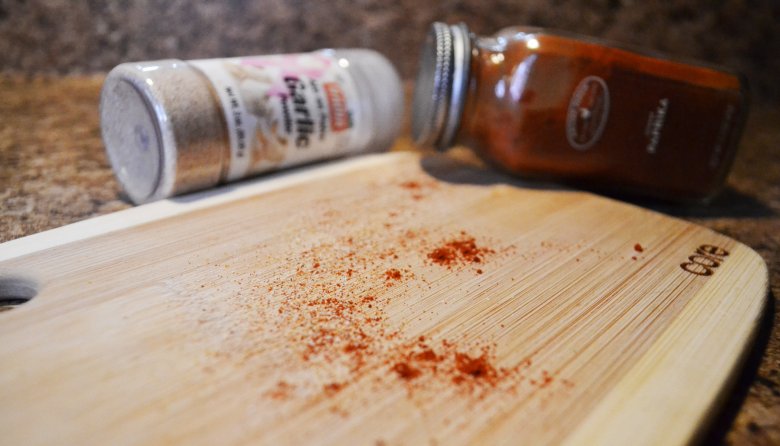 The strawberry jam by itself is really sweet, so we are going to "cut it" a bit, but at the same time add something that will enhance the overall flavor. What we want to do is put some bite in this without taking the spice over the top and dominating the sweetness. A quarter teaspoon each of smoked paprika — for the smoky spicy flavor — and of garlic powder, is what we need.  
If you like things with a lot of heat, you can go a bit crazy here and add a pinch of cayenne. Full disclosure I made two spice jams, but thought the cayenne took away from the dish a bit too much because the spice was omnipresent. But if you like it pretty hot, that's the way to go.  
The strawberry mix
Here's the lowdown on the strawberry jam: 3 tablespoons jam, ¼ teaspoon garlic powder, ¼ teaspoon smoked paprika, 2 tablespoons water. Take all that and put it in a saucepan and set it to simmer. We don't need a lot of heat at all here. Break out a whisk and start going to town on this and get it as smooth as possible. Rolling with a seedless strawberry preserve really makes the difference here, as it will get quite smooth after a few minutes. After that, park it in a small bowl in the fridge for at least an hour. We really need this to come back together with all the flavor we added in; it's time-intensive but worth your trouble, I assure you.  
The meats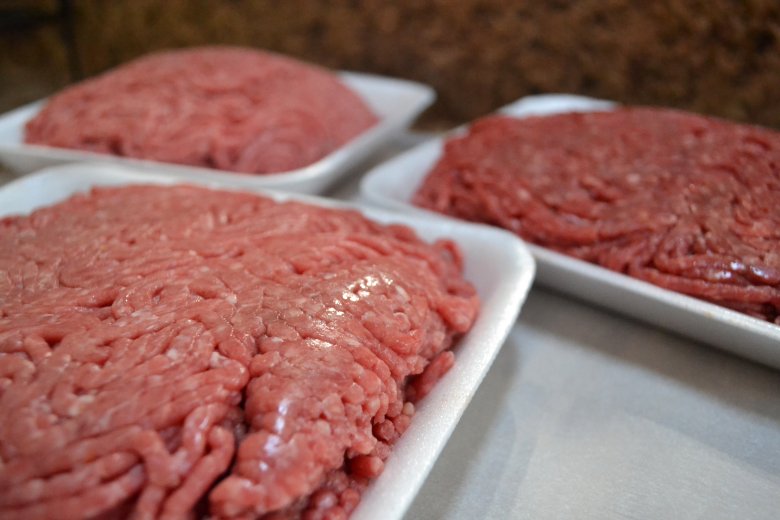 The key to a juicy, meaty burger is mixing a lean(ish) beef with a fatty one, and then throwing something in with a lot of flavor. A nice sirloin will give that burger the extra meaty flavor you need. With that, we'll also use ground chuck for some fat and ground round — a fairly lean tasty meat. You'll use three meats every time you make a burger after this — it's a game changer.   
Puck master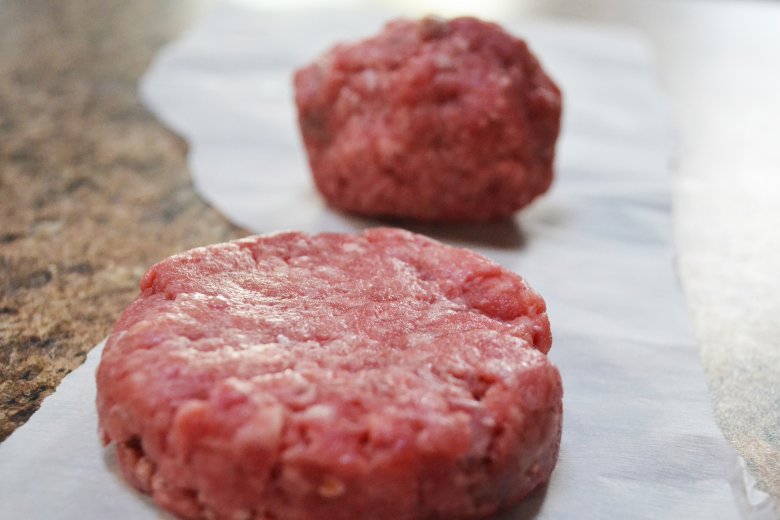 The proper ratio is expensive-to-cheap in terms of meats. So you need the most chuck (the least expensive cut), less ground chuck, and even less sirloin — the most expensive. The easiest way to determine how much meat you need is to figure out how many burgers you're making. We'll make four patties — each burger is a double — so that's enough for two servings. We used a 1:2:4(ish) ratio, so that means go with 9.5 ounces of ground chuck, 4 ounces of ground round, and 2 ounces of sirloin. Throw that in a bowl and mix it, but don't over work it — just get it all together.
Break out a 4-ounce "ball of meat" from the mixture and create a puck with it. I like using creme brûlée bowls for this; they make it easy to get the sides rounded and you can flatten down the tops by hand.  After you have it all "pucked" up, pop it out and make another.    
The cheese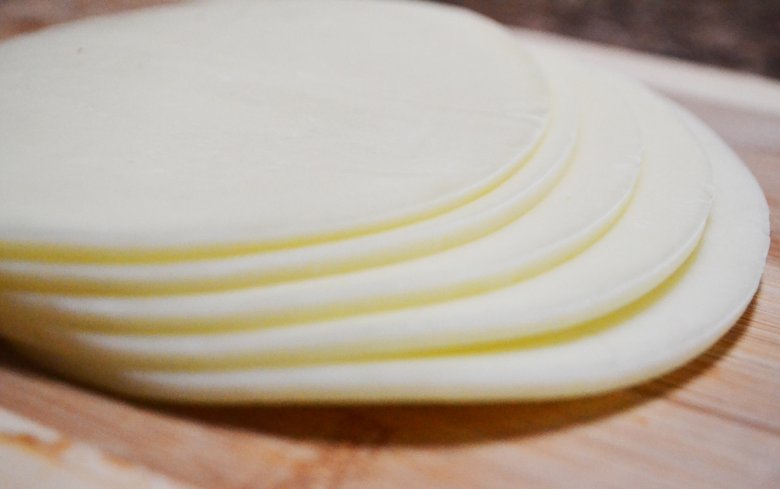 We want a white cheese here, because it'll look pretty at the end. Well, there's a bit more to it than that; we also want something that will go well with a fruity topping. There are a couple choices that stand out, mozzarella and provolone.  The difference between the two is simply age; provolone is stored dry whereas mozzarella is stored wet.  
Mozzarella is a great cheese for a very specific reason. With a melting temperature around 130 degrees, it will hold itself together and not turn into a pool of white glue when put it on a burger on a cooktop. But at the same time we're working with a sweet sauce, so a little off-setting flavor will really help the final dish. For that reason we'll go with provolone cheese; the extra bite will balance with the sweet strawberry sauce perfectly. Don't worry that provolone doesn't melt as well as mozzarella; we're not making a pizza, we just need it to melt enough; and it will.  
Get the right bacon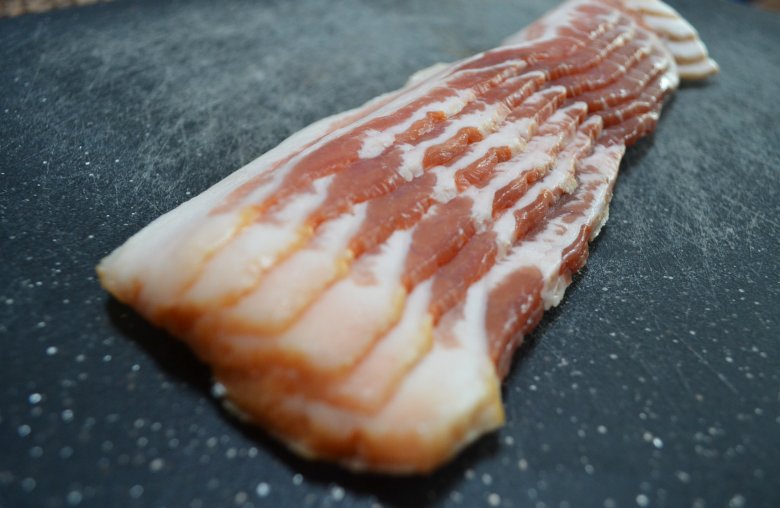 There are plenty of types of bacon, but there's only one I recommend — center-cut. Not every center-cut is created equally, so what you're looking for is a center-cut piece that is thick, and the only way you can tell you have the right one is to compare it to the others at the store. Go with the thickest one you can find.
The best bacon cooking method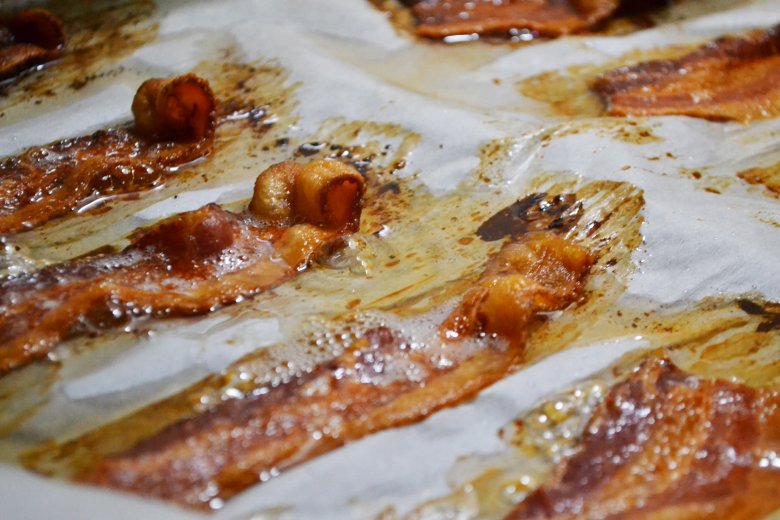 Everyone has a go-to way of cooking bacon. I've been messing around with this for years to come up with the perfect way to cook bacon to the best crisp flavor and have it cook throughout the bacon, without any limp spots floating around. This works every time.  
Take your thick center-cut bacon and cut them evenly in half — scissors work best. Lay a piece of parchment paper on a cookie sheet and evenly distribute the bacon on said sheet — it doesn't have to be pretty but the main thing is it cannot overlap. Throw all that into a cold oven, then turn the heat to 400 and set a timer for 25 minutes. At that point, check it for doneness. If it's not as crispy as you like, put it back in for another 10 minutes. Your patience will be rewarded in the form of perfectly sized, perfectly cooked bacon.  
The best toasted buns
If there's anything we learned from making burgers it's that a good, toasted bun is the key. We're rolling with a sesame seed bun from Martin's, which happen to be the same ones that Shake Shack uses.  
We can time this up and have everything all set at the same time. Skip the toaster or toaster oven; those make the top of the bun too crunchy. Get out a nice pan and set it on your stove top at a low to medium setting. Put the bun inside-down on there for three minutes — there's a pretty good shot the bun and burger will finish up at the same time, give or take a few seconds.  
Burger time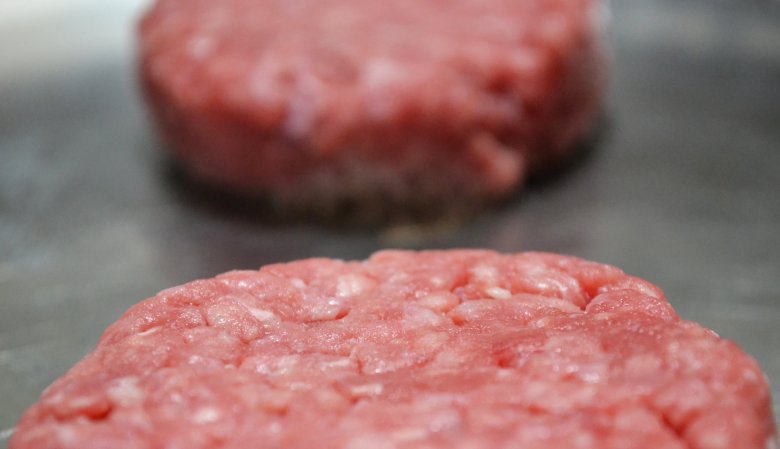 This a tried and true method for getting meaty, flavorful burgers. Preheat your cooking device — preferably a stainless steel vessel — to 6 on your low to 10 setting. Drop the puck on there and let it go for about 30 seconds; that will get a nice caramelization on that bottom side.  
Flip and smash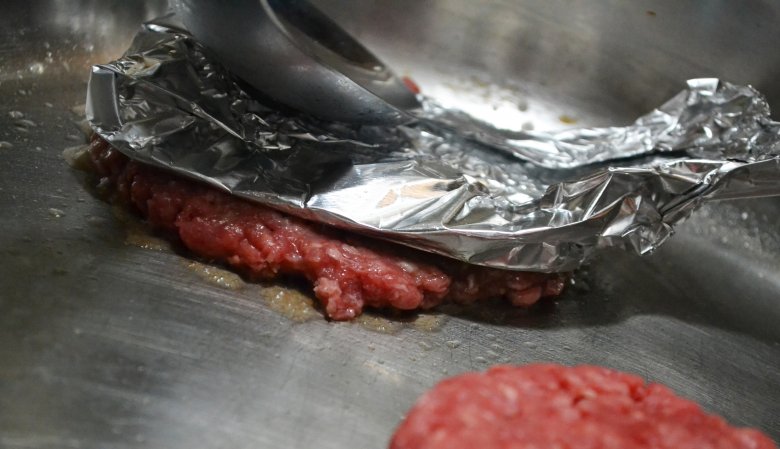 The key to the flip and smash is getting a wide, solid spatula to flatten the meat puck. You can buy a heavy spatula or a special device to do such a trick, or you can just wrap a standard spatula in tin foil and press on that with a spoon — like I do. You need to work fairly quickly here, flip those pucks and smash em down with your make-shift flattener. Those need to go for about another minute or two; just keep an eye on the top of the burgers, the less pink they get the closer they are to done.  
Melty melt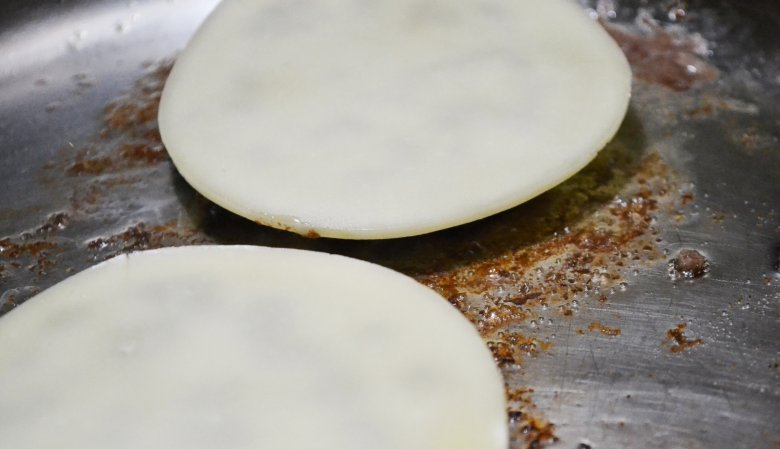 Before we put the cheese on, give those burgers one more flip.  After that, put a slice of provolone on each burger. This is an eyeball test, it shouldn't take much more than 30 seconds, but you're looking for the cheese to melt pretty much completely but there should be a few spots in there that aren't completely melted. That's perfectly fine and everything will be gooey in the end anyway.  
The proper build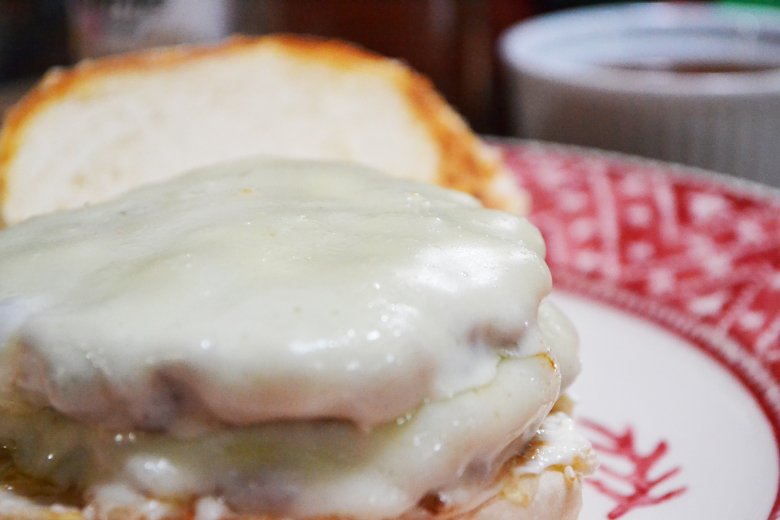 The key to a good burger is the proper distribution of toppings.  When you're at home, you probably just pile everything on the top bun and close the lid.  Restaurants don't do that — they strategically align the toppings to balance the burger. Starting on the bottom bun, lay down a nice helping of mayonnaise across the entirety of the bottom bun — we really want to get that on every bite of burger.  
Next, lay down the burgers with cheese up. We're not doing the cheese-to-cheese method that Five Guys uses — we don't want gooey goodness, we want the cheese to work with the strawberry. Speaking of... strawberry goes onto the top of the bun;  just put a dollop in the middle of the bun. Two pieces of our pre-cut bacon go on the burger — one on the front of the burger and one on the back — no crosses or X's or L-shaped designs — just side-by-side. Close the lid on the bun and the strawberry sauce should magically spread itself perfectly on top and start to ooze down the sides. Mmmmm...
What do you think?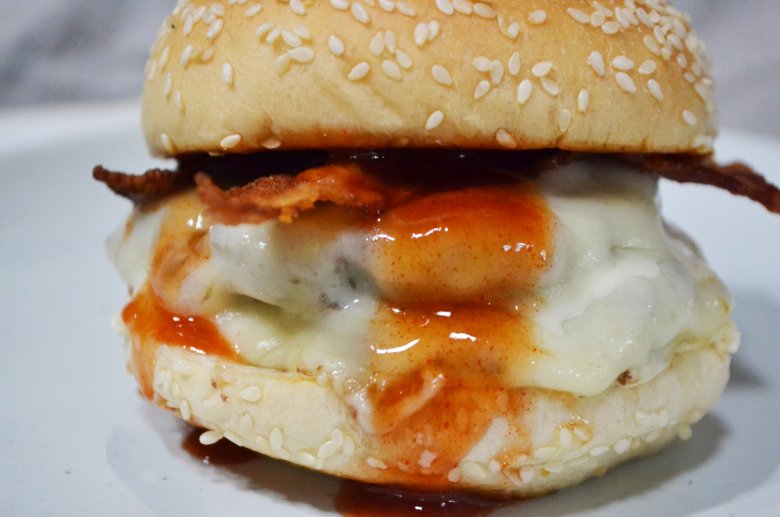 It sure looks pretty, but how's it taste? You're not going to believe this, but this is fantastic! Every flavor just works perfectly together — the smokey flavor cuts into the sweetness of the strawberry, and it tastes soooooo good on that perfectly seared burger. The tang on the cheese is there, and that mayonnaise base on an evenly toasted bun brings the whole thing together. You'll wish you had invented this burger after you eat it. You will make this burger again, I guarantee it.  
Fantastic Burger You've Never Tasted Recipe
You've had plenty of great burgers, but wait until you see what this has under the hood. We've combined some unlikely flavors to create burger perfection.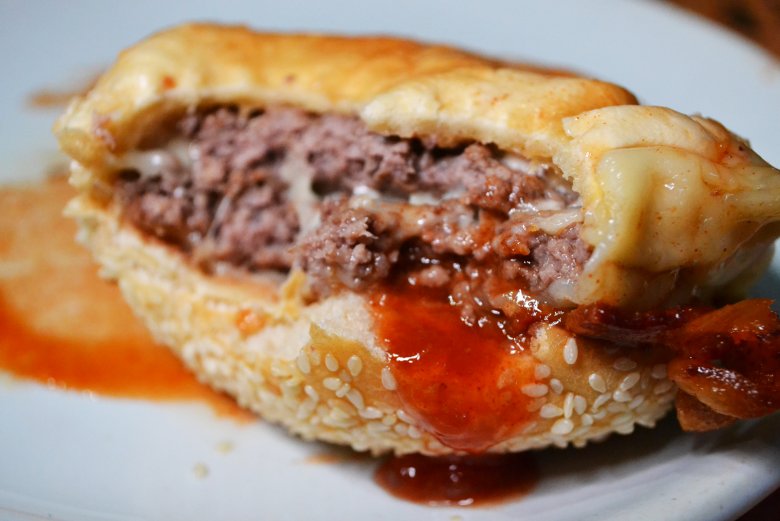 Ingredients
3 tablespoons strawberry jam (seedless)
2 tablespoons water
¼ teaspoon smoked paprika
¼ teaspoon garlic powder
9.5 ounces ground chuck
4 ounces ground round
2 ounces sirloin
4 pieces center cut thick bacon
4 pieces provolone cheese
2 sesame seed buns
Mayonnaise
Directions
Combine strawberry jam, water, smoked paprika, and garlic powder in a sauce pan.
Simmer for 2 to 3 minutes, stir to combine until smooth. Refrigerate for one hour minimum to thicken.
Cut four pieces of thick center-cut bacon in half with scissors and place on a cookie sheet lined with parchment paper. Put in a cold oven and set the temperature to 400 degrees. Cook for 25 minutes. After 25 minutes, check the bacon and see how long you have to go — it should be 2 to 10 minutes depending on the oven to get crispy bacon. Remove and set aside.
Toast buns for 3 minutes on a flat top surface set at 4 on the low to 10 stove setting (or 325 degrees).
Combine meats in a bowl and create four 4-ounce pucks.
Cook two pucks on a preheated stainless steel pan at 6 on the low to 10 stove setting (or 375 degrees) for 30 seconds.
Flip and smash down the pucks flat with a heavy device or a spatula with some weight behind it. Cook for another 1-2 minutes.
Flip and add provolone cheese, then cook for another 30 seconds to a minute until cheese melts.
Add a layer of mayonnaise to the bottom bun. Stack two burgers, cheese up, on the bottom bun. Add two pieces of bacon to the top burger, parallel across the burger. Put a dollop of strawberry jam on the top bun and close the lid.
Eat, repeat, and enjoy!
Nutrition
| | |
| --- | --- |
| Calories per Serving | 1,020 |
| Total Fat | 61.4 g |
| Saturated Fat | 26.3 g |
| Trans Fat | 1.1 g |
| Cholesterol | 224.1 mg |
| | |
| --- | --- |
| Total Carbohydrates | 44.3 g |
| Dietary Fiber | 1.3 g |
| Total Sugars | 18.2 g |
| Sodium | 1,253.4 mg |
| Protein | 70.5 g |