The Controversial Item Ree Drummond Calls The Key To Her Happiness
Ree Drummond, AKA the Pioneer Woman, is known for creating delicious and simple recipes that are accessible to novice home cooks. Drummond lives on a cattle ranch with her family and has to accommodate a slew of different tastes. Drummond used to be a vegetarian and prefers vegetable-centric meals, for example, while her rancher husband is all about beef. Her six cookbooks are full of recipes meant to satisfy a wide range of palates. 
Even though Drummond's recipes are loved by many, she's had some blunders that fans were quick to call out. During one of her cooking show episodes, she squeezed a lemon with her bare hands, getting grief from viewers for not removing her rings beforehand for sanitary purposes. The Pioneer Woman also loves the winter holidays and has shared her tips, tricks, and recipes every year. Unfortunately, fans had a problem with Drummond's holiday cookie recipe in 2021, calling the complicated dough a sticky fail. When you have so many recipes, they can't all be hits. One recipe Drummond shared that continues to divide her fans today is something she says she can't live without. 
Drummond loves her salsa roja, but not all fans appreciate the recipe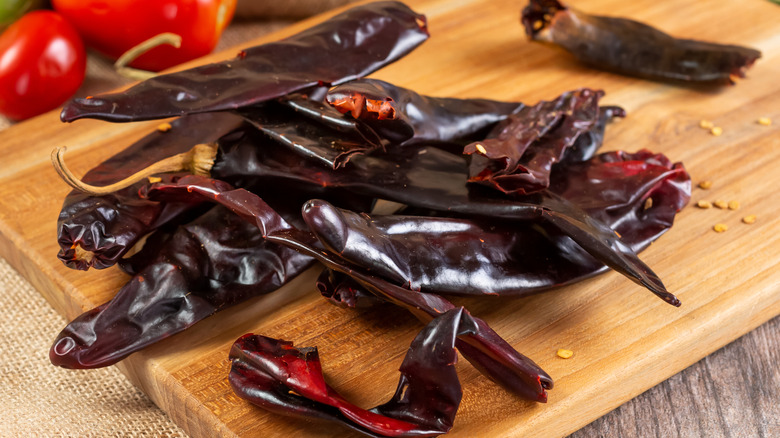 The Image Party/Shutterstock
In her cookbook, "The Pioneer Woman Cooks: The New Frontier," Ree Drummond professes her love for salsa roja, revealing that she keeps a jar of her homemade version in the fridge at all times, according to Showbiz Cheat Sheet. Her spin on the salsa uses fire-roasted tomatoes and dried guajillo chiles for added spice and flavor. Though Drummond is clearly a fan of the sauce, her fans have mixed feelings. Her salsa recipe is a tad labor-intensive, with the chiles needing to soak in hot water before blending. She also instructs cooks to strain the salsa through a sieve once blended to ensure a completely smooth sauce. 
Unfortunately, her recipe only received 3.5 stars from nine Food Network reviewers. A common complaint was the sheer complexity of the recipe. One reviewer wrote, "Very time consuming for a very disappointing result." A few comments complained that the salsa was bitter. Positive reviews, meanwhile, agreed that the salsa was a labor of love — but worth it for the "robust flavor." A Hispanic Kitchen recipe for salsa roja also calls for blending and straining the sauce, while Maricruz Avalos recommends making the mixture in a molcajete. You can make salsa roja a variety of ways depending on the consistency you want.
Back in 2018, Drummond posted a picture of her salsa roja and salsa verde on her Instagram to promote her "New Frontier" cookbook. Fans remarked on how "beautiful and delicious" it looked. It seems like the only way to know the salsa's merits is to make it yourself.