That Time Anthony Bourdain Famously Refused To Toast The Queen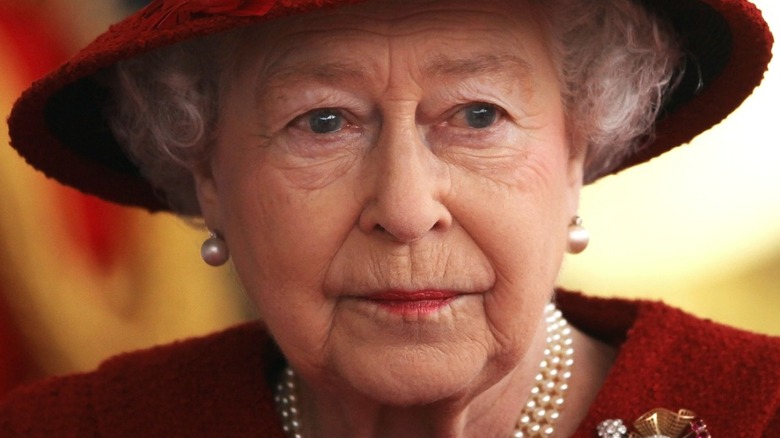 Dan Kitwood/Getty Images
Since Queen Elizabeth II's passing, a somber tone has rolled over businesses and cities in the U.K. to honor her majesty's impressively long 70-year term (per BBC). After learning of the queen's death, thousands of people gathered outside Buckingham Palace to remember "the stability and strength" she provided Great Britain over the years. Per the NZ Herald, Prince Harry and Meghan Markle's website, Archewell, was shut down. Season 13 of "The Great British Bake Off" was postponed, and various celebrities have used their social media accounts to publicize their sadness and deep-rooted respect for the late monarch.
Not only did GBBO host Noel Fielding make a personal tribute to the queen on his Instagram, but the Food Network's "Iron Chef" winner Cat Cora delivered quite the tear shedder in honor of the queen via Twitter. Even McDonald's, the company responsible for the famous Big Mac, paid its respects through a heartfelt post.
While it may seem that most people share similar sentiments about the queen, not everyone made positive comments. Some social media users expressed displeasure about Queen Elizabeth II's reign, and at least one shared a past video of Anthony Bourdain refusing to toast the queen.
Anthony Bourdain hated 'the aristocracy'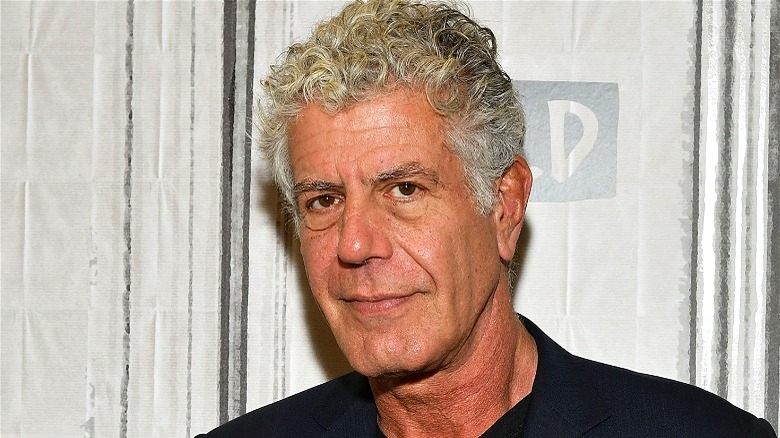 Slaven Vlasic/Getty Images
Among the many Instagram posts and Twitter rants since the queen's passing, one social media user reshared a video of Anthony Bourdain on Episode 3 of Season 11 of "Parts Unknown" refusing to toast the monarch (via Newsweek). In the video reshared on Twitter, Bourdain is dining with fellow chefs David McMillan and Frédéric Morin when McMillan proposes a toast "to the queen." A sudden pause followed by obvious disappointment washes over Bourdain's face as he lowers his glass and states "no, I hate the aristocracy, man."
The video was previously shared in 2020 by BBC News Journalist Simon Roundtree with the caption "Reason No. 7228 why Anthony Bourdain is the greatest." The reposted video received over 10,000 retweets and over 70,000 likes. Twitter users expressed renewed sadness over Bourdain's death while others agreed with the toast refusal.
While Bourdain's words come from the grave, other public figures are speaking out against the institution of royalty. One Twitter user reposted a shared story by pop star Phoebe Bridgers referring to the queen as a "war criminal." Another user slammed BBC for "rebranding colonialism" (via Twitter).
People around the globe may be divided on what the queen's death signifies but The New York Times has one thing right about Americans: "The queen is mourned by those who were never her subjects." As for Anthony Bourdain, he made up his mind about the queen years ago.