Burger King's Massive Refresh Includes Major Menu Changes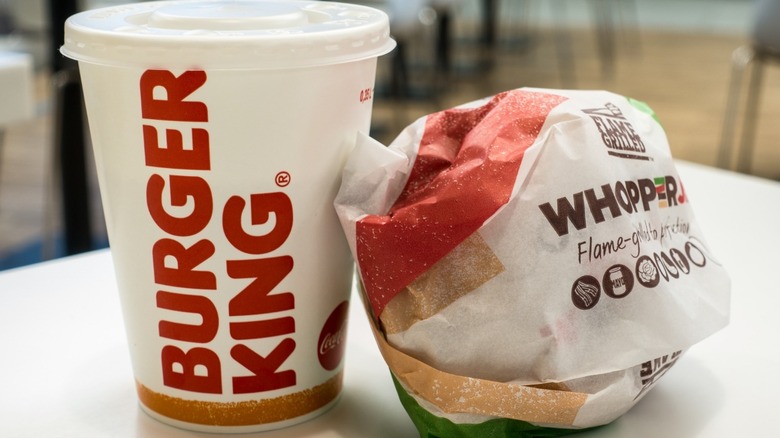 Grzegorz Czapski/Shutterstock
Burger King may not be at the top of the fast food chain, but it has managed to hold a respectable position when comparing chain dominance. In 2019, it had established itself as one of the two biggest burger chains, second only to McDonald's, according to Technomic findings covered by Restaurant Business Online. However, the chain later slipped to third place, as Forbes reported in 2021. In a Mashed survey where people voted on the best burger, the King came in third place with 23% of votes, behind its biggest competitor, McDonald's, and Wendy's. A different Mashed poll found that the restaurant ranked in fourth place in a french fry-off.
And in the past few months, the chain has proven it is not just sitting on the sidelines. It came to play. Burger King has introduced a series of menu items, including a collection of five new burgers, two of which include its new plant-based Impossible Burger. Burger King also released a line of Royal Crispy Chicken Sandwiches. But these moves are only the beginning.
The King is coming in hot
Burger King recently shared that it has committed to a long-term plan over the next two years which will cost the chain about $400 million to execute. According to CNBC, the plan involves a menu "facelift," including a push to make menus smaller so that drive-thru lines can move more quickly. It will also introduce new eats, which include an expansion on the already begun rollout of new Whopper and Royal Crispy Chicken flavors. QSR notes that many of the menu changes are meant to highlight their most lucrative menu item, the Whopper. In recent months, Burger King has launched beef- and plant-based versions of the Southwest Bacon Whopper, which boasted tortilla strips and avocado spread. Previously, it rolled out Whopper Melts with caramelized onions and toasted bread.
In addition to those developments, the chain wants to upgrade its mobile app, reduce the use of paper coupons, and encourage customers to order online more frequently. BK also plans to remodel about 3,000 of its 7,000 stores with "technology, kitchen equipment, and building enhancements." According to QSR, Burger King hopes such changes will appeal to younger customers. Restaurant Brands International CEO Jose Cil is hopeful that the plan, known as "Reclaim the Flame," will not only improve Burger King's position but make it "the first choice for a high-quality meal."